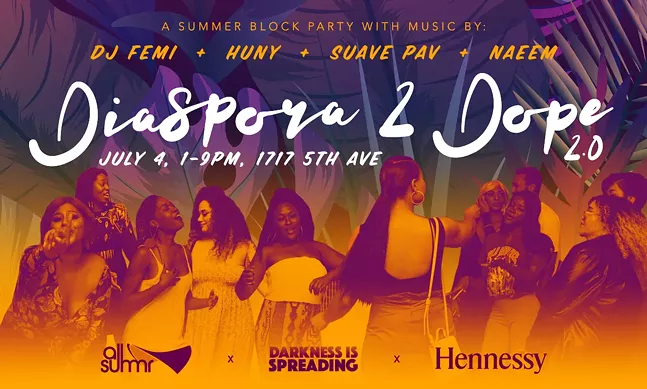 The July 4 holiday should be for all Americans, but for many, the holiday brings up conflicted feelings over what it means to be patriotic in a country where history is frequently whitewashed and inequality is rampant. If that's how you feel, skip the fireworks and red, white, and blue desserts for Diaspora 2 Dope 2.0.
Created by Darkness is Spreading, a local event series focused on the Black cultural perspective, the Uptown block party will center on and celebrate the Black diaspora here and abroad with a musical trip around the world.
"I am not even remotely patriotic," says Darkness is Spreading creative director and event curator sarah huny young, who goes by HUNY.
"It's hard to be proud of America these days, especially if you're a marginalized person … I couldn't do an event on July 4 and let people assume it was a 'yay America' situation. If anything, I love the idea of hijacking 'America's birthday' to center the people who actually built this country and our allies."
Local DJs Femi, Naeem, Suave Pav, and HUNY will spin a variety of featured genres, including hip hop, R&B, dancehall, reggae, Afrobeat/s, Afropop, soca, house, trap, bachata, merengue, go-go, and more.
There will also be drinks by sponsor Hennessy and AllSummr, a new summer-long pop-up bar created by Round Corner Cantina and Umami owner, Derek Burnell, and Urbanist Guide founder, Michael McAllister. There will also be contributions by Black-owned and -run Hill District establishments, including decor by Ujamaa Collective and food by Z-Best BBQ (there will be vegan and vegetarian options).
HUNY says the event was inspired by her own experiences living in New York City.
"Block parties are communal, feel-good, intergenerational experiences that center friends, family, good music, and great food," she says. "Some of my most memorable summertime moments were at a block party or day party – my parents hosted many of them when I was a kid. I'd look forward to them for weeks. I remember what it was like to be new to Pittsburgh a few years ago and not know anyone besides my family. It made me miss living in Harlem or being in Brooklyn during the weekends and randomly wandering my way into a BBQ or impromptu turn-up with my friends. It's the best stroke of luck ever; you know you're gonna get a good plate of food, shake your ass a bit, and leave with at least a couple new friends."
Darkness is Spreading organized a similar event in June last year, but it was rained out. Even with that setback, HUNY says she "never abandoned the idea of giving it another go."
While the July 4 weather forecast is sunny this year, they made sure to install two large tents just in case.
There's also a fundraising component to the event, as 10-15 percent of the revenue from Diaspora 2 Dope 2.0, as well as every other AllSummr event in July, will towards the BOOM Concepts organization and gallery.
Best of all, you won't have to bring a dish or make a beer run, as the event will have all the food, drinks, and fun you'll need. "So you don't have to bring anything," says HUNY. "You won't miss hauling around your cooler, anyway. We have it all."


Free from 1-3 p.m./$10 after. facebook.com/spreaddarkness