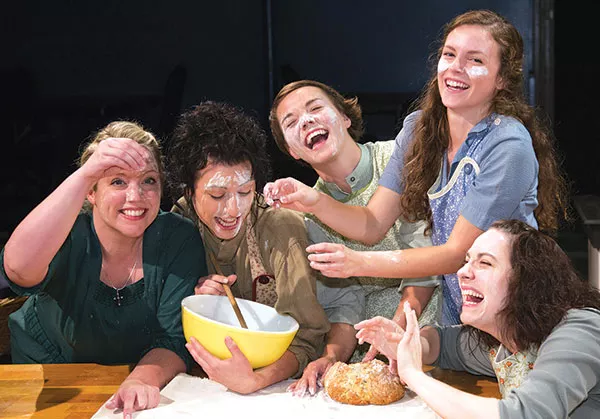 If you're looking for an evening of visionary, mold-breaking hyper-theatricality, it would probably be best to avoid Little Lake Theatre's production of Brian Friel's Tony-winning 1992 drama Dancing at Lughnasa.
And that's not a criticism, since Friel didn't set out to break any molds with this quiet, ruminative memory play about his own childhood with a mother and four aunts in a small, poverty-stricken village in 1936 Ireland. But to appreciate Lughnasa, it's essential you understand exactly what you're getting yourself into.
There's not much in the way of plot or character development over the course of two acts. The Friel doppelgänger, Michael Evans, appears as an adult remembering a long-ago summer when a number of changes seemed imminent, but never appeared.
Well, almost. Some things do happen — dreams turn sour and die. And every now and again, Evans gives us a glimpse into the women's future as well ... none of which is any good. This is one seriously sad, somber play.
But you do get Friel's luminous writing and even, amidst the melancholy, an understanding of how the love these women have for each other can be shimmering and beautiful.
Director Jena Oberg and her cast go out of their way to emphasize that love. Jenna Lanz, Deborah Bender, Katie Kerr, Katy Pretz and Jennifer Sinatra bring an enormous warmth to their portrayal of the sisters. New battles and old resentments bubble up from time to time, but Oberg and cast make us understand quite clearly that the feuding comes directly from the love they share.
The production does feel a bit rushed right now, almost as if the women are afraid that, by slowing down, they'll lose the audience. I salute that instinct (audiences can be impatient and actors can be self-indulgent), but this play is one instance where a little more breathing room could provide texture.
Given the obvious talents of Lanz, Bender, Kerr, Pretz and Sinatra, the production (which I saw on opening night) will only ripen as the performers relax into their roles and the evening acquires more depth. And sadness. Hurray!