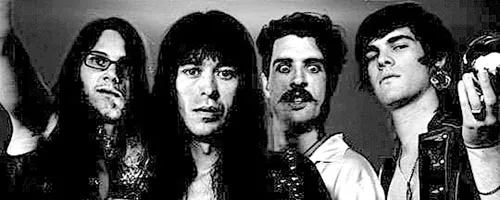 Hanging out in Sacramento back in 2002, I watched Glass Candy plow through its set of no-wave punky disco, idly wondering how you'd describe the appeal of a disco diva who can't really sing. (A: She's very attractive. I bought the CD.) Oddly enough, Dusty Sparkles drums with Glass Candy, and lately I've been facing the challenge of describing the appeal of the new band he fronts, Danava.
All I know is, you feel like an ass trying to tell someone Danava's a metal band -- if that person owns and seriously listens to Tool, Disturbed, A Perfect Circle and Korn. "Hipster metal" is a tag that's been going around, thanks to the Wolfmother pack. "Meta-metal" is a bit kinder, and more accurate. Although, is metal ever not about itself?
For Danava's much-hyped debut on Kemado Records, the group primarily mines Hawkwind territory: intergalactic riffery, long keyboard intros, the choogles and the gallops. The nearly 13-minute "Eyes in Disguise" is pretty sweet. It may just be the production (by Johnny Jewel of Glass Candy), but for all the talk, this record's not that hard. Or heavy. It does, however, distill a lot of the fun elements of Sabbath and Ozzy, Queen's rockin' songs, early Yes and the aforementioned Hawkwind. Epic is fun.
So, I don't know ... Danava = metal for people who don't like contemporary metal? That sounds like a jab, but if you think about it, Disturbed fans seem to spend a lot of time scowling. And if the live videos online are any indication, Danava's a rockin' good time in person.
Danava with Witchcraft, Dixie Witch and Channel Scorpion News. 7 p.m. Sun., Nov 12. Lawrenceville Moose, 51st and Butler streets, Lawrenceville. $10 ($12 at the door). All ages. 412-361-2262