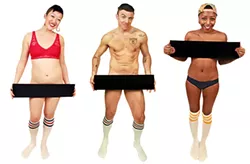 There are times you will likely feel uncomfortable watching Dan Savage's HUMP! Film Festival, the second annual touring collection of amateur-porn shorts.
But that's OK. Even Savage, the Seattle-based "no-topic-embarrasses-me" sex-advice columnist admits you will have those moments watching this collection, most of it made specifically for this touring show.
"It's rare for people to watch porn that takes them outside their comfort zone," Savage says in promotional material for the film.
"At HUMP!, straight people watch gay porn, vanilla people watch kinky porn, gay people watch lesbian porn. And people laugh, they gasp, sometimes they cover their eyes. But at the end of every film people clap and cheer. It's moving and wonderful and newcomers don't expect it."
For me, that moment happened during a money-shot facial during an all-male re-enactment of "Goldilocks and the Three Bears." It was unexpected: I laughed, I winced.
But watching that out-of-my-comfort-zone was part of the experience. Experiencing such moments with an audience has to be an all-together-different bedroom full of bears.
The collection of films Savage has put together for HUMP! flows nicely, even as you're never quite sure what you'll see next. As with any anthology, there are films that you'll love and some you won't care for.
But here, the good outweighs the bad, starting with the breezy short, "No Artificial Sweetners," which tells the story of a couple's first time together with no dialogue — just a catchy pop song that you won't be able to get out of your head. And while the title of "Butthole Lickin'" is sure to generate snickers, the actresses in it turn in brilliant, funny work, and it was easily my favorite film.