"It's hard when you're a certain age and you tell people your dad's in a band," explains George Cessna. "People have certain notions about that: 'Dad's in a bar-blues band.' But it was nice when he played here and I could take people to see him."
George's dad, in fact, heads up Slim Cessna's Auto Club, the long-running country-gospel-punk band that's on the Alternative Tentacles label. It's about a far cry from a bar-blues band: The Auto Club is renowned for its revival-style live shows, and Slim is front and center, a rock 'n ' roll preacher of sorts. Jello Biafra, who signed the band to his label in the late '90s, famously described it as "the country band that plays the bar at the end of the world."
While the Auto Club is from the Denver area, Slim Cessna and family have called Pittsburgh home for nearly a decade now. Son George and daughter Amelia are both musicians and both attended the Pittsburgh Creative and Performing Arts High School — which was a big reason the family moved here in the first place. 
"It was about nine years ago," the elder Cessna recalls. "We were on vacation and visited a friend in Slippery Rock, and we also came down to Pittsburgh, to do kid things — go to the Children's Museum. And our friend pointed out that they were building the brand-new CAPA High School Downtown, and we were intrigued by that. We knew there were options like that in other cities, but they were always places we couldn't afford to live."
Slim and his wife, Victoria, are both artists — she's a photographer and painter. When he's not on tour, to help make ends meet, he does computer work and odd jobs in the local art community. It's a modest but fulfilling existence, and one that Pittsburgh's low cost of living has helped them to eke out. You might say they were slightly ahead of the curve, discovering what the city had to offer in the early-to-mid-2000s, before the influx of New York Times reporters and "Pittsburghia" jokes. 
"I don't think the reasons for us moving to Pittsburgh were very cool," Slim reflects. "Even though I'm a musician and Victoria is a painter, this is how we were trying to make a living — in that way, maybe it is cool, and it is the same reason. But at the same time, we were just trying to find a place where we could afford to raise our kids."
Slim Cessna's Auto Club began in the early '90s in Denver, and Slim had already moved cross-country by the time the band's first Alternative Tentacles release was issued, in 2000. The long-distance relationship has worked out; with co-frontman Jay Munly still in Denver and bassist Lord Dwight Pentacost living in Boston, they collaborate in the studio and on their trademark live show, then part ways for a while. 
It was a few years before Slim Cessna even began to show his face as a local musician in Pittsburgh; presumably, some music fans still don't even realize he's taken up residence here. He began playing out in the late 2000s with Rob Levkulich on bass, and then began booking dates in a trio — with George.
"I think in my head, I always wanted to be in my dad's band," George admits. "I think it was kind of weird, telling your friends you were playing with your dad. But it was always really fun." 
The duo and trio formats allow Slim to experiment with new songs; there's some crossover between his Pittsburgh band's material and the Auto Club. "We started by playing Auto Club songs, actually," he explains. Now they're preparing to record for their own release. 
George, for his part, is getting ready for a release of his own — with the band he now fronts in Baltimore, The Sterling Sisters. The band, which he fronts along with Scout Paré-Phillips, isn't particularly far from the gothic country music of the Auto Club.
"My dad's music has been an obvious influence on me," George admits. At the same time, he's played other music: A synth-pop band in high school, a hip-hop side project with the Sterling Sisters' drummer.
click to enlarge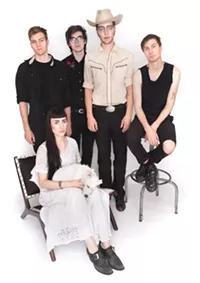 In Baltimore, George attends the Maryland Institute College of Art, studying video and film art, and playing music on the side. (Amelia, for her part, majored in oboe at Carnegie Mellon.) 
But would George — who's grown to rather resemble his old man, clad in bolo tie and cowboy hat — consider following in his father's footsteps as a professional musician? 
"I don't really know!" he says with convincing sincerity. "I've always loved doing it, and I think it's really important to me. The question for me is if I actually could. Right now, I feel like I can't. I don't want to say I don't think I'm good enough ... 
"I've known, because my dad's done it all his life, how difficult it can be," he adds.
Dad will, now and then, make a half-joking remark about the perils of life as a rocker.
"Every morning, we wake up and — I'm a 46-year-old man!" he says. "My knees hurt, my back hurts. And we have to drive eight hours and do it all again. I'm not complaining — it's the life I chose, and I love it. And I have nothing to fall back on anyway. It's pretty much what I'm stuck with."
That having been said, he seems cautiously optimistic about the prospect of George following in his footsteps.
"I've tried to remind George, 'Remember when you wanted that PlayStation 3 and you were the only kid who didn't have it? And we're moving from city to city, trying to find places we can afford to live?' As long as he's aware of that … 
"He has a bright future, though. He's very talented — beyond his years. Anyone who's seen him perform would say the same thing. He's beyond your average 20-year-old. It's ridiculous; you can't even compare what he's doing to what I was doing at 20."
 To be fair, there aren't many who compare to what Slim Cessna does today — he's an artist who believes in music as religion, and vice versa, and who performs like a man possessed. But it's clear from the way he talks about George, whether onstage or off, that his mind is possessed more by life as a family man. And it seems he's doing pretty well on that front, too.