Zach Holzapfel sits on the black metal bench, the back of his head resting against the glass window of the bus shelter. Just after 7 a.m. on a Thursday, the last minutes of morning darkness shroud him as he waits for the bus.
Five days a week, he leaves his home in Elliot at 5:50 a.m. or earlier to catch a 6:03 a.m. bus to Robinson Township. There, at a strip mall, he waits for the 25 Moon, which will take him to class at Robert Morris University.
But maybe not for much longer. Under a planned 35 percent service reduction -- the Port Authority's answer to a $47.1 million budget shortfall -- Robinson would lose all its bus service. In all, more than 50 neighborhoods are slated to lose service completely. Another 45 face severely limited service. If passed, the cuts would be the largest in the Port Authority's history.
"It definitely would be a tougher commute," Holzapfel says. "My connections would have to work like clockwork."
That's if there are any connections left. Many of the airport-area neighborhoods adjoining Robinson would also lose service. Portions of Moon, Settlers Ridge and Coraopolis will all be cut off under the Port Authority plan.
Holzapfel isn't sure how he'd get to class at RMU's Moon campus. But he's confident he'll be able to adjust.
"I've encountered bus cuts in the past," says the Perry High School graduate. "It wouldn't be the first time it caused me trouble."
But as another bus delivers a load of passengers -- who are picked up by the 25 a few minutes later -- others express greater anxiety.
Lawrenceville residents Diane Hogan and Bonnie Vail sit in the front row as the 25 winds through shopping centers, office parks and stretches of highway. This is their third bus of the day: They take six buses to get to and from the Airport Office Park, in Coraopolis. That daily commute has them leaving the house around 5:50 a.m. and returning home around 7 p.m.
Without a bus, "I'd have no job," says Vail. "I already told my boss I might have to quit. I won't be able to get to work."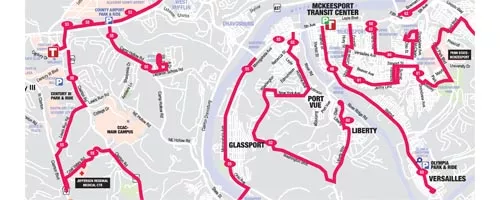 Riders and the community want Port Authority to hear those stories. Bus riders, students, unions, environmental and religious groups, and other activists rallied outside the transit agency's Downtown offices on Sept. 24 -- the day the board had planned to vote on the cuts, fare increases and approximately 500 layoffs. Words scrawled in chalk on the sidewalk carried a simple message: "No fare hikes. No job cuts. No route cuts."
Port Authority officials say they are listening. At the board meeting, CEO Steve Bland said that more than 8,400 public comments have been received since July.
The board later postponed until the Nov. 24 meeting a vote that would retain fare increases -- 25 cents for Zone 1 and 2 fares -- scheduled for Jan. 1, but delay any service reductions until March.
Officials say they are holding out hope that the state will take action. Port Authority officials blame the budget deficit on a lack of state funding, largely as a result of revenue lost when federal officials rejected a plan to charge tolls on Interstate 80.
Guy Mattola, chair of the Port Authority's planning and development committee, said state lawmakers haven't yet devised a solution for statewide transportation funding. But they at least agree on the need for one, he said, a fact he called "encouraging."
To decide on the reductions now, Mattola added, would be irresponsible to riders if the authority didn't take advantage of heightened interest from the state.
But waiting carries its own dangers, he said. "I believe there is a bigger risk if we permanently damage public transit in this region and a solution comes after we do so."
In addition to having what Bland and Mattola call "irreparable effects," the cuts would undo much of the agency's work on its "transit development plan (TDP)," a series of system-wide changes expected to improve Port Authority routes in the long term. The latest and largest round of TDP changes took effect on Sept. 5.
Bland told the board that such changes have led to fuller buses and more efficient services. But as for the service reductions the Authority is now contemplating, he admitted, "In this case, really a scalpel was not taken. Our planners had to go in with a hatchet.
"I'd never argue that routes that are proposed to be eliminated should be eliminated," Bland added. "They absolutely shouldn't."
Port Authority officials chose the routes based on the average operating costs, cost per riders and the number of route variations of each. "We wanted to standardize routes, which means eliminating a lot of variations to make it more reliable," says Wendy Stern, assistant general manager for planning and development.
Route evaluations with variations, ridership and operating costs aren't yet available for routes affected by the Sept. 5 changes, but the TDP offers recent figures for their previous incarnations. For example, the former 1F Millvale (now the 3 Millvale) had 19 variations, a weekday ridership of 645, and an operating cost of about $6.07 per rider. That is more than double the system average. The 3 Millvale is slated for elimination in March.
A route like the EBA -- though it too is slated for service cuts -- was among the lowest cost to run, at $1.29 per passenger, according to the most recent figures. That route also has a high ridership, with 9,850 passengers per weekday. Officials say they strived to preserve the routes in such busy corridors. Says Stern: "We wanted to concentrate on where we felt the largest majority of riders are coming from."
Such logic doesn't offer much solace to riders of endangered routes, especially in communities facing complete route elimination. Communities at the county's edges will take the biggest hit. In the southeastern corner of the county, routes like the 55, 62, 60 and 61 face elimination, which would end service in communities including East McKeesport, White Oak, Glassport and North Versailles. Such routes play an important role not just for commuters, but for businesses.
For example, the 55 Jefferson runs from the Transportation Center, on Lysle Boulevard in McKeesport, along Monongahela Avenue through the Glassport borough of about 4,900, through Clairton to Jefferson Regional Medical Center. Storefronts and other businesses dot Monongahela Avenue as it runs through Glassport.
Bus service is a reason some shop-owners say they located there. Twice Is Nice, a collectibles, antique and used furniture store, opened in the 600 block of Monongahela Avenue in January. Co-owner Manfred Fisher says the 55 bus line brings in a lot of traffic, with a stop just 30 feet from his front door.
These days, however, Fisher says, "It's a concern that we might lose access to this area and for those who'd like to come to the store." The store is starting to advertise outside of the immediate area and build its online business. It's a project Fisher wanted to do anyway, but with impending cuts, "now there's more urgency."
Heather Segina, owner of nearby Out of the Ordinary Music and Gifts, shares Fisher's concerns. Segina has been running her specialty music and video store for seven years. About 30 percent of her customer base, she says, uses the bus.
"The nice thing for people who don't drive is they can walk in town" or take the bus, she says. And because Segina's shop offers specialized merchandise like science-fiction and horror movies, surf music and imported media, she says a lot of customers come from outside the neighborhood. "People like to come in and get something different. That's why we've been so lucky here," Segina says. "Anything that causes more problems for customers is horrible for business."
Riders, meanwhile, are considering their options. Virginia Coulter, a Glassport resident who works at Jefferson Regional, may learn how to drive. The 55 route "is the only bus that serves Glassport," she says. The hospital, she says, has allowed her and coworkers a more flexible schedule since previous bus changes.
Coulter, at least, may be able to work from home, although she says she doesn't want to: "I just like getting out." And her coworkers don't all have that choice.
Munhall resident Mary Jay Bayti, who also works at Jefferson Regional, says she already walks a half-mile to one of her bus stops. If the 55 were cut, she'd have to walk up a steep and heavily trafficked road to the hospital.
She'd rather have the bus. "You can raise [the] fare to 10 bucks and I'd take it."