Best artistic collaboration involving a cello
Attack Theatre and Dave Eggar
2425 Liberty Ave., Strip District. 412-441-8444 or www.attacktheatre.com
In an era when even the Pittsburgh Ballet performs to live music only half the time, this modern-dance company nearly always makes room for cello -- the one played by internationally acclaimed composer and performer Eggar. For several years, Eggar, his music and his fellow musicians have been an integral part of Attack's productions. The latest show, Incident[s] in the Strip, found Eggar more involved than ever, even doing a little dancing. Meanwhile, his compositions, from chamber interludes to propulsive rock, set the pace in a vibrant, inventive production.
Best meeting place for hipsters and house music
New Amsterdam's Hijack nights
4421 Butler St., Lawrenceville. 412-682-6414 or Hijackpgh.org
Launched in February, the monthly Hijack series at the New Amsterdam pairs resident DJs and music-makers -- Local (a.k.a. organizer Ryan Walsh), Aaron Clark, Edgar Um -- with guests from outta town, pumping avant house and techno through a killer sound system. Weary of retro-soul nights, but still dig the dancing, familiar faces and hassle-free crowd? This is your jam. While there's nothing quite like a sketchy warehouse party in a bad part of town, the New Amsterdam's intimate, welcoming setting makes it a great place for newbies to engage with newer sounds and get their feet wet -- and dancing.
Best place to befriend people who also play the hurdy-gurdy, lute or banjo
Calliope: The Folk Music Society
412-361-1915 or www.calliopehouse.org
So you've lusted for arcane musical instruments from the Lark in the Morning catalog since the sackbut was en vogue. And you can boast the complete works of, say, Steeleye Span or Richard Thompson. (Extra credit: owning Birkenstocks and white athletic socks, but resisting the temptation to pair them.) With such specialized interests, where's a folkie to expand his or her knowledge -- and social circle? Since 1976, the nonprofit folk society Calliope has been Pittsburgh's one-stop. In addition to an array of educational and outreach programs, music classes and gatherings, Calliope boasts a busy schedule of concerts, from intimate to grand -- plenty of chances to mingle and share enthusiasms.
Best hope for Dormont's cultural renewal
Hollywood Theatre
1449 Potomac Ave., Dormont
412-344-1425 or www.hollywooddormont.com
The people of Dormont have heard your jokes about being the "gateway to Beechview" and the "poor man's Mount Lebanon." But along its tidy Potomac Avenue business district stands the Hollywood, a long-shuttered neighborhood theater that has been twice reborn in recent years. And it ain't showing grainy copies of the Crocodile Dundee sequel, either. Cult classics like The Big Lebowski and Rocky Horror Picture Show ... themed nights like bring-a-bottle-of-wine-to-a-showing-of-Sideways ... a series on "spaghetti westerns" ... see it all from the balcony, or the spacious seating on the ground floor. Where else are you gonna find a borough councilor serving up candy and popcorn -- even after Election Day?
Best radio morning host who gets up at 4:30 a.m. and still goes to more late-night local rock shows than you
WYEP Morning Mix Host Cindy Howes
91.3 FM or www.wyep.org
After relocating here in 2007 from Boston, where she also held down a radio gig, WYEP DJ Cindy Howes lost no time getting her bearings in the local-music scene. Which is a good thing: She also coordinates local-music programming on the station. Even though she's usually up at 4:30 a.m. for work -- even earlier, if she's biking in -- she typically hits three or four shows a week. So when there's a show you want to check out, but the siren song of the Xbox and couch are calling ... remember that Cindy's out there, getting more records, less sleep and being more awesome than you. Suck it up and go.
Best place to glimpse Jeff Reed in his natural habitat
McFadden's Restaurant and Saloon
211 North Shore Drive, North Side. 412-322-3470 or www.mcfaddenspitt.com
Sure, McFadden's is a big, raucous room with great drink specials. But being closely situated to two major professional sports venues -- Heinz Field and PNC Park -- gives the venue an added bonus, especially on game day. It's a great spot to see some of your favorite athletes having a few drinks, blowing off steam and -- sometimes -- making headlines in the parking lot. Steelers' kicker Jeff "Skippy" Reed has been known to visit, though if you want to see him, you probably ought to hurry: Reed's a free agent after this season. But we've got a feeling that even if he leaves, this place will still be thrumming with post-game vibes. Just don't invite Mitch Berger.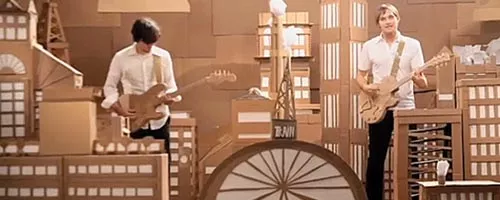 Best music video by a local band
"Brittney Lane Don't Care" by Meeting of Important People
The stop-motion animation and cardboard landscape is like a Peter Gabriel video directed by Michel Gondry. The city was the brainchild of director Thomas Glunt, and built with the volunteer help of about 30 artsy types and architects out of cast-off boxes. This upbeat song is from the indie rockers' self-titled album, independently released in March and then digitally re-released (with bonus tracks) in April by Authentik Artists. The YouTube video has garnered more than 44,000 views since its debut in September, and that's not counting views from other versions floating around the Internet. But check out MIP live as well: This charming video -- it depicts the trio as gentle giants with cardboard instruments -- can't quite capture the energy of the band's live shows
Best place to see unusual folk music
Morning Glory Coffeehouse
1806 Chislett St., Morningside. 412-450-1050 or www.moglocoffee.com
There are plenty of places around town to check out a dude with an acoustic, but it's the eclectic, and sometimes avant-garde, nature of the entertainment at Morning Glory that sets this shop apart. From local old-time folker Emily Pinkerton to banjo-punk shaman Daniel Higgs or K Records heroes Arrington DeDionyso and Calvin Johnson, MoGlo presented plenty of disparate -- yet somehow harmonious -- takes on folk in 2009. The shop represents internationally as well, with acts like France's My Name Is Nobody and the Norwegian-by-way-of-Ireland Thinguma*jigSaw having played there in the past year. Credit owner Jeffrey Anderson, a Providence transplant, with putting Morningside on the music map.
Best Indian musician in an Irish band:
Bob Banerjee, of Corned Beef and Curry
At first, you may be baffled to see an Indian-born musician playing in an Irish band. But after listening to Bob Banerjee play a couple of notes, it's a wonder no more. The classically trained musician -- he plays violin, fiddle, mandolin and guitar -- once toured with the internationally known Gaelic Storm, but can now be seen at a bar near you, playing everything from Celtic and folk to bluegrass and classic rock. Banerjee may not have pasty skin or an Irish brogue, but he's got chops. And that's really all that matters.
Best reinvention of a venue
Howlers Coyote Café
4509 Liberty Ave., Bloomfield. 412-682-0320 or www.howlerscoyotecafe.com
Thanks to its new stage and sound system, not to mention its built-in crowd and central location, local musicians and audiences are rediscovering the charms of Howlers. In years past, this Bloomfield bar wasn't always such a desirable venue -- and with its gauntlet of grizzled locals in the front bar, it could be a bit forbidding. Raising the venue's profile in the last year or two, Howlers' intimate back room now hosts touring acts from rockabilly queen Wanda Jackson to 22nd-century guitar whiz Reeves Gabrels, the Hillbilly Hayride roots-music series, and even a blog that posts recordings of performances. But for those who crave the Howlers ambiance of yore, there's still smoke, affordable drinks ... and a rough-and-tumble feel.
Best sanctioned use of a wall by a renegade artist
Shepard Fairey's work
From Andre the Giant to the wildly famous Barack Obama "HOPE" poster, Shepard Fairey's career has garnered international attention -- and more than a bit of controversy. The artist/appropriator adorned the walls and alleyways of Pittsburgh in preparation for his Supply and Demand retrospective at The Andy Warhol Museum (on display through January), leaving his mark on many of our city's blank spaces. Want to make sure you haven't missed anything? Searching "Shepard Fairey Outdoor Work" on Google Maps will give you the exact address of each work, complete with a photo of his red, white and black murals. Regardless of your feelings about the artist, his works have livened up otherwise blank walls ... and his tactics would probably make Warhol himself proud.
Best new place to hear jazz
Little E's
949 Liberty Ave., Downtown. 412-392-2217 or www.littleesjazz.com
Downtown has tried its luck with the big jazz club: the now-shuttered Dowe's on Ninth. The second time around, hopes are pinned on a more intimate jazz-and-blues setting. The once-barren second floor of Mahoney's Restaurant has been transformed into a hip space where the vibe is more New York City than downtown Pittsburgh. Hardwood floors and artwork scattered along the exposed brick walls add to the ambience. Grab a cocktail and lounge on the pillow-covered sofa next to the bar area; later, move to a stage-side table for a candle-lit dinner and a close-up view of the trombones. Drinks can be pricy, but the payoff is having a secret place to escape with friends, feeling you've traveled far from home.
Best heavy-hitting Pittsburgh music line-up
Girl Talk at the Amphitheatre at Station Square, July 31, 2009
Sure, there's the Hometown Hootenanny at Post-Gazette Pavilion, where more mainstream Pittsburgh successes strut their stuff. But if you prefer more freakified local music, the spot this year was Girl Talk's blowout at the Amphitheatre at Station Square. The concert featured some ferociously awesome performers: Wiz Khalifa, Grand Buffet, Donora, Centipede, Don Caballero and DJ Kendall. You could see the smoke coming out the ears of unsuspecting dayglo teens as Grand Buffet's Jordan humped a giant stuffed animal, yelling "fuck that dog, fuck that dog!" before throwing it into the crowd, where it was torn to shreds. During Girl Talk's finale -- which featured enormous balloons and the backdrop of the city's skyline -- even the most jaded had to feel a perverse civic pride.
Best place to party like a frat boy in Lawrenceville
Double D's
4121 Butler St., Lawrenceville. 412-721-6880
For all the talk about Lawrenceville going the way of the South Side, the only sure indicator we've seen of the trend is Double D's. On a main drag populated by neighborhood bars and newer hipster joints, Double D's is a double dose of the stuff everybody else likes. The "newest & hottest spot in Lawrenceville to watch football & even hang with hot bartenders" offers loud rap-rock on the juke box, five flat-screen TVs, fake tans and questionable blondes -- basically the perfect place to show off your chinstrap and beach muscles. So order a coupla cold Miller Lites, give the hottie bartender the eye and slowly but confidently pull that vintage "Cocks University" brim around to the back. It's on.
Best solo museum art exhibit
Thad Mosley: Sculpture (Studio/Home) at Mattress Factory
500 Sampsonia Way, North Side. 412-231-3169 or www.mattress.org
Appropriately, given Mosley's chosen medium, visiting this retrospective was like walking through a forest of sculpture. The venerable North Side wood-sculptor's sinuous lines, African motifs and incorporation of found objects made an aesthetic playground of a whole floor of the museum. In all, it was a nearly overwhelming look back on a decade of work. Bonuses included a room on a lower floor lovingly filled with transplanted items from Mosley's nearby studio, and a video interview (installed over a pile of wood shavings) in which he discussed jazz music and other sources of inspiration.