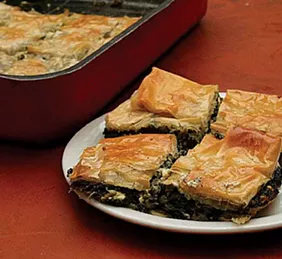 Christmas (Dec. 25)
For a lot of people, Christmas food traditions are somewhat universal. Where they tend to differ is due to the cultural and ethnic backgrounds of the celebrants.
In the Greek Orthodox Church, preparation for the celebration begins weeks before Dec. 25, both spiritually and in the cooking process. The entire month is for fasting, while abstaining from meat, dairy and oil. "A lot of people start right after Thanksgiving making pastries, making spanakopita, putting it in the freezer, so they're ready to pull out on Christmas Eve," says Marcie McGuire, co-chair of Saint Nicholas Greek Orthodox Cathedral's Greek food festival.
For McGuire, the food is about tradition, and passing down what she learned from previous generations. "When I was a kid, I would watch my grandma make [spanakopita]. She used to roll it with a broom handle," McGuire says.
Making spanakopita can be tricky, because it uses delicate phyllo dough and its simple ingredients can be tricky to work with. "You can't use grocery-store feta," says McGuire. Locally, she recommends getting feta and phyllo dough from a Greek grocery store like Stamoolis Brothers. Another crucial component is making sure the spinach is as dry as possible to ensure the dough isn't soggy. "Squeeze it until you cannot get another drop," says McGuire.
Ingredients
20 oz. frozen, cut spinach, thawed

1 med. onion, chopped

2 tsp. dry dill or 3 tsp. fresh dill, with more to taste

1 lb. unsalted butter, melted (do not use margarine)

2 eggs, beaten

1 lb. good Greek feta cheese, crumbled

½ cup parmesan cheese

½ tsp. salt and pepper, (or to taste)

1 lb. phyllo dough

Directions
Rinse and drain spinach until completely dry.
In a medium skillet over medium heat, melt 1 tbsp. butter. Add onions. Cook for about 5 minutes.
Remove from heat and cool.
In a large bowl, combine spinach, onions, beaten eggs, both cheeses, salt and pepper. Mix well.
Butter the bottom of a 9-by-13-by-2-inch baking pan. Trim phyllo sheets to fit the pan. Line bottom of pan with 10 sheets of phyllo, brushing each sheet generously with melted butter.
Spread the spinach mixture evenly over the phyllo. Top with remaining phyllo sheets, again brushing each sheet generously with melted butter.
Score into serving size pieces with a sharp knife, cutting only through the top layer of phyllo.
Bake at 350 degrees for approximately 35 minutes, or until rich golden brown.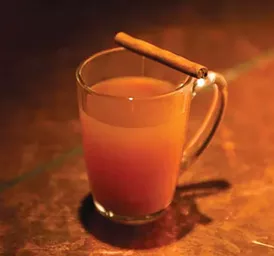 Solstice (Dec. 21)
Compared to religions that have been around for thousands of years, neo-paganism is relatively new and still figuring out its traditions and practices. While Yule, the observation of the winter solstice, is a celebration, it's also moody. "Yuletide is scientifically the darkest time of the year, and it's a really good time for fellowship and being together," says Diana Paar, an intuitive and tarot-card reader. "It's celebratory, but it's somber and contemplative." Many practitioners of neo-paganism were raised in other religions and cultures, and bring that to the Yule celebration, which usually takes the form of a potluck. Depending on who is at the ceremony, the spread might include German bread in the shape of a boar's head, Italian pizzelle cookies, or a French buche de Noel (a chocolate cake shaped like a log).
One steadfast offering, Paar says, is wassail, a drink made using hot cider and mulled spices. Old English pagans used to drink wassail in the middle of winter, while singing and shouting to ward off spirits that might hinder crop growth. While Paar doesn't use a specific recipe, she has developed her own methods for concocting the drink. She brews it in a slow-cooker and buys premade spice mixes, which generally contain cinnamon, nutmeg, cloves and allspice. The spices are tied up in a piece of cheesecloth and steeped like tea in the liquid.