When the holiday season rolls around, everyone looks forward to their favorite foods. Gathering around the table to share dishes is one of the things that makes these days special, and vegans shouldn't have to miss out. We gathered a few recipes from local chefs to help make your holidays fun and free from animal cruelty.



Eden's Pumpkin Pie
Makes 16 pieces
I'm a vegan chef, formerly of the restaurant Eden, in Shadyside. Eden specialized in raw vegan cuisine, and every fall we would have this delicious pumpkin pie on our menu. Not only is this super pie vegan, and bake-free, but it's actually pretty healthy for you. So many of the ingredients are full of fiber, protein, beta carotene, iron, thiamine, riboflavin, and rich in vitamins A, K, B2 and B6.

Hilary Zozula
Former chef/owner of Eden, a health-food restaurant in Shadyside

For the crust:

1 cup cashews
1 cup coconut flour
1 tsp. salt
8 dates
Blend in food processor. Once blended, add in ½ cup water using the pulse setting. Dump into a springform pan, and press the crust in firmly so that it covers the bottom of the pan evenly.
For the filling:
2 cups fresh pie pumpkin, peeled into small cubes
1 apple, chopped
1 cup cashews
2 cups coconut oil
1 cup water
¼ cup goji berries

14 dates
1 tbsp. cinnamon
¼ tsp. cloves
1 tsp. nutmeg
1 tbsp. ginger
Blend in a food processor until smooth. Pour filling over top of the crust in the pan, smooth out evenly and let chill in the fridge for about 6 hours until firm. Slice and serve.




Green Bean Casserole
Makes a 9-by-11-inch casserole
Burk has worked all over the city as a chef — at Randita's Organic Vegan Café, as a personal chef and teacher at Naturally Soergels, and is now starting Sugar Sells Scoops, a vegan ice cream business. "I've been vegan for 11 years, when there weren't as many options and products as there are today," she says. "It can be tough around the holidays. As a vegan, you really look at the food industry and agriculture so differently. It can be depressing and hurtful to be around those who don't understand. Even the slightest bit of effort is appreciated, especially around the holidays when families are coming together. My one grandma will always make me spaghetti because she knows I can eat that." Here's one thing Burk can bring to the table that everyone will love.
Amanda Burk
Sugar Sell Scoops
Ingredients:
16 oz. green beans, washed, trimmed and quartered if fresh
8 oz. mushrooms, quartered and sliced thin
3 tablespoons vegan butter (Earth Balance, Melt, etc.)
3 tablespoons flour
1 cup vegetarian stock
1 cup non-dairy milk or creamer
1½ tsp. minced garlic
1 tsp. tamari or sea salt
black pepper, to taste
½ tsp. nutmeg, fresh grated preferred
½ tsp. pepper
French's Fried Onions (accidentally vegan!)
Directions:
Bring water with a pinch of salt to a boil in a medium pot. Add prepped beans and blanch for 5 minutes. Beans should be bright green. Drain in a colander and immediately plunge beans into a large bowl of ice water to stop the cooking. Drain and set aside. Melt butter in a pot over medium-high heat. Add the mushrooms, tamari (or sea salt) and pepper, and cook, stirring occasionally, until the mushrooms begin to give up some of their liquid, approximately 4 to 5 minutes. Add the garlic and nutmeg, and continue to cook for another 1 to 2 minutes. Sprinkle the flour over the mixture and stir to combine. Cook for 1 minute. Add the stock and simmer for 1 minute. Decrease the heat to medium-low, and add the milk or creamer. Cook until the mixture thickens, stirring occasionally, approximately 6 to 8 minutes. Taste and adjust the seasonings. Remove cream mix from heat. Place green beans in casserole dish and pour cream mixture over top, thoroughly covering and combining. Top with fried onions. Place into the oven and bake until bubbly, approximately 15 minutes. Remove and serve immediately.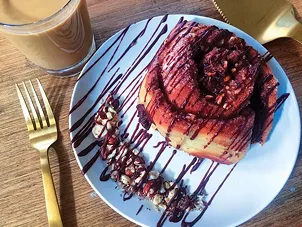 Breakfast Rolls
Makes 6-8 rolls

Abbigail Hansel helms Relish Co., an all-vegan popup providing doughnuts, bagels, brunch and more for the Pittsburgh area. "I love creating comfort and novelty foods that vegans wouldn't normally have access to, as well as making sure they are enjoyable by omnivores too," she says. "These are extremely versatile. You can fill them with cinnamon, sugar and brown sugar, chocolate and hazelnuts (pictured), or something savory like cheese and spinach."

Abbigail Hansel
Relish Co.

Ingredients:
2 cups soy milk
½ cup olive oil
5½-6 cups all-purpose flour
½ cup granulated sugar
1 tsp. salt
½ tbsp. active dry yeast
½ cup vegan butter at room temperature
Directions:
Bring soy milk up to a temperature of 115 degrees Fahrenheit. Add yeast and sugar, stir lightly, and let sit for five minutes. Mixture will get foamy, meaning yeast is now active. Add oil, salt and the first 5 cups of flour. Stir this mixture until fully combined. Add more flour a little at a time, stirring with a wooden spoon until a wet dough forms. (It will not be a ball or smooth, but a wet dough that starts to pull away from the sides of the bowl.) Cover this dough with plastic wrap and a kitchen towel, and leave in a warm room for about 1 hour. The dough should double in size.
Dump dough onto a lightly floured work surface and knead gently for 1 to 2 minutes until smooth. Roll the dough out into a rough rectangle about ¼-inch thick. Spread the butter on the surface and top generously with your choice of filling. Cut into strips 2-to-3-inches wide and roll up. Place them loosely in a well-greased baking pan with about 1 inch of space in between each roll. Cover with towel, and let sit for 20-30 more minutes. Rolls will plump up. Bake at 350 degrees Fahrenheit for 18-20 minutes, or until golden and cooked thoroughly. Let rest for 10 minutes before removing from pan.