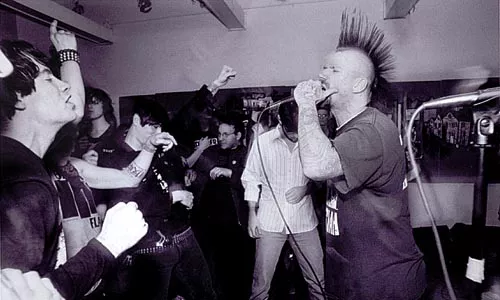 Dave Trenga lives in a place he considers enemy territory. It's the place where he was born, the town -- Pittsburgh, PA, U.S.A. -- that has afforded him success in his chosen field, even a modicum of fame. And yet, he and his fellow travelers in politically motivated crust-punk band Behind Enemy Lines consider themselves just that: a fifth column against a place they consider dangerously hypocritical.
From the opening strains of One Nation Under The Iron Fist of God, the band's new album, listeners knows that something is gravely wrong with that place. "Retribution," "Gluttons of Privilege," "American Rape Rooms" -- these are songs punctuated by guttural howls and whirlwind guitar crunches, songs that, under happier circumstances, couldn't even be created. Behind Enemy Lines takes the idea of "blame America first" and embraces it: They're damning, and they just might be right.
"There's so much to talk about, things seem to go downhill and downhill," says Trenga, "how could I not focus on it all?" These days, "It's not too hard for me to sit down and write some lyrics."
Trenga was the singer for Aus Rotten, arguably the most important band of the '90s anarcho-punk renaissance (and which also included BEL guitarist Matt Garabedian). Some of his words might seem polarizing to more mainstream American leftists: calls for uprising, accusations of government complicity in AIDS, and so on. Well, try to argue with "Third World Blood" -- yeah, feeding on the suffering of Africa and the Middle East is kind of our m.o. Or "American Rape Rooms" -- OK, you got me, Abu Ghraib was pretty bad.
The crowning moment on One Nation is "Flooded." The rhythm is heavy, trudging, waterlogged -- partly due to Mary Bielich and Matt Tuite, who joined the band a few years ago from underground metal icons Penance. Over the sludge of "Flooded," Trenga simply recites the facts of Hurricane Katrina: Stranded on the rooftops, flooded by incompetence, hope washed away. "If you are poor, it's time to sink or swim." Simply the facts, ma'am, and it don't look good.
"We played in Minneapolis recently," says Trenga, "and a woman came up to us, crying, and thanked us for 'Flooded.' She's originally from New Orleans, and couldn't believe that [no bands] were talking about [Katrina]."
In the tradition of anarchist multidisciplinarians Crass, inside One Nation's LP you'll find a 50-page book of lyrics, political posters and artwork (the CD version's booklet stretches to more than 60). After decades in the punk game, and despite the depressing state of living behind enemy lines, the band still adheres to punk's central tenant: Do it because you love it.
"It's not everyday you get to release a record," says Trenga. "For each [release], we're putting more in. After all, it's our only opportunity to put something out there."
Behind Enemy Lines CD release, with Thought Crime, Plastered Bastards and Blood Vessels To Wires. 7 p.m. Sat., Feb. 3. The Garage Door (former Oakland Café and The Decade), 219 Atwood St., Oakland. $6. 412-683-0488