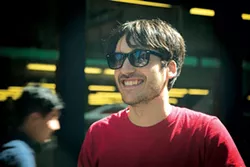 In May, singer-songwriter Lukas Borsten got into his 1999 Corolla and set out from his home in Portland, Ore., for his first solo tour, covering 50-plus towns and cities in more than 30 states.
Driving through Oregon's eastern high desert — a vast, empty place where apparitions can plague the most seasoned drivers — Borsten began to feel his "perception of time shifting. I've stepped outside the normal. It's very freeing, elating in a lot of ways, and scary." As he crossed into Idaho, storm clouds trembled on the horizon and he had the sense of "entering a void, right off the edge of the world."
His companion on the road is the audiobook of Pale King, by David Foster Wallace. At night, his favorite time to drive, Bob Dylan's song "Gates of Eden" comes to him. "It's a perfect night-driving tune," he says. "It lets your mind flow, meditatively, and it allows me to listen in unexpected ways; there is awe, visually, everywhere I'm going I haven't seen before, and so I listen and drift with the landscape."
"For the first couple of weeks, I was consistently having tumultuous dreams; everything from show logistics going wrong to accidently driving off a cliff," Borsten says, but by the time he hit Utah and western Colorado, his "subconscious seems to have settled down" and he's been dazzled by the landscape and happenstance encounters with fellow travelers.
In his songs and on this tour, Borsten is a bit like Dylan's cowboy angel riding with the clouds — possibly in search of his own Eden. He's happy to be traveling, playing music, meeting people in small towns who have a "desire to help you out ... you know everything's going to be OK because there's an essential goodness in others — people really step up."
Bortsen was trained in classical saxophone at the University of Puget Sound, and it's hard to pinpoint his style. His primary band, Ghost Towns, comprises six players and a bevy of instruments: rhythm section, trumpet, violin, accordion, banjo and saxophone. Its sound is buoyant, twisted folk rock with an Eastern European gypsy vibe. He's opened for Amanda Palmer with his band Lefty & the Twin, co-led with Brandie Gaudette, and also writes songs and plays with The Bottlecap Boys. His EP Piece of Me is about a break-up and the "desire to take something away from the experience, and maybe carry a little something of each other for the rest of our lives."
Besides submerging himself in Dylan's 1963-66 catalog, when writing songs Borsten reaches for the lyrical intensity of works such as Neutral Milk Hotel's In the Aeroplane Over the Sea. "There are certain passages in certain songs that you're lucky enough to grab from the air," he explains, "and it's the truest, purest expression of the experience."