[POP] + THU., SEPT. 29
It's easy to get lost in a fog of The Beatles and The Who and forget that one of the most commercially successful artists to emerge from the British Invasion was
Tom Jones
, the dreamy baritone your mother had a huge crush on. He's pumped out some iconic hits across the genre spectrum, and Jones' most recent record, last year's Long Lost Suitcase, has a country feel while retaining that charming tone for which he's known. Catch Jones at the
Benedum Center
playing tunes from his half-century-long career.
Megan Fair 7:30 p.m. 237 Seventh St., Downtown. $59.50-85. All ages. 412-456-6666 or www.trustarts.org
[INDIE POP] + THU., SEPT. 29
Two decades into its career,
Dressy Bessy
has grown into the 2000s with grace while retaining the charm of the late '90s. Dressy Bessy's latest record,
KINGSIZED
, emanates a darker, saltier attitude than the previous release while holding onto a sweet melodic feel. Opening the gig at
Club Café
is
The Garment District
. That project of Pittsburgh's Jennifer Baron has an intricate poppy folk and electro foundation that is irresistible and worth experiencing.
MF 8 p.m. 56 S. 12th St., South Side. $12-14. 412-431-4950 or www.clubcafelive.com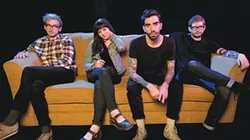 [ROCK] + SAT., OCT. 1
Pity Sex
, the most bummed-out band on Run For Cover's roster, is currently touring on its latest effort,
White Hot Moon
. Gloomily catchy, Pity Sex wraps its listeners in a cloud of noisy guitars and understated melodies, seasoning a stew of Morrissey, Hum and The Cranberries with a dash of modern indie context.
Cattivo
also hosts locals
Curse Words
and
rchrd prkr
. Supplying the math and the twinkle, Curse Words holds down the sad-boy jams while rchrd prkr drips the riffage into a lo-fi indie soundscape.
MF 7 p.m. 146 44th St., Lawrenceville. All ages. $13-15. 412-687-2157 or www.cattivopgh.com

[EXPERIMENTAL] + SAT., OCT. 1
The week of music veterans landing in Pittsburgh continues with a performance by the
Legendary Pink Dot
s with
Orbit Service
at
Brillobox
. Led by space-cadet psych dudes Edward Ka-Spel and Phil "the Silverman" Knight, LPD emerged from London in the early '80s, growing and stretching its sound from jam-based to groovy electronic to rock-based psychedelic. What the Dots deliver in structure, Denver's Orbit Service deconstructs in its noisy electronica, and the evening is sure to be one for sensory exploration.
MF 9 p.m. 4104 Penn Ave., Bloomfield. $20-25. All ages. 412-621-4900 or www.brillobox.net
[SINGER/SONGWRITER] + SAT., OCT. 1
Mutlu
sews together quiet acoustic themes with grooving rhythms and multi-genre influences. For someone with an EP called
Caffeine & Whiskey
, it only makes sense for viewers to enjoy the show with delicious libations at the
Pittsburgh Winery
. The singer/songwriter's voice has a crisp, cleanliness that's radio-ready and irresistible for fans of the adult-contemporary universe. Also performing is genre-bending hip-hop artist
Kuf Knotz
, whose sound and unique flow is light and uplifting. It's hard not to smile when Knotz gets on the track.
MF 9 p.m. 2815 Penn Ave., Strip District. $12-15. 412-566-1000 or www.pittsburghwinery.com