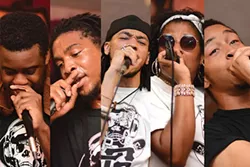 [HIP HOP] + FRI., OCT. 28
Local hip-hop collective
#PirateGang
is taking over
The Smiling Moose
for the
Overboard Halloween Party
. PirateGang is an acronym for "People Inspiring Real Aspirations To Experience Greatness Approaching Newer Generations," and its mission is to celebrate and create art in the 412. In addition to vendors and raffles, the party will showcase some of Pittsburgh's up-and-coming hip-hop artists.
SpaceJam Jiff
, of Braddock, brings backpack trap to the table with tracks like "Oh It's Lit," while
Sosa412
takes a soulful approach to rap.
Grimey Click
inspires with a big style and smooth flow, and the pop hooks shine through with alternative rapper
Jesse Ricketts
of Common Wealth Family.
GENO & the Scholars
round out the lineup.
Meg Fair 10 p.m. 1306 E. Carson St., South Side. $10-12, $8 with costume, $5 if you're dressed as a pirate. 412-431-4668 or www.smiling-moose.com
[PUNK COVERS] + SAT., OCT. 29
Halloween cover shows are one of the best parts of the holiday. When local bands get to emulate their personal heroes, and audiences get to squint and pretend to watch their favorite long-disbanded acts, everybody wins. Tonight, take in an evening of re-animated punk, with
Choir
as the Stooges, the
Bloated Sluts
as Siouxsie and The Banshees, and
Submachine
as the Deformed. DJ Erica Scary provides additional spooky tunes, and all proceeds go to the
Women's Center & Shelter of Greater Pittsburgh
.
Margaret Welsh 7 p.m. The Shop. 4314 Main St., Bloomfield. $5. 412-951-0622
[POP] + MON., OCT. 31, and TUE., NOV. 1
The magic of
The 1975
is its ability to mix the swagger and style of artists like Prince, Phil Collins and even Nine Inch Nails into a cohesive package with undeniable crossover appeal. Frontman/dreamboat Matty Healy's slightly gritty vocals, along with the group's fresh take on electro-pop, has spurred the kind of fan fervor often reserved for boy bands. The 1975 experiments with pop formulas, hiding sultry themes under a deceptively saccharine sound. It's this magic formula that allows you to listen to the band while in the car with your mom. The band will spend not one, but two nights breaking hearts at
Stage AE
.
MF 6:30 p.m. 400 North Shore Drive, North Side. Sold out. All ages. 412-229-5483 or www.stageae.com
[ROCK] + TUE., NOV. 1
North Carolina-based
All Get Out
is a band that perfectly blends the intensity of Brand New with the melodic sensibility of Bad Books, walking a tightrope between alternative rock and pop punk. Unique vocals and warm guitar tone join forces to create an emotive powerhouse, especially on newer tracks like "Get My Cut." Joining All Get Out tonight at
Cattivo
is
Gates
, from New Brunswick — a mathy and atmospheric rock outfit — and Atlanta's
Microwave
, a grungy, darker alt-rock endeavor. Locals
Instead of Sleeping
's radio-ready pop rock lightens the tone of the gig. MF 5:30 p.m. 146 44th St., Lawrenceville. $12. All ages. 412-687-2157 or
www.cattivopgh.com
[HIP HOP] + WED., NOV. 2
Danny Brown
is one of the most innovative, honest and wild artists in the rap sphere right now. His latest album, Atrocity Exhibition, is a blend of brilliantly sparse beats that emphasize clever and thoughtful lyricism, as well as collaborations with Ab-Soul, Kendrick Lamar and Earl Sweatshirt. Atrocity Exhibition is a more quietly manic version of the work Brown showcased on past records, but his unique timbre and flow remain as addictive as the bad habits he explores in his work. It should be no surprise that Brown has a reputation for being quite the entertainer, so don't miss your chance to witness the spectacle tonight at
Mr. Smalls
.
Maxo Kream
and
ZelooperZ
also appear.
MF 8 p.m. 400 Lincoln Ave., Millvale. $22. All ages. 412-821-4447 or www.mrsmalls.com