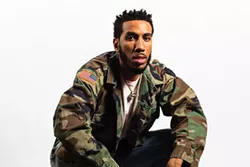 [SHOWCASE] + FRI., NOV. 4
Ace Hotel
and
Martin Guitar
have joined forces with
The Good Peoples Group
to award small grants to promising local artists. Tonight, Ace hosts
Up and Comin'
, showcasing the artists who have been awarded grants. The event will be emceed by 17-year-old, earworm-writing rapper Bird; other featured artists include DJs
ONDO
/
GUSTO
of MISC Records, art-rock quartet
Working Breed
, trap-heavy
Jason Stabbs
and decadent hip-hop artist
Tek Bennet
.
Lights La Soul
will perform smooth R&B-fused rap, while
Moonspeaker
brings the festival-ready pop folk.
Meg Fair 5 p.m. 120 S. Whitfield St., East Liberty. Free. All ages. 412-361-3300 or enquire.pgh@acehotel.com

[ELECTRONIC] + FRI., NOV. 4
Shave your head. Gain telekinetic powers. Ready your bikes. The Moog-manipulatin', atmosphere-creatin' geniuses behind the Stranger Things soundtrack are coming down from outer space to tantalize showgoers at
Spirit. S U R V I V E
's latest record, RR3749, is a masterpiece of electronic tunes designed to transport you to another dimension (thought one that is much less horrifying than the Upside Down). Opening this gig is Pittsburgh's own Moog wizard,
Majeure
.
MF 10:30 p.m. 242 51st St., Lawrenceville. $13-15 412-586-4441 or www.spiritpgh.com
[CELT-ISH] +SAT. NOV. 5
In 1985, multi-instrumentalist
Loreena McKennitt
started her own label so she could make a cassette to sell while she was busking. Since then, her records — which draw together Celtic and Middle Eastern musical themes — have sold more than 14 million copies world-wide. Tonight, the Stratford, Ontario-based artist performs at the
Byham Theater
with two longtime collaborators. "It's a bit … like sitting down for dinner with friends," McKennitt says of the tour, so expect an intimate evening of stories and songs from throughout her career. (Read more from our Q&A with McKennitt at www.pghcitypaper.com)
Margaret Welsh 8 p.m. 101 Sixth St., Downtown. $49.75-79.75. All ages. 412-456-6666 or www.trustarts.org
[METAL] + SAT. NOV. 5
Lady Beast
is a behemoth of heavy-metal attitude and mind-melting riffage. Previous releases Lady Beast and Lady Beast II blister with crunchy guitars, luring vocals and relentless energy. Both were warm-ups for the release of its third album, which the Pittsburgh-based band celebrates tonight at
Brillobox
. As for the openers, metal vikings
Del Rios
will bring the river metal slaughter, and
Peace Talks
defies definition outside of the fact that it brings some delightfully unpredictable, spastic punk rock to the gig.
MF 9 p.m. 4104 Penn Ave., Bloomfield. Free. 412-621-4900 or www.brillobox.net


[BRUTAL BEER] + SUN. NOV 6
Some fast facts about tonight's
Brewtal Beer Fest
at
Spirit
. It's a beer fest, but also a metal fest, where local heavy bands pair with local breweries.
Vermithrax
teamed up with Spoonwood Brewing,
Greywalker
with Penn Brewery,
World's Scariest Police Chases
with Rock Bottom and
Natural Causes
with East End Brewing Company. The winner of the best brewery/band collaboration receives a WWE-style championship belt bearing the insignia of the brewery, so it's kind of a big deal. It's also a music fest featuring all the aforementioned artists as well as headliner
Child Bite
and RPG metal act
Dethlehem
.
MF 4 p.m. 242 51st St., Lawrenceville. $36-55 412-586-4441 or www.pghbrewtalfest.com