[SINGER-SONGWRITER] + FRI., NOV. 11
Elizabeth de Lise, one half of Philly-based folk duo
Lizdelise
, has a voice that is smooth and lilting, drawing you in with each careful harmony and lyric. The atmospheric guitar work and electronic, ambient touches fill the space around her vocals. Sometimes playful, sometimes full of grief, Lizdelise's special brand of gloomy pop has a very refreshing feel to it. See and hear for yourself tonight, when the duo performs at
Acoustic Music Works
. Toronto-based guitarist
Bob McAlpine
and Pittsburgh's own
Aaron Lefebvre
also perform.
Meg Fair 8 p.m. 2142 Murray Ave., Squirrel Hill. $10. 412-422-0710 or www.acousticmusicworks.com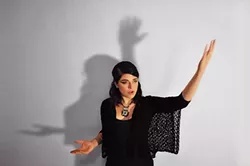 [ROCK] + FRI., NOV. 11
From all the way across the pond,
Gemma Ray
lands at
Hambones
to deliver dramatic psych-rock with a classic feel. Her latest effort,
Exodus Suite
, was recorded in a studio situated above a hangar that was home to Syrian refugees, and the darkness and uncertainty she witnessed surely seeps through in the shady undertones of her nearly hour-long rock odyssey.
Spurs
, a band rooted in country and Americana, performs along with
Emily Rodgers
, whose haunting vocals float over contemporary-meets-folk instrumentals.
MF 9 p.m. 4107 Butler St., Lawrenceville. $10. 412- 681-4318 or www.hambonespittsburgh.com
[COMPOSITION] + SUN., NOV. 13
Fredrico Garcia-De Castro
has been living and composing in Pittsburgh since 2001. Castro cofounded the composer consortium
Alia Musica
in 2007 and continues to conduct, compose and produce with fervor.
NAT 28
, a group of CMU graduates, performs a retrospective of Garcia-De Castro's work at the
First Unitarian Church
. Part of the "Portraits" series, which celebrates innovative local composers, tonight's performance will include six chamber works, a mix of ensemble pieces and solo instrumental compositions.
MF 5:30 p.m. 605 Morewood Ave., Shadyside. All ages. $12. www.nat28.org/performances
[POP] + MON., NOV. 14
Tony Molina
needs no more than about a minute to present a catchy melody with biting riffs and melodic, harmonic guitar-work. It's smart and simple stuff, with an irresistible undertone of bummer. The Millbrae, Calif.-based artist stops by
Gooski's
with Maryland's dreamy, tender shoegaze-pop band
Wildhoney
. Opening the gig is Pgh's own
Chiller
, who will most certainly change up the pace by bringing the punk sound and attitude that this town rocks so well.
MF 9:30 p.m. 3117 Brereton St., Polish Hill. $5. 412-681-1658
[ROCK] + WED., NOV. 16
If you're in the mood to bop around to some catchy-ass rock, get over to the
Roboto Project
for a four-way punch of rock-meets-pop excitement. Hailing from Massachusetts,
Born Without Bones
has that Weezer-style allure of grandiose rock with poppy hooks. Sometimes it's bratty, sometimes it's sad, but all the time it's catchy. Also performing is New Jersey's
Save Face
, an eclectic indie-punk outfit with a subtle twang. Pittsburgh's moody rockers
Salvage the Tongue
and jangle-rockers
Distant Futures
will kick the gig off right.
MF 7 p.m. 5106 Penn Ave., Bloomfield. $7. All ages. www.robotoproject.org