[FUN PUNK] + THU., MAY 4
Pkew Pkew Pkew
is a Canadian band that met through a Craigslist ad. They're all dudes from little towns in Ontario who make big-sounding punk rock about trying to stay young, combating nostalgia and getting too hecked up on alcohol. The members call themselves "the Lance Armstrongs of music" (they dope, obv.). Making its triumphant return from hiatus is local band
Fuck Yeah, Dinosaurs!
, an outfit with absolutely wicked wit and dinosaur-, beer- and hockey-themed lyrics that will make even the grumpiest nerd chuckle. Pittsburgh's
Nightmarathons
also celebrates its debut EP at this party at
Howlers
. Plan for a hangover Friday morning.
Meg Fair 9 p.m. 4509 Liberty Ave., Bloomfield. $8. 412-682-0320 or www.howlerspittsburgh.com
[HARDCORE] + FRI., MAY 5
Grab your skateboard and get in the car, nerd! There's a sick punk gig tonight at
Dock 5
, and a mini ramp is involved. Providing the tuneage to your sweet skate tricks will be Richmond, Va.'s
Fried Egg
, a hardcore band that rips like old Ceremony, and has captured the art of the short song as a brutal tool for inducing headbanging and crowd participation. Pittsburgh represents with
Killer of Sheep
, hardcore musicians, champions for truth and purveyors of thinking for yourself. The 412's
Medium Ugly
brings a style of punk that is snotty and biting, the kind of music perfect for blasting through your earbuds as you glare at catcallers on your summer walks.
MF 7 p.m. 234 Ninth St., Braddock. $7. 412-621-1715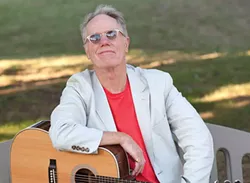 [FOLK] + SAT. MAY 6
Last fall singer/songwriter/activist
Loudon Wainwright III
released a song before the November election called "I Had a Dream," which contained the lyrics: "I had a dream I don't know what it meant. But I dreamed Donald Trump was our president." It was in the glory days when we all thought there was no way Trump could win. Wainwright has been writing provocative, meaningful lyrics since the 1960s. A former drama student at Carnegie Mellon, Wainwright released a song in 1970 called "Ode to Pittsburgh," which he'll hopefully sing tonight at his show at Oakland's
Carnegie Lecture Hall
.
Charlie Deitch
7:30 p.m. 4400 Forbes Ave., Oakland. $20-40. 412-361-1915 or www.calliopehouse.org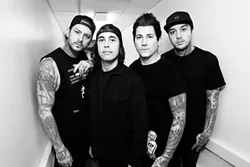 [WARPED ROCK] + TUE., MAY 9
I'll admit it. I'm a sucker for nostalgia trips, and tonight at
Stage AE
is no exception. For the nu-Warped generation (we started going after it stopped being "punk" and "good" according to older punks), there are certain bands that many of us secretly still love. This tour showcases three of Warped's heavy hitters:
Pierce the Veil
,
Sum 41
and
Emarosa
. I do not give a heck what any pretentious dork says, PTV is an objectively talented band writing emo music that doesn't sound like others in its genre. Emarosa writes pop-tinged post-rock with a splash of math, and if you pretend you don't know all the words to "Fat Lip," by Sum 41, you're a liar and not to be trusted.
MF 7 p.m. 400 North Shore Drive, North Side. $29-32. 412-229-5483 or www.promowestlive.com
[POP PUNK] + WED., MAY 10
Parasites
have been around for about 30 years making pop punk. Throughout its tenure, the band has pumped out the kind of music it wanted to make, not bowing to trends. As a result, the outfit served as a powerful influence for punk and pop-punk bands across the U.S., Europe and Japan. Also performing tonight at
Howlers
is gruff, poppy punk band
Playoff Beard
, a band anchored by gritty vocals and catchy hooks.
Scrap Kids
, performing full band, will serve up all the anthemic punk your heart desires.
MF 9 p.m. 4509 Liberty Ave., Bloomfield. $8. 412-682-0320 or www.howlerspittsburgh.com