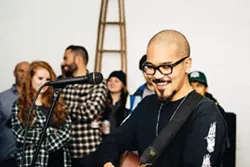 [FOLK PUNK] + FRI., DEC. 9
Koji
is a songwriter overflowing with emotion, and his honesty and integrity is something the world could use a little of right now. The last song Koji released was "Keeping Count," about empathy and compassion in a time when politicians are as corrupt and blatantly racist as ever. Pittsburgh's
Homeless Gospel Choir
is embarking upon this tour with Koji and joins in on the punk-in-the-name-of-hope fun at the
Mr. Roboto Project
with
Lawn Care
and
Otis Wolves
.
Meg Fair 7 p.m. 5106 Penn Ave., Bloomfield. $10-12. All ages. www.robotoproject.org
[ROCK] + FRI., DEC. 9
Chrome Moses
promises rock 'n' roll with no gimmick, just groovy riffs. To celebrate its third release,
Mother Volt
, Chrome Moses will be taking over the
James Street Gastropub and Speakeasy
ballroom with
Nox Boys
.
Mother Volt
is the sister record to last year's
Tamaraine
, and the single "The Bleeder" — in which gritty vocals tell a tale of a alluring woman with a sinister side — showcases the band's bluesy charm and totally rockin' sound.
MF 8 p.m. 422 Foreland St., North Side. $10. 412-904-3335 or
www.jamesstreetgastropub.com

[REGGAE] + SAT., DEC. 10
Few bands can boast a career that spans four decades, but reggae legends
Third World
— appearing tonight at the
New Hazlett Theater
— can. With 43 years of reggae-magic in the books, the band is still taking its music around the globe. Twenty-one studio records in, the group has a lot of music to choose from, but there's a good chance you'll hear "Now That We've Found Love," "Try Jah Love," "1865 (96 Degrees in the Shade)" (a track with some of the hottest harmonizing ever), or maybe the ripping cover of "Have You Ever Seen the Rain" from 2014's Under the Magic Sun.
MF 8 p.m. 6 Allegheny Square East, Allegheny Center. All ages. $35. 412-320-4610 or www.newhazletttheater.org
[GRUNGE] + MON., DEC. 12
If you've been paying any attention to the mid-level punk and rock scene, you probably have a sense that '90s grunge and shoegaze have been a major guiding force.
Citizen
is no exception to that trend, but the band has managed to create a distinct sound that feels sometimes subtly unhinged. What the band's debut
Youth
expressed with harshness, 2015's
Nobody Goes to Heaven
professes with quieter intensity. Standalone single "Silo" is the best of both these gloomy worlds. Catch 'em tonight at the
Rex Theater
with
Same
and
YRS
.
MF 7 p.m. 1602 E. Carson St., South Side. $11.25-17. All ages. 412-381-6811 or www.rextheater.com
[SONGWRITER] + WED., DEC. 14
Adam Torres
' latest record
Pearls to Swine
is a journey into folk worlds full of promise and adventure. With a timbre even more delicate than Fleet Foxes' Robin Pecknold, Torres draws the ear with the gentlest of voices and the warmest of guitars, making
Club Café
the perfect setting for tonight's solo performance. Joining Torres is local pop-Americana group
Bindley Hardware Co
. This evening is for fans of Bon Iver, staring wistfully at shadows and taking long car rides on a rainy day.
MF 8 p.m. 56 S. 12th St., South Side. $10-12. 412-431-4950 or www.clubcafelive.com