['80s NIGHT] + THU., DEC. 29
For the loyal fans of the weekly '80s dance night at
Belvedere's Ultra-Dive
, tonight marks the end of an era. This is certainly a sad "See you later," as DJ hatesyou 2.0 (who will still be DJing other varieties of dance nights at the venue in 2017) has been a master of blending hits with deep cuts to satisfy any fanatic of the neon decade. She also knows how to bring a room of varied personalities together with a well-timed appearance of "Thriller." See you there; I'll be the person going absolutely bonkers to The Pixies' "Debaser."
Meg Fair 4026 Butler St., Lawrenceville. $5. 412-687-2555 or www.belvederesultradive.com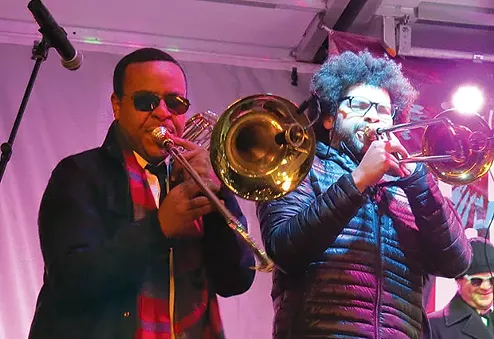 [PARTY] + SAT., DEC. 31
It's an all-night affair at
Spirit
starting at 6 p.m. with a VIP NYE buffet, Frank Sinatra impersonator (
Charlie Stayduhar
) and fancy cocktails. But the party really starts at 8 p.m. with music taking over both levels of the venue. The
Detour Takeover
featuring
Alex Price, Naeem
and
Gusto Keeb$
will fill the Lodge and your heart with the EDM you need, paired with visuals courtesy of Ben Tabas. Upstairs, the Hall gig features
The Paul Keys Band, Beauty Slap, SMI
and more. For the midnight celebration, "Sinatra" and the
Spirit Rockettes
will kick the crowd into 2017 with class.
MF 6 p.m. 242 51st St., Lawrenceville. $20-35. 412-586-4441 or www.spiritpgh.com
[PUNK] + SAT., DEC. 31
This past year was a disaster, and 2017 is looking like it might be on the same track unless we do some major leaning in and standing up (or desperate spin kicking). Give 2016 the kiss-off it deserves with
Rock Against Trump
, a benefit for Standing Rock at
The Shop
. Protest with punk acts
Eyeroll, Alement, Interloper
and
Peace Talks
, whose brash sound anchors this gig. Throw up your middle fingers at the terrible year with a good old-fashioned circle pit.
MF 7:30 p.m. 4214 Main St., Bloomfield. $5. All ages. 412-951-0622
[GLOBAL DANCE] + SAT., DEC. 31
If you're looking to dance the night away and start the new year with gusto and good grub,
Umami
is hosting a New Year's Eve party complete with hors d'oeuvres from Chef Roger Li, a midnight champagne toast (likely not the bottom-shelf stuff you were going to buy for yourself) and drink tickets to make your spirit bright.
Maestros
will be spinning an array of global dance music, while
Edgar Um
and
Preslav Lefterov
team up to spin hip hop, future funk, disco and dancehall, all of which is sure to get blood pumping and the positivity flowing.
MF 10 p.m. 202 38th St., Lawrenceville. $40. 412-224-2354 or www.umamipgh.com
[ROCK] + TUE., JAN. 3
Kick January off right with a good ol' rock gig.
Devon Goods
makes music that's emotive and honest. The New Jersey-based group blends the sensibilities of indie math icons like Minus the Bear with the paradoxical gritty gentleness of newer Joyce Manor and the storytelling of early Modest Mouse. Catch the clever tuneage at
Black Forge Coffee House
with an array of local talent, including
Portrait People, Same
and
Distant Futures
.
MF 6:30 p.m. 1206 Arlington Ave., Allentown. $5. All ages. 412-291-8994 or www.blackforgecoffee.com