[PSYCHEDELIC] + THU., DEC. 1
A huge marker of the
Van Allen Belt
's distinctive psychedelic style is its commitment to pairing the auditory art with visual manifestations of the sounds reaching your ears. Tonight, the Pittsburgh-based group will perform live at the premiere of its new music video, "Afternoon Walk of Shame," at the
Manor Theatre
. The piece is an interpretation of Crime and Punishment and was filmed right here in our fair city.
Mrs. Paintbrush
opens.
Meg Fair 9:30 p.m. 1729 Murray Ave., Squirrel Hill. $15. All ages. 412-422-9851 or www.manorpgh.com
[CLASSICAL] + SAT., DEC. 3-SUN., DEC. 4
We might not often think of it, but physics plays a big role in the way we experience sound. With this science in mind, the
Bach Choir of Pittsburg
h takes on George Frideric Handel at the
St. Agnes Center
with
Messiah in Space
. But don't think zero-gravity: In two performances, the 80-voice choir will make its way around the venue, using physical space to enhance Handel's vision. Joined by a full orchestra and several soloists, the program will be full of rich visual and aural experiences.
MF 8 p.m. Also 4 p.m. Sun., Dec. 4. 3235 Fifth Ave., Oakland. $12-30. All ages. 888-718-4253 or www.bachchoirpittsburgh.org
[CHOIR] + SUN., DEC. 4
The
African Children's Choir
is a nonprofit humanitarian effort that raises money for vulnerable children across Africa by showcasing the artistic gifts of children from that continent. The internationally touring choir performs children's songs, gospel and spirituals, and all the donations collected at the performance go toward building schools and homes, as well as funding the education of the students in the choir. Today, the choir appears at
Mars Alliance Church
for two shows in the morning, with an evening performance at
Saint Kilian Parish
. (Learn more about the choir at
www.africanchildrenschoir.com
.)
MF 9:30 and 11 a.m. (997 Route 228, Mars; free, all ages; 412-776-9400) and 7 p.m. (7076 Franklin Road, Cranberry; free, all ages; 724-625-1665).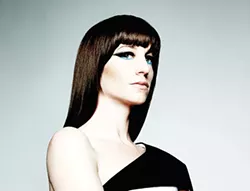 [EXPERIMENTAL] + TUE., DEC. 6
Mesmerizing and seemingly extraterrestrial project
Psychic Twin
has the ability to transport anyone to another dimension, one that's overflowing with glitter and devoid of gravity. The electronic duo composed of Erin Fein and Rosana Caban seeks to capture the whimsy and exploratory nature of psychedelic music and marry it to captivating electro goodness. Joining Psychic Twin is
Bring Her
, a local project that oozes goth oddity and embraces audiences in its lilting siren songs. Catch these two showstoppers tonight at
Brillobox
.
MF 9 p.m. 4104 Penn Ave., Bloomfield. $10. $35-212. All ages. 412-621-4900 or brillobox.net
[HEAVY] + WED., DEC. 7
Head to
Spirit
and pop in those earplugs, because tonight the air will be filled with the sounds of Oregon-based metal band
Red Fang
. What makes Red Fang rock so darn hard is its ability to blend the power and energy of bands like Black Sabbath while pushing the genre forward with clever movements and arrangements. Joining the lineup are the doomy-stoner heavies of
Torche
, as well as
Whores
, a noise-rock band that's all about having fun and being bad (in the James Dean way). Spicy!
MF 7:30 p.m. 242 51st St., Lawrenceville. $13.50-20. 412-586-4441 or www.spiritpgh.com