[ROCK] + THURS., APRIL 6
Cincinnati's
Leggy
possesses the larger-than-life feel of rock 'n' roll days gone by. Its latest release is a full-length, self-titled compilation featuring songs from its three EPs,
Cavity Castle, Nice Try
and
Dang
. With those EPs sewn together,
Leggy
is a raucous, reverb-soaked venture that shows the band's range and depth. Grimier proto-punk sneaks into songs like "Lana." "Chardonnay Summer" is a darker track that works in a tiny bite of rockabilly with a femme-fatale edge. Joining Leggy at the
Mr. Roboto Project
tonight is the catchy rock of
Reign Check, The Lopez
and artful spoken word delivered by
Brittney Chantele
.
Meg Fair 8 p.m. 5106 Penn Ave., Bloomfield. $7. All ages. www.robotoproject.org


[LOCALS ONLY] + SAT., APRIL 8
If you love seeing even a sliver of the incredible talent that Pittsburgh's music scene contains, get your butt down to
Mr. Smalls Funhouse
for tonight's local showcase. This one is for those who love guitar rock and psych. Grandiose and manic, the devilish rockers of
Misaligned Mind
bring a subtly spaced-out vibe to hard-rock instrumentation. The astral pop of
wwoman
will mesmerize with catchy hooks and psych-driven movements, while
delicious pastries
satiates your appetite for guitar-driven fuzzy psych pop. Folky rock pop with a tinge of trip,
The Garment District
transports showgoers to a bygone era where people roam with flowers in their hair and celebrate life freely.
NOX BOYS
' garage-y, surf-soaked sound rounds it all out.
MF 8 p.m. 400 Lincoln Ave., Millvale. $10-12. All ages. 412-821-4447 or www.mrsmalls.com
[PUNK] + MON., APRIL 10
The Rizzos
of NYC are crafting music for everything from your next couple's skate to your speedy bike ride down Penn Avenue when you're late to work. Tonight at
Gooski's
, the trio unleashes the fuzzy garage party at its core with tongue-in-cheek tracks like "Suckitude" and "Prom Mom." The band also has a penchant for writing music that makes us want to dance like we're at a school dance in the '60s or cast members of
Hairspray
. Jumping in on the fun is
Dumplings
, a psych-tinged rock band from Pittsburgh that brings the groove as well as the party, balancing FIDLAR-ish tendencies with Bowie-esque party anthems like "Silly Boy." Polish Hill's own
The Lopez
wraps it all up with a bratty little bow on top.
MF 9 p.m. 3117 Brereton St., Polish Hill. $5. 412-681-1658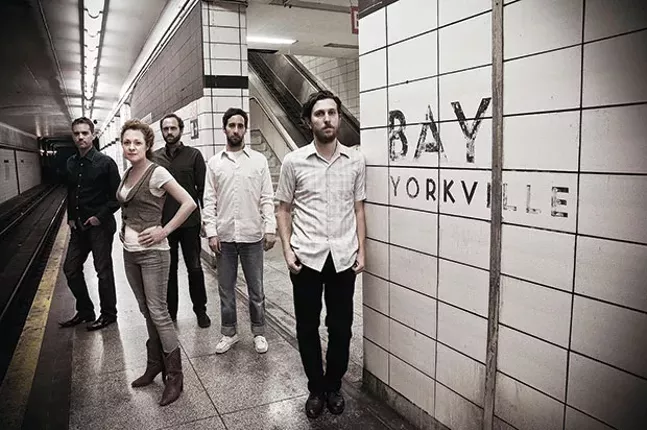 [FOLK ROCK]+ WED., APRIL 12
Great Lake Swimmers
make sultry, melodic folk pop, and they're damn good at it. Over six full-lengths dating to 2003 (many of which were recorded in such unlikely venues as a subway station, a church and a grain silo), the members of this Toronto five-piece have established themselves as some of the strongest songwriters in the genre. If you're new to GLS, start with "Don't Leave Me Hanging." Joining them tonight at
Club Café
is the brilliant subdued melancholy of local songwriter
Emily Rodgers
. Come out, cry and maybe call your ex after.
Alona Williams 7 p.m. 56 S. 12th St., South Side. $15. 412-431-4950 or www.clubcafelive.com