[FREAK FOLK] + THU., APRIL 13
Thelma
's music is larger than life. Vocalist Natasha Jacobs' airy, striking voice fuses with lilting instrumentation to create a backdrop of freaky folk beauty. The Tiny Engines band possesses a theatrical quality that sucks the audience into its surreal folk universe. Joining Thelma tonight at
Mr. Roboto Project
is new-to-the-scene emo duo
Scratchy Blanket
and the space-rock veterans of
YRS
.
Anthony Heubel
, of Cotopaxi and formerly of Run Forever, provides the feels-inducing solo songs on this slate.
Meg Fair 7 p.m. 5106 Penn Ave., Bloomfield. $6. All ages. www.robotoproject.org
[WEIRD] + SAT., APRIL 15
Tonight at
Gooski's
, experience a world of noisy chaos and striking visuals with the Pittsburgh debut of Portland, Maine's
Sterile Garden
. The act creates industrial noise collages that drift between quieting ambience and abrasive electronic grit; the sound is pulled together with film curated and created by the artist.
Taskmaster
, of Providence, R.I., will also perform a set driven by industrial sounds and droning movements, a sometimes-abrasive devotional to the world of sound. Fuzz-ridden and writhe-inducing cacophony is delivered by the digitally elusive
Deterge
. Pittsburgh's
Come Holy Spirit
joins the evening, with its unique blend of punk and folk with a splash of no wave.
MF 9 p.m. 3117 Brereton St., Polish Hill. $5. 412-681-1658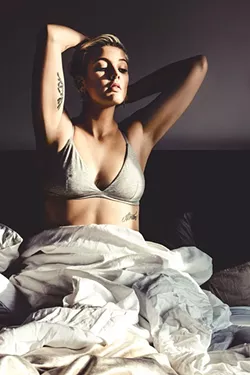 [POP] + WED., APRIL 19
Betty Who
studied classical cello at Berklee College of Music, but if you catch her at the
Rex Theater
tonight, you'll be treated to some of the catchiest pop on the scene. Tracks like "Some Kinda Wonderful" effuse a cheeky attitude and joyful bliss, and the hook is an unrelenting earworm. "Somebody Loves You" packages the feeling of young, passionate love into a funky, bouncy pop masterpiece, and if her cover of Donna Lewis' "I Love You Always Forever" doesn't get you grooving, there's something wrong with you. Joining Betty Who is
Vérité
, another pop artist with an indie ethos. Vérité writes infectious music with a moody underbelly to help you groove away your heartbreak.
MF 7 p.m. 1602 E. Carson St., South Side. $18. All ages. 412-381-6811 or www.rextheater.com
[JANGLY POP] + WED., APRIL 19
It's sludgy, jangly and overflowing with good riffs. The lyrics are brooding but unapologetic, with a stoner tinge of nihilism. Boston-based
Vundabar
's sound is catchy like pop music, but too sludgy for the masses. Vundabar also rocks that psych-hinting, mathy undertone that Boston's scene has been expertly honing over the past few years. It's the kind of music you'd listen to while smoking a cig on a fire escape and stargazing with a 40 of malt liquor — it just feels cool. Tonight at
Mr. Small's Funhouse
, catch Vundabar with trippy avant-garde rock project
Spacefish
and the very busy brat-punks
The Lopez
.
MF 8 p.m. 400 Lincoln Ave., Millvale. $10. All ages. 412-821-4447 or
www.mrsmalls.com