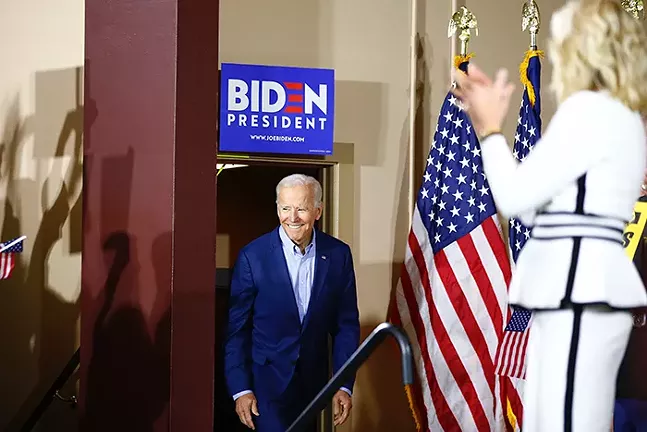 On April 29, former vice president Joe Biden kicked off his 2020 presidential campaign with a rally at the Teamsters Temple in Lawrenceville. He conveyed a strong pro-union message. He called out the ongoing
fight for union rights at local hospitals
in the Pittsburgh area and even told the crowd of about 800 that UPMC needs to "stop the union-busting."
"I make no apologies, I am a union man, period," said Biden,
But the rank-and-file members of that Teamsters hall and others might not be reciprocating that admiration. International Brotherhood of Teamsters retirees eligible for pensions, including 17,000 in the Pittsburgh region, are feeling the pinch thanks to a law passed in 2014, which was supported by Biden.
The Kline-Miller Pension Act allows multi-employer pension plans at risk of failure to reduce pensioner benefits to as little as $13,000 a year. The Teamsters pension plans qualify under this act, and according to a January
Pittsburgh Post-Gazette
article, the Western Pennsylvania Teamsters and Employers Pension Fund need to cut pension benefits by 30 percent.
According to an
Associated Press
article from 2014, both President Obama and Biden "telephoned Democrats to secure the votes needed for passage" of the omnibus budget bill that included this Kline-Miller Pension Act. The bill passed by a
vote
of 56-40, through a Democratic-controlled Senate.
Rob Atkinson, a Teamster and Mars resident, said he and other rank-and-file Teamsters are upset about the pension cuts. He blames the Kline-Miller act as the reason the pensions are being cut and says the bill amounts to wage theft. "They don't know what to do about it," says Atkinson. "If you are pulling $3,000 a month and then that is cut to $2,000, that makes a big difference."
Over the last several months, local Teamster Bill Lickert had the job of letting the 17,000 Pittsburgh area pensioners know that they would be receiving smaller checks.
"I've had people break down on the phone because they don't know how they're gonna make their expenses," Lickert said to the
P-G
in January. "And I don't know how to give them an answer."
Atkinson, who has 31 years as a Teamster and worked for UPS, says he places the blame for the cut pensions at the feet of Biden and Obama. The Teamsters pension fund has reached a shortfall due to declining Teamster membership over the years. Fewer Teamsters paying into the fund meaning less money for pensions.
A request for comment from the Biden campaign was not returned by press time.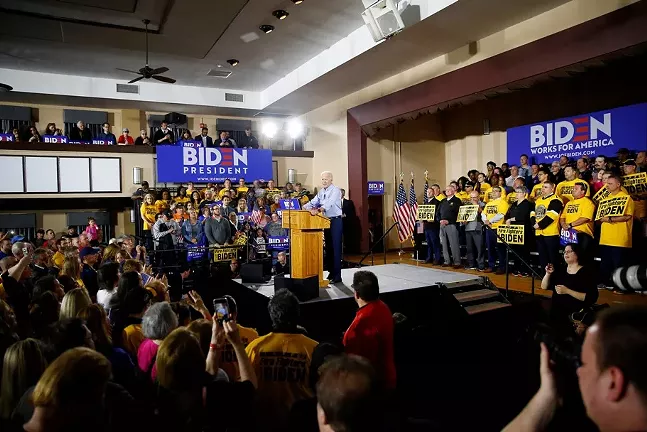 Atkinson notes that when big banks and financial institutions were in danger of collapse due to the 2008-09 recession, Congress and the White House authorized bailouts for them. But when the Teamsters and other multi-employer pension funds were at risk due to insolvency, Congress and the White House, including Biden, added the Kline-Miller Act into the 2015 budget bill, which laid out the changes that allowed about 11 million people to have their pensions cut.
According to the AP, House Democratic leader Nancy Pelosi described the legislation at the time as an attempt at blackmail by Republicans.
"They touched something that was supposed to be a sacrosanct thing, cutting the pensions," says Atkinson. "I think Obama and Biden thought they had to sign it, so we had to make concessions, but when they reach across the aisle, they hurt a lot of people."
The national Teamsters have rallied and protested against the Kline-Miller Pension Act, and in 2015 they lent their support to "Keep our Pension Promises Act," a bill that would roll back the provisions of the Kline-Miller Pension Act. The Keep our Pension Promises Act was sponsored by U.S. Rep. Marcy Kaptur (D-Ohio) and U.S. Sen.
Bernie Sanders
(I-Vermont), who is also now running for president.
In a
2015 press release
, Teamster president Jim Hoffa said of the Keep our Pension Promises Act that "retirees and workers who have played by the rules should receive the benefits they were promised."
Atkinson says he is a Sanders supporter and noted his support of the Kline-Miller repeal.
Before the Pittsburgh rally, Biden was endorsed by International Association of Fire Fighters, which represents 316,000 full-time firefighters. The Teamsters have not announced their endorsement in the Democratic Primary race for president.