Is your radio always pre-set to talk radio? Always asking how you can make a difference in the world? Are you just hungry for some learning? Peruse our curated list of educational, volunteer, and social-justice events this week in Pittsburgh.

---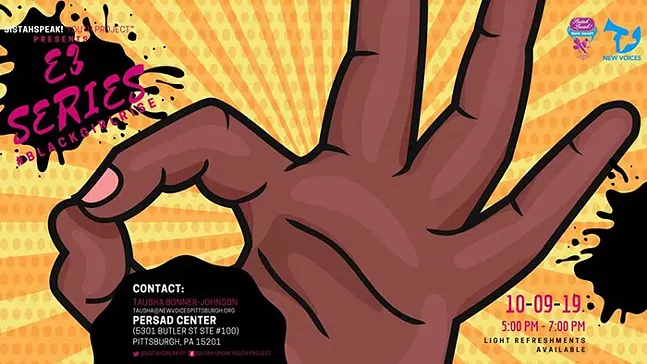 #BlackGirlRise

5-7 p.m.
Wed., Oct. 9
.
Persad Center, 5301 Butler St., Lawrenceville. Free.
Young Black women and femmes in both Pittsburgh and Philadelphia are encouraged to attend sessions of the E3 Series: Engage, Educate, Empower, a project by New Voices for Reproductive Justice hosted locally by reproductive justice advocate group
New Voices Pittsburgh
. #BlackGirlRise, the first session of Pittsburgh's monthly meet-up, will provide training and engagement to "enable young Black women and femmes to take a stand and affect local change in PA." Attendees will be provided with resources for sexual health providers and educated on advocacy tools.
---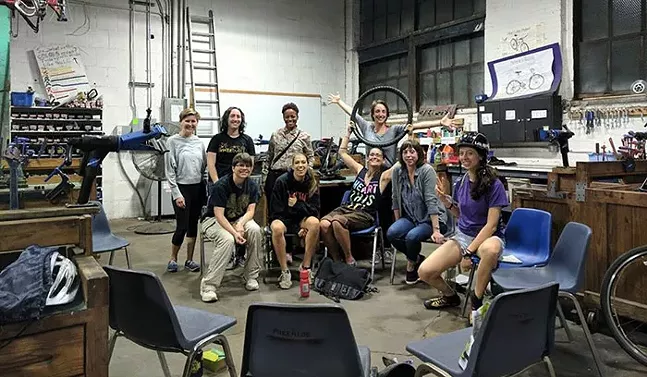 Women + Queer Nite

6:30 p.m. Wed., Oct. 9.
Free Ride, 214 N. Lexington St., Point Breeze.

Women/queer Pittsburghers are can gain confidence in owning, repairing, and riding bicycles in a safe space at this open shop hosted by Free Ride. "We host women and queer night because we strive to create a positive environment where women, transgender, and genderqueer folks can bring their full self forward," according to the event page. Participants can use the tools in the shop to fix up a bike, help around the shop, or find parts to purchase.

---
tactoberfest

5-7:30 p.m.
Thu., Oct. 10
.
Black Forge Coffee House II, 701 Chartiers Ave., McKees Rocks.
Helping a great cause always makes food taste more delicious.
777 Pittsburgh
and
Black Forge Coffee House
's McKees Rocks location are hosting a pop-up fundraising dinner in support of
Planned Parenthood of Western Pa
. All proceeds from the event will go to the "Defund Fund," set up to help Planned Parenthood make up for losing its Title X funding.
---
The third annual summit features three days of events "convening on the intersection of culture, community building, and economic development."
On Thursday, neighborhood tours, curated in partnership with The Global Switchboard, take visitors through the city from the perspective of Black Americans and immigrants. Local business owners and community leaders will share their experiences with passengers as a trolley travels to community organizations and cultural institutions.
Spend Friday at an interactive forum on the role of immigrants in our community and economy, featuring emcee Jasmine Cho, founder of Yummyholic, and a wide range of speakers including janera solomon, executive director of Kelly Strayhorn Theater, and Bill Strickland, CEO of Manchester Bidwell Corporation. Food will be provided by Casa Brasil and Salem's Market and Grill, and visitors will have an opportunity to bid in a silent auction.
A block party wraps up the three-day event on Saturday, with live music, food trucks, and local artisans.
---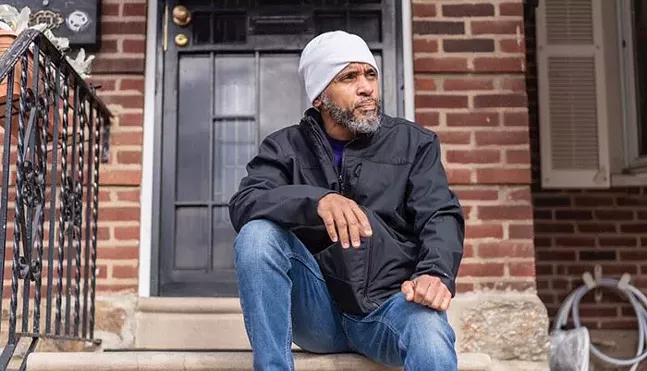 Liberate our Imaginations: A Vital Step Towards a World Without Prisons
12-3 p.m. Sat., Oct. 12.
BOOM Concepts, 5139 Penn Ave., Garfield. Free with reservation.
Kempis Ghani Songster
was only 15 when he was charged as an adult for the murder of another teenage runaway, imprisoned without the possibility of parole. While in jail, he developed prison programs and after being released from jail in 2017 at the age of 45, following a Supreme Court decision deeming "juvenile lifers" unconstitutional, Songster has become an advocate for criminal-justice reform. He comes to BOOM Concepts for a three-hour participatory workshop with Pittsburgh community organizer etta cetera from
Let's Get Free: The Women and Trans Prisoner Defense Committee
.
---
Volunteer Spotlight:
Treasure House Fashions
This nonprofit women's clothing shop works with area nonprofits to help women in transition or crisis. Volunteers are needed to help clients with clothing selections in the McKnight Road store, as well as working the cash register, and steaming and stocking clothing. Call 412-979-1534 for more info.

---
Do you have an event you'd like to share?
Email us
for your chance to be included in next week's round-up.