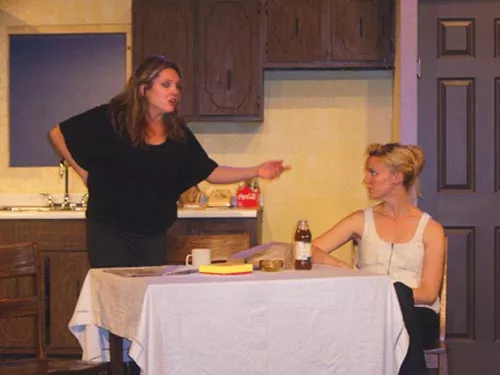 The trials and tribulations of Southern women are the meat and potatoes -- er, fried chicken and grits -- of a fine tradition in American fiction. But the Magrath sisters of Mississippi are no aristocratic belles, faded or otherwise. They have led a rich if not privileged life. When handed lemons, they do make lemonade -- sometimes literally -- in Beth Henley's Crimes of the Heart. The gentle character study/comedy is well suited to the Theatre Factory, and vice versa, in its current production.
Set in 1974 (the recent past when the play was written, in 1978, and first produced, in 1980), Crimes covers slightly less than 24 hours in the lives of three disparate sisters, re-gathered in harmony for the latest of many family crises. The youngest, Babe (a.k.a. Becky, vulnerably portrayed by Jillian Vitko), has for some reason shot her husband. She is comforted, if not abetted, by eldest sister Lenny (an exquisitely harried Jennifer Chervenick). Lenny is the stalwart spinster approaching middle age (i.e., her 30th birthday; remember when 30 was too old to be trusted?) in loyal stewardship to home and the grandfather who raised them. Falling back into their lives is the glamorous middle sister Meg (a cheerfully sexy Jodi Gage), who blew out of town with Hurricane Camille in 1969 in pursuit of fame as a singer.
Plot? Who cares? Crimes is a confection for talented actresses playing quirky characters, supported by a couple of good men on a single, meticulously detailed set, designed by Jason Barnsley. Directed by Michael J. Byrne (who also plays Becky's smitten lawyer), the production is charming and cozy, its assorted eccentrics totally credible. Rounding out the well-rounded cast are Jocelyn Hillen, who nearly steals her scenes as the sisters' social-climbing cousin, and Matt Lamb as Meg's discarded boyfriend. Kudos also for Evan Hauth, who designed the lighting and sound, and built the set with Barnsley.
Once considered "edgy," Crimes of the Heart has mellowed into a cultural gem of an era that now seems quaint, its problems peculiar but solvable and even enjoyable.
CRIMES OF THE HEART continues through Sun., Nov. 6. The Theatre Factory, Trafford. 412-374-9200 or www.thetheatrefactory.com