Occasionally, up here in the plush demesne we call City Paper Towers, we break from planning all-staff Caribbean cruises to acknowledge the little people who got us where we are today. And among the most important of them are the visual artists we hire to create our cover image -- the face that City Paper presents to the world each week.
Many of these folks have thriving studios, including credits in national publications, graphic novels and more. (Some even have real day jobs.) Which is why, considering our parsimonious pay scale, they must be gluttons for punishment.
But never let it be said we don't give back. Starting Fri., March 19, CP and the Toonseum bring you Cartoons Covered: The Art of the City Paper. The exhibit features 25 cover illustrations from the past decade, from 16 top (and mostly local) cartoonists and illustrators, curated by CP art director Lisa Cunningham and Toonseum boss Joe Wos.
Styles include the Pop zip of Wayno (who caricatures Myron Cope), the graphic angularity of Brian Holderman, and the balloon-animalesque mayhem of rock-poster master Mike Budai. Mario Zucca parodies Sea Monkeys with Penguins-fan "Mon Monkeys." Frank Harris imagines city councilor Pat Dowd as a yuppie spaghetti-Western outlaw.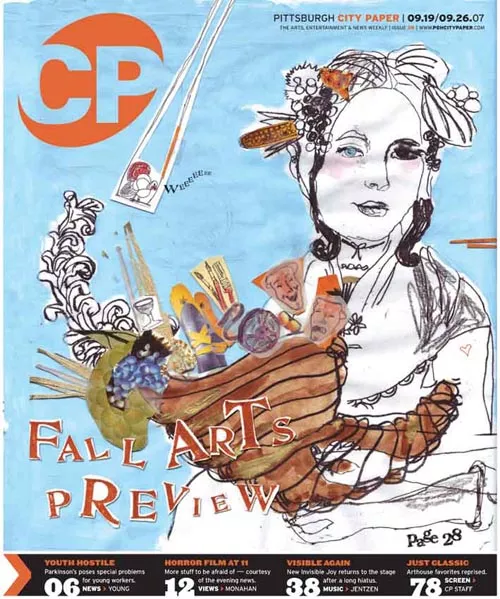 Some of the artists are known nationally and beyond, including: editorial cartoonists Gary Huck (of the United Electrical Workers) and Rob Rogers (of the Pittsburgh Post-Gazette); Ed Piskor, who's drawn for legendary comics writer Harvey Pekar; and graphic novelist Jim Rugg (whose book Afrodisiac is featured in this week's CP).
Many contributors are full-time illustrators. Rhonda Libbey (whose fortune-teller graced our 2004 "predictions" issue) did graphic design for years. Then "I decided, 'You know, I'm an illustrator, and that's what I'm gonna do.'" Libbey now renders characters for role-playing table-game outfits like Fantasy Flight Games. In her Millvale home studio, she practices an old-school, oil-paint approach that "kind of sets me apart from my peers in the fantasy realm."
Carolyn Kelly, by contrast, is by day a graphic designer for American Eagle. But she's also painted two Sprout Fund community murals. In fact, her graceful woman-with-cornucopia cover for CP's 2007 fall guide later became the "harvest" mural at 18th and East Carson, on the South Side.
Then there's Mark Brewer. The Bridgeville family man once inked the Archie Comics work of Josie and the Pussycats creator Dan DeCarlo. Today, Brewer's clients include The New York Times, the Wall Street Journal ... and Major League Baseball, for whom he illustrated 2009's World Series program. And don't forget Wine & Spirits Magazine: "I traded some illustrations for some really nice wine and champagne," he says. "They've become a much more important client, as you might imagine."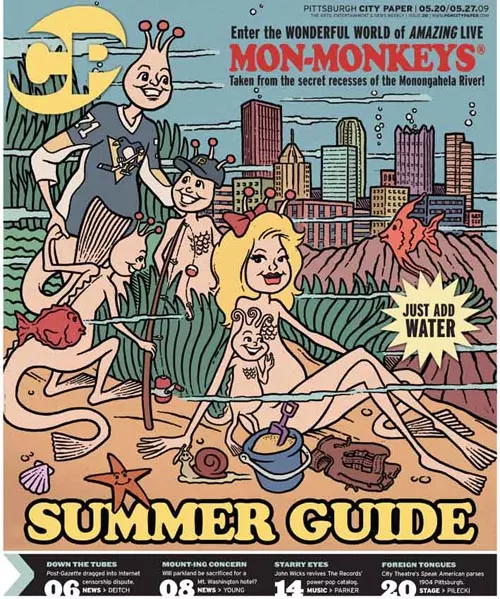 Most of Brewer's work is editorial, he says. Just 25 percent is ads -- even though ads pay better.
Told you: Gluttons for punishment.
Cartoons Covered: The Art of the City Paper Opening reception: 5-7 p.m. Fri., March 19. Show continues through April 4. The Toonseum, 945 Liberty Ave., Downtown. 412-232-0199.