My Top Five Shows of 2013
Swans at the Rex Theater, June 14. I felt a lot of things at this show: unending sonic vibrations through my chest, lower back pain, impatience, near-bliss. As much an endurance test as anything, Swans played for over two hours and I, for one, oscillated between extreme fatigue and the hope that it would never end.
Taylor Swift, Heinz Field, July 6. Fireworks! Confetti! Costume changes! This was probably the most over-the-top spectacle I've ever witnessed. But despite these trappings, Taylor's magic lies in her ability to make a sold-out show at a football field feel intimate.
Angel Olsen, The Andy Warhol Museum, Sept. 24. Olsen's 2012 release, Half Way Home, was lovely, but as soon as her voice filled the Warhol's theater, it was clear that no recording could do her justice. Combining Sandy Denny's folk warble with the showy power of Judy Garland, Olson was captivating.
Bill Callahan, Carnegie Lecture Hall, Oct. 9. I've heard some accuse Bill of going a tad "easy-listening" on his latest record, Dream River. Not an entirely unfair charge, perhaps, but I've never seen anyone rock the soft rock so hard.
Sadgiqacea and Hivelords, The Rock Room, July 13. Last year, I called the the Sadgiqacaea/Hivelords stop at Howlers the "Best Show that No One Saw." Fortunately, the Philly-based tour mates enjoyed better turnout this time around. Hivelord's psychedelic black metal mesmerized, and dark, sludgy two-piece Sadgiqacea played riffs so heavy I may have cried just a tiny bit.
— Margaret Welsh
My Top Five Albums of 2013
5. Deltron 3030: Event II. Del once again provides an incredibly insightful and poignant comment on contemporary culture, though the album takes place 1,000 years in the future.
4. Sovron Court: Waves and Wheels. This year saw the Mansfield, Ohio, songwriter make strides in both songwriting and musicianship. Waves and Wheels is a gem of a record from an artist with enough moxie to open up with a Simon and Garfunkel cover.
3. The David Mayfield Parade: Good Man Down. Superb guitar playing, as one would expect; Good Man Down is David Mayfield's best sonic achievement to date.
2. They Might Be Giants: Call You Mom. Like all TMBG records, it's hard to nail down a genre. Some surf elements are explored here, as well as some masterful cool jazz moments. It's cute, it's clever, it rocks, it's really catchy, it's They Might Be Giants.
1. Run the Jewels: Run the Jewels. Looking back, it seems as if Killer Mike's 2012 release R.A.P. Music was intended as a foreshadowing of a more deeply collaborative effort with producer El-P. The dynamic production and aggressive flow of both rappers on Run the Jewels make this a near perfect record.
— Seth Pfannenschmidt
Five Great Things Musicians Told Me in 2013
"I'm happy that the AV Club recognizes that we have a shitty band name. They definitely increased traffic to our Facebook and Twitter pages quite a bit." — Matt Holden, Legs Like Tree Trunks
"I'm in a pop-punk band called The SpacePimps! What can you do? You have to own it. But in a humble way. You can't be surprised when someone says, 'You're in a band called The SpacePimps!' Of course we are!" – Rishi Bahl of The SpacePimps
"The thing that I like about aging is that I made a lot of stupid mistakes in my life as a twentysomething person, and I actually like the process of getting older, because I feel like I do less stupid things." – Samantha Crain
"I started on a regular saw from Home Depot because I thought this was the kind of hobby that probably wouldn't last — so I better get something that'll also cut wood, just in case." — Musical-saw player Erika Laing, of Faithful Sinners
"I wanted to take him on tour, but he's actually 32 years old. They can live a long time, but I was worried that it being winter, and traveling and all that. He's a tropical bird, so, yeah." — Saul Conrad, on his sometimes-tourmate and pet parrot, Chico
— Andy Mulkerin
Five Pairs of Artists I'd Like to See Collaborate in 2014
Willie Nelson and Hank Williams III. Let's face it: When you're 80 years old and you make an album of duets with the likes of Carrie Underwood, Sheryl Crow and Wynonna Judd, and you call it "To all the Girls," you're about to hang it up. Just one more would make a pretty cool passing of the torch.
Bruce Springsteen and John Darnielle. This one sounds good on paper but I'm willing to admit that it could go south.
Yoni Wolf and the RZA. Oh man, that would be sweet.
M.I.A. and Chuck D. So much evil could be intelligently articulated then subsequently destroyed if these two made a record.
St. Vincent and Dweezil Zappa. The result of this pairing could be the most adventurous prog album of all time.
— Seth Pfannenschmidt
Top 5 Things I Listened to While Stuck at Home With a Broken Foot.
Kurt Vile: Wakin on a Pretty Day. The only problem with this expansive, dreamy, almost perfect double-LP was hobbling to the turntable to change side B to side C.
Nic Lawless/Young Criminales: Sunless. The Nic Lawless release show was the first fun thing I had to miss for injury reasons. Good thing I already had a copy of the band's excellent feel-good/feel-bad garage punk record to tide me over.
Julia Holter: Loud City Song. Another favorite from 2013, Holter's lush, cinematic pop is perfect for spacing out whilst not feeling sorry for yourself.
The Rage Against the Machine catalog. When you have a moment, I'd love to share my thoughts on how — now more than ever — America needs the wisdom of the Anti-Myth Rhythm-Rock Shocker.
The opening theme from Friday Night Lights. And the closing-credits theme. And, you know, all the stuff in between.
— Margaret Welsh
Three Shows I Enjoyed a Great Deal in 2013
Jessica Hernandez and the Deltas, Howlers, Jan. 4. This was the first great show I saw in 2013! To be honest, it was the first show I saw at all in 2013. But it set a high bar — Hernandez is a ball of energy, and her band is spot-on, replete with baritone sax, my favorite of the woodwinds.
Mount Moriah, Club Café, June 13. Mount Moriah is the joint effort of two North Carolina musicians — Heather McEntire (Bellafea) and Jenks Miller (Horseback), whom I've long followed separately. Together, they're even better, and this one was a treat.
Lake Street Dive, Peoples Natural Gas Park, Sept. 13. This is a little bit of a cheat because my band opened this show, but I'm glad it got me out to Johnstown for this one, because Lake Street Dive put together a hot set on a chilly fall evening. It's almost unfair for four people who are such good instrumentalists to also have the ability to harmonize so well vocally.
— Andy Mulkerin
Three Shows I Regret Having Missed for One Damn Reason or Another in 2013
Phosphorescent, Club Café, March 27. This was the time to see Matthew Houck — after the release of Muchacho, but before the record absolutely blew up. I understand the show sold out anyway; and next year he returns, but at the bigger Mr. Small's.
Ezra Furman, Club Café, Oct. 17. This was the second time Ezra Furman came through town this year — and the second time I couldn't make it out. Day of the Dog was near the top of my favorite releases in 2013, though, and when I did see him live a couple years ago, it was great.
Broncho, Brillobox, Nov. 5. This garage-punk band's explosive debut was re-released this year, and it headlined this show, its second in Pittsburgh this year. Kicking myself over this one.
— Andy Mulkerin
Five Favorite Albums I Downloaded For Free on Bandcamp in 2013
WHATEVER, DAD: 100% Take Home!
Sweet Valley: SV
xmas movie soundtrack: The Fog of Yore
McCafferty, Sam Rockwell Machete Champion, Chris Joecken: This Will Mean Nothing
Fun Home: Wasting Time
— Tyler Crumrine
Three Pittsburgh Shows I Regrettably Missed Because I was Broke as Hell in 2013
The Mountain Goats at Carnegie Music Hall, June 11
The Red Western/Grand Piano split-LP release at Brillobox, March 8
El-P and Killer Mike at Altar Bar, July 13
— Seth Pfannenschmidt
Three Famous Fathers Whose Controversial Musician Children Got More Attention than Them in 2013
Billy Ray Cyrus (Miley Cyrus)
Alan Thicke (Robin Thicke)
Keorapetse Kgositsile (Earl Sweatshirt)
— Tyler Crumrine
My Favorite Local Album Cover of 2013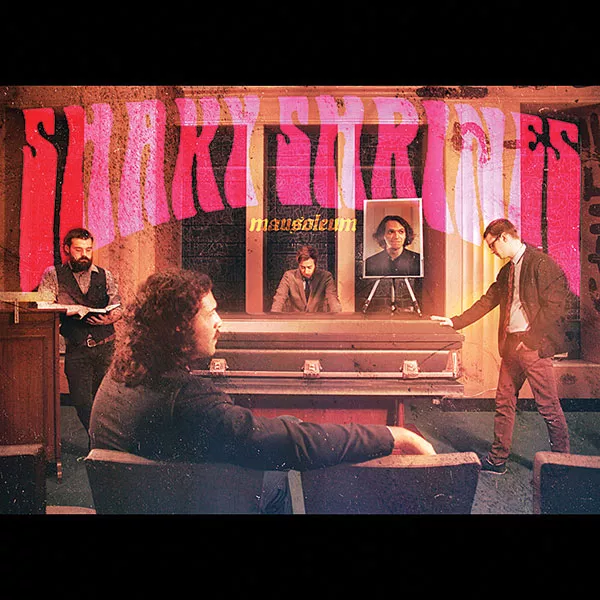 Shaky Shrines: Mausoleum. Commence with the "Nate is dead" rumors.
— Andy Mulkerin
Three Favorite Albums Released by Bands Named After Celebrities in 2013
Lindsay Lowend: Wind Fish
Joanna Gruesome: Weird Sister
Dale Earnhardt Jr. Jr.: The Speed of Things
— Tyler Crumrine