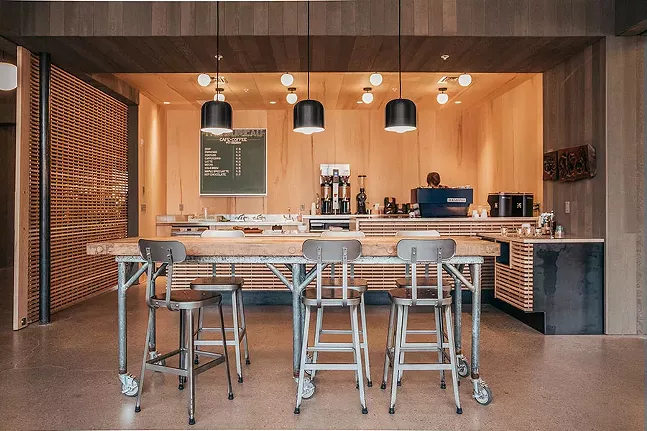 Joey Hilty and Emily Slagel, business partners behind popular Lawrenceville joint The Vandal, have branched out from dinner service to coffee.
The Bureau, a new addition to the landscape in East Liberty, was incorporated into a restoration project. The 1970s-era detective's building was revived by furniture company Schoolhouse Electric, which has headquarters in Oregon, and retail stores in Portland, New York, and now Pittsburgh.
Tucked away on N. Euclid Ave., the three-story building is also home to co-working space Beauty Shoppe. Schoolhouse designed and furnished the once cold, sterile building, which now feels warm thanks to muted colors and inventive lighting. It was good timing for Hilty and Slagel to get involved.
"We're moving into an interesting time where customers aren't going out to dinner for food or shopping for a product," says Slagel. "They're buying an experience."
Designs from Schoolhouse combine beauty and function, and the result is pretty to look at without being frivolous. Slagel describes them as "slow fashion," designs focused on durability, ethical production, and quality.
"We're increasing expectations of what [coffee shop] food can be," says Hilty. "Even if you're eating a five dollar granola and yogurt, it should still be a special experience. Everyone can stop, take two seconds, and eat out of a bowl with a real spoon."
Along with cafe food such as cinnamon buns, coffee cake, and other pastries (all made by The Vandal's pastry chef) and bread sourced from Mediterra Bakehouse, The Bureau serves smørrebrød, open-faced sandwiches from Denmark. Slagel, after spending time in the country, fell in love with the country's tradition of slow, intentional eating.
"That's part of the Danish experience. It's not just about the food, but it's about the mindfulness," she explains.
The Vandal may be Hilty's "heart and soul," but both Hilty and Slagel are finding their place in East Liberty. Since opening in October, Hilty and Slagel have seen consistent traffic. According to the two owners, it's a mix of freelance workers, shoppers, and students. They concentrate on making coffee accessible to their community, Slagel feeling at home the neighborhood where her father grew up.
"There's a way to have both quality and availability," says Slagel. "We try to be really conscious of that. It's even just being open all the time."
The Bureau is open seven days a week, 7 a.m. to 6 p.m.
For more information, check out the shop's Instagram,
@thebureaucoffee
.