Ryan Blacketter has spent most of his life in the Pacific Northwest, in Oregon and Idaho, but never much felt like he belonged there. "I'm from Boise, and I go back to there every once in a while … but culturally it's not really my thing," he says. "It's like all the liberals are conservatives. The hipsters are conservatives talking about their 401K plans. Not a lot of creative stuff going on in Boise."
Blacketter, 46, and his wife and son recently moved to Pittsburgh. He is the author of the critically well-received 2014 novel Down in the River (Slant Books). Like that book's protagonist, 16-year-old Lyle Rettew, Blacketter had a strongly Christian upbringing in rural Lewiston, Idaho — "watching the 700 Club and trying to speak in tongues" — before moving to Eugene, Ore. He spent much of his youth as a hell-raiser, he says, moving from city to city and working odd jobs before discovering writing in his mid-20s. He got serious right away and would work for up to 10 hours a day, but learned that developing a voice takes time.
"It took me 10 years to finish my first book," he says. "It sounds like a long time, but it's pretty standard. It took me five years to learn how to write and then five years to write the book."
Down in the River became Blacketter's first published novel. Lyle, like Blacketter, has a mild case of bipolar disorder; he tries to fit into his new surroundings following the suicide of his twin sister, eventually committing a misunderstood crime that shocks the community.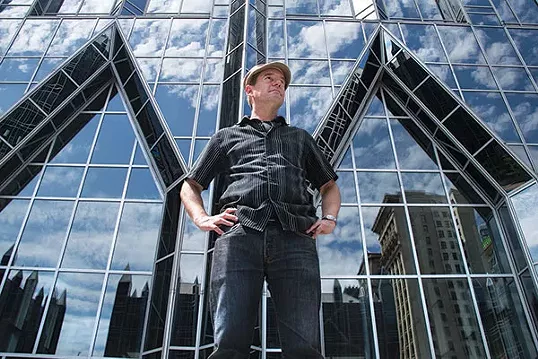 Fiction Writer's Review called Down in the River "[d]ark and grisly … a novel that holds both popular appeal and deeper intellectual pleasures, one you can recommend to friends who read only an occasional Stephen King novel or those who read the most lauded literary fiction."
Blacketter's move to Pittsburgh, however, had less to do with the success of his first novel than with friction in his last job out West. He had been teaching an advanced-fiction workshop at Boise State University but acknowledges that he didn't make many friends amongst his students. "I went to [Iowa Writer's Workshop], which is an intense program, and I was nowhere near to being as intense [as a teacher] as Iowa was," he says. "It's advanced fiction, so it's going to be intense … but it never got personal like it did at Iowa."
"People of that age in [Boise] don't want to be told they have any flaws," Blacketter says. "They want to feel affirmed."
Dissatisfied, Blacketter and his wife, Becca, an award-winning painter, began throwing darts at the map to find a new home for themselves and their 15-month-old son. Having exhausted much of the Northwest, they looked eastward, landing on Pittsburgh due to its artistic community and opportunities, affordability and literary history.
The wheels were already in motion when Blacketter was suddenly fired from his position at Boise State in March — in the middle of the semester — for undisclosed reasons.
According to an article in The Aribiter, Boise State's student newspaper, the firing might have been related to Blacketter teaching Chris Offutt's "My Dad, the Pornographer," a controversial essay first published in The New York Times Magazine, as well as to complaints about Blacketter from students. Blacketter says that many of his advanced fiction students took his criticisms the wrong way, one even going as far as to bring a therapy dog to class. The Arbiter reported, however, that some students considered his teaching style constructive and helpful. (Officials from the Boise State English Department declined to comment on Blacketter's firing.)
This past May, the family settled in Beechview, and since then Blacketter has been doing freelance work editing novels and memoirs as well as writing for the lifestyle magazine A Taste of Pittsburgh. His family likes Pittsburgh, he says, frequently visiting museums, the Carnegie Museum of Art being a current favorite.
Blacketter is enjoying the steady pace of his life here. Whereas much of his early inspiration came from negativity — feeling like he had to be "pissed off all the time" — the new father now favors a more balanced emotional approach to working.
"I work two to three hours, and I feel like it's more efficient," he says. "I'm not so intense about it. I just go up to my writing desk and think about the words and wait for it. It's more mellow, not all that 'whip myself into a painful state' stuff."
He's currently writing a new novel set in Portland, but Blacketter expects his next project will be set in Pittsburgh, "once I get this experience inside of me."