Any fan who's ever been to a home game at PNC Park on a Friday night can quickly tell you where Nancy Thomas got the fabric for her Pirates quilt.
"We had all these T-shirts from the Friday night T-shirt giveaways and thought, 'What are we going to do with all of these?'" Thomas, a season-ticket holder, told City Paper on a hot, sunny morning at McKechnie Field, the Pirates' spring-training home in Bradenton, Fla. "We couldn't wear them all."
She stops speaking as her attention turns toward the field. Tony Sanchez, the Buccos' young catching prospect, is jogging off the field after the morning's drills.
"Tony! Tony! Can you sign my quilt?" she asks. Sanchez pleasantly declines and says he'll catch her later, after he dresses for the game. She's not too disheartened.
"A lot of times they'll sign on the way to the dugout before the game," she said. "I can understand why they might not want to do it after batting practice. They are working."
By now, making her quilts and getting signatures from current and former players and broadcasters is a rite of spring for Thomas and her husband, Steve. This is the fourth quilt she's made since 2012 and already, in the second week of camp, it's getting full of autographs.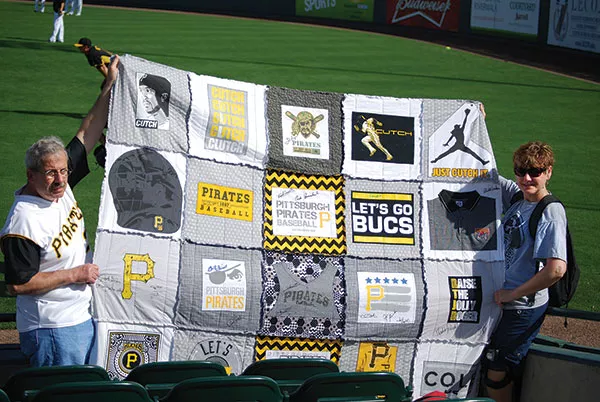 She first came to spring training in 2011. A weekend trip to Florida to see the Bucs started a tradition. She soon got her husband to join her, and now that he's retired, they can spend more time in Florida, watching the team get ready for the season — and gathering signatures on the new quilt.
On the first quilt, which she made in 2012, she got about 70 signatures. That item was donated to Pirates Charities, the franchise's fundraising arm, and auctioned off during the annual Pirates Fest. She's since made three more and they've been earmarked for her grandchildren.
This year's quilt is a bit different. On the far left side of the second row of patches is not a free T-shirt but a gray Pirates golf shirt. It belonged her to father, George Miller, who died in December 2013, at the age of 97.
"If the Pirates were on, the radio was on. My father loved baseball, and he loved the Pirates," she said. "He took my brother and I down to the last game ever at Forbes Field [in 1970]. Then my brother and I took him to the last game at Three Rivers Stadium. We had such a good time."
Thomas says her father enjoyed the games until the end, and she is glad her dad got to see the Pirates break their 20-year losing streak, in the fall of 2013. "He was still very sharp even at 97, he knew the players and watched all the games. I'm so glad he got to see what they did that year.
"I think it's nice to see his shirt up there on the quilt this year."