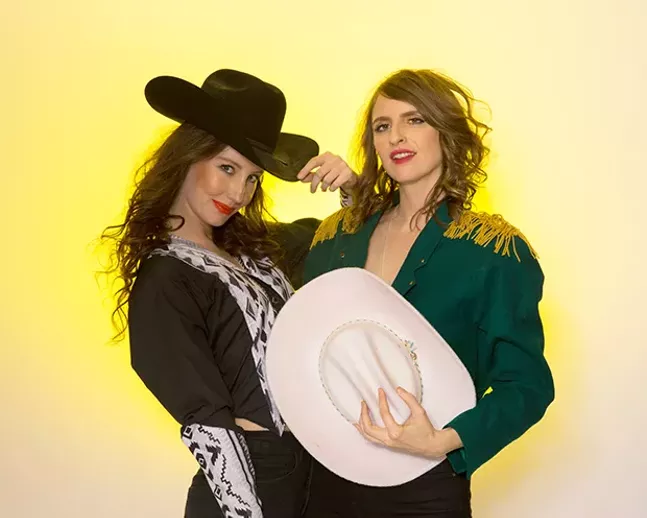 A band like Birdcloud often gets stamped with a disclaimer along the lines of "this ain't your mother's country music." The duo usually has the word "raunchy" slapped somewhere around their name — a word that, when applied to women, rarely comes out sounding like a compliment.
The Nashville-based duo, consisting of Jasmin Kaset and Makenzie Green, plays funny, vulgar, and honest music that falls in the slim Venn diagram center of country and punk. They sing about people who throw up on a karaoke machine or accidentally poison their dog with antifreeze or spoil Santa for their friends' kids. They parody abstinent Christians' sexual loopholes and tropes of southern racism. They sing about a lot of things we're not allowed to print, but you can hear them in person when the duo plays Spirit on August 29.
Birdcloud's sound is country, in that they play guitars and sometimes sing about the south. It's punk in that they sing about issues that don't fit into the rigid structure country music has built for itself. And because they cover topics considered too vulgar to be earnest, they often get labeled as a comedy band.
"Because the satire is smart, some people think we're comedians. Because some people only hear the top layer, that we're playing acoustic instruments and we have a southern twang, we get to play with country bands," says Kaset.
On "Saving Myself for Jesus," Kaset and Green croon, sounding like an old Carter Family tune, about people who do it in the butt to preserve virginity.
"He died upon the cross/Let me get my point across/My hymen belongs to Jesus." It's funny and crass, but somehow ends on a deranged sweet note, when the narrator thinks fondly about how, when they die, they get to meet baby Jesus because they waited. Like many of their songs, the ugliness is cut with earnestness. On the drunk dissociation anthem "Here in Body," they sing "I'm here in body not in my soul/I got a groovy body, losing control," a true sentiment for anyone who's felt less than present at a party.
At live shows, Birdcloud is hell-bent on making the audience have a wild time, rolling around the stage, wearing absurd outfits. Lately, they've taken to wearing only underwear and an adult diaper.
The diapers, like the much of the oeuvre, are not rooted solely in crassness. When Kaset's grandma died earlier this year, a leftover bag of Depends was used to lighten the mood, and then they became part of the tour.
"It's a way to connect with my grandma and the reality of growing old and losing your dignity, and mortality and all that sh*t," says Kaset. "It's also like, not trying to be pretty onstage. Not trying to be sexy on stage, but just, like, ridiculous."
Not trying to be pretty is another Birdcloud hallmark. For an upcoming music video, they dressed up as sordid men who live in their parents' basements and do disgusting things. It's a reaction to emboldened men on the internet who sexualize and harass women who make art.
"It's definitely one of the least pretty things we've ever done," says Kaset.
The strong and clear Birdcloud identity is partly owed to the duo's independence as artists. They have a tour booker, but no manager or publicist.
"I think [having a manager] would've changed where we went creatively with the band. I think it's kind of dangerous before you've really formed an identity," says Kaset.
On their recently released single "Wild Turkey 101," the women sing, with feeling, "I am way f*cking smarter than I look/And I can write a f*cking tasty hook." The lyric is almost a disservice; they look pretty damn smart.
__

BIRDCLOUD Wed., Aug. 29. 8 p.m. Spirit, 242 51st St., Lawrenceville. $12-15. 21 and older. spiritpgh.com