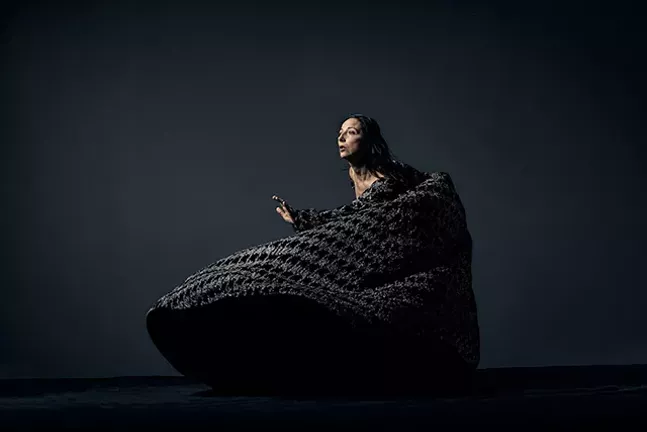 Beth Corning has always been a performer. Her unofficial debut came at around age two when she climbed out of her crib, stripped off all her clothes, and started wandering and entertaining the crowd at her parent's cocktail party. "I don't think it has changed much," Corning says. She hasn't stopped entertaining audiences ever since and this season celebrates her 40th year as a professional dance artist.
Born in Washington, D.C., she moved frequently because of her father's job as an aerospace engineer. Corning earned dance degrees from the University of Michigan and Ohio State University. In the early 1980s, she toured as a solo artist and then started corning dances & company in Stockholm, which she later brought to New York and Minneapolis. In 2000, Corning created the Glue Factory Project, a dance series for artists over forty. Then, after six years as head of Pittsburgh's Dance Alloy, she founded CorningWorks and combined it with the Glue Factory Project.
"I started doing the Glue Factory Project [because] I was still interested in the subtle nuance of movement," says Corning. "I could see somebody fifty or older [doing] that and [having] it carry weight."
Corning's latest, with a shadow of…, features an all-star cast including Corning, Catherine Meredith, Janis Brenner, and David Dorfman. The work is an hour-long non-narrative, dance-theater work Corning describes as existing in "the moment before sleep and the moment before waking."
In putting together with a shadow of…, Corning says she had to deviate from her normal creative process. Because dancers were spread across the country, she was only able to work with a few in-person at a time, so she had to find a way piece those different sessions together into something cohesive.
"[As a choreographer] I come in with a notebook of material and then I stretch the material, manipulate it, and add and subtract from it," says Corning.
She is also a demonstrating choreographer, showing the movement to the dancers. Hence, she says, "[What] I have begun to do [in] the past few decades is allow myself to do the simple movement in my choreography."
Corning also shares stories with her dancers about her storied career, which includes choreographing some 77 works and receiving over 80 grants and awards.
The piece is not a straightforward story, but more of a series of layered metaphors.
"This thing is hazed to death," says Corning. "I hope nobody makes any sense of this work — none. I want the audience to feel there is not a lot of air in the room and a mood of endlessness."