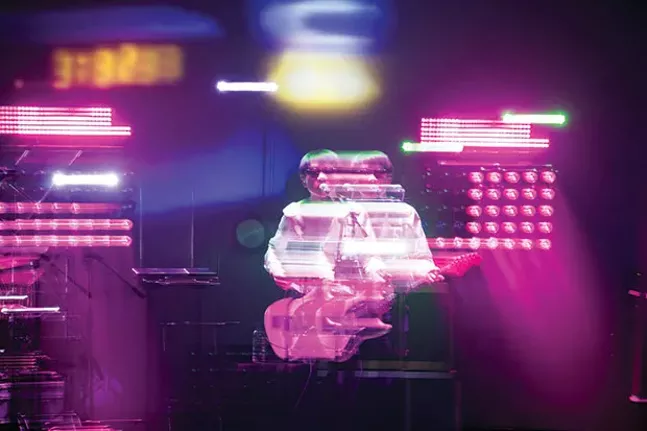 While trying to come up with a name for his band, Keigo Oyamada was watching the original Planet of the Apes movie, a traditional end-of-the-year broadcast on Japanese television. "Later on, I found out that it was [inspired by] the experience of the director during the war as a POW, and Cornelius was the character that was in between the apes and humans, and I sort of like that character," he says. Thus was born a nom de music that has served both Oyamada and his band since the early '90s, when Cornelius released The First Question Award.
His albums have been compared to Beck, since both artists feature a diverse mix of influences blended into their groove-heavy pop music. Cornelius' work includes elements of the Shibuya-kei bubblegum-pop music of Japan colliding with Brazilian tropicalia, shoegaze and electronica. Stereolab might be another comparison, since both bands use vintage synthesizers, though Cornelius' songs get much more complex than that group.
His Pittsburgh debut is an appropriate presentation for The Andy Warhol Museum. A decade ago, Cornelius created the Ultimate Sensuous Synchronized Show, which recalls the sensory overload that the Velvet Underground unleashed with the help of the museum's namesake. (The show happens at the larger Carnegie Lecture Hall, however.) Cornelius, now a four-piece band, played on a stage amidst strobe lights — which alternately left the musicians in the dark and illuminated — with films projected behind them. True to the name of the tour, the animated images of flying sugar cubes and a dancing magnifying glass moved in sync with the music. Cornelius, speaking to City Paper through a translator via email, says the process of syncing music and images took a lot of preparation. But both elements carry equal weight in his work. "I enjoy art and music, which is basically one for me," he says.
Last year, Cornelius released Mellow Waves, his first album in 11 years. It marks a slight departure from previous work. "The albums Point and Sensuous [2001 and 2006, respectively] were more flat in the aspect of emotions and lyrics, whereas for Mellow Waves, I focused more in those parts," he says. "Fantasma, which came out prior to Point, was a collage of all sorts of music." Listeners don't need to understand Japanese to enjoy the songs either.
The years between albums can't be called downtime. "I produced, recorded and toured with various bands, while writing songs for this album," Cornelius says. That list includes the latest iteration of Yoko Ono's Plastic Ono Band, legendary Japanese electronic performers YMO (Yellow Magic Orchestra) and Metafive, which includes YMO's Yukihiro Takahashi and Deee-Lite's Towa Tei. Cornelius also composed soundtracks for the anime series Ghost in the Shell: Arise.