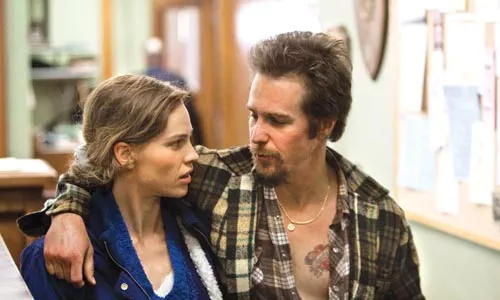 After her bad-boy brother is convicted for a murder, a working-class high-school-dropout single mom goes to law school, so she can get him freed -- even if it takes decades. Because Tony Goldwyn's docudrama is, indeed, "inspired by real events," astute viewers can pretty much guess what happens. Therefore, for our entertainment, Goldwyn presents the journey -- and sadly, it's nearly as tension-free as the outcome.
Goldwyn jumps around in time, showing us the close bond that the siblings, Betty Ann (Hillary Swank) and Kenny (Sam Rockwell) share; there's the tough upbringing, Kenny's reckless life, and then Betty Ann's -- ahem -- conviction to free Kenny, whom she believes was railroaded.
A de-glammed Swank is fine here, but this may be another Amelia for her: a strong actress in a bio-pic of an equally strong and complicated woman, undone by a TV-movie-caliber script. Swank's Betty Ann just perseveres -- which is admirable but doesn't really give us much insight, nor does it make good drama. Rockwell, as Kenny, gets more emotional range, even as we mostly see him only confined to prison visiting rooms.
Wrongful conviction is a serious issue, worthy of a fist-pumping feature, but the film doesn't do the issue -- if you'll excuse the pun -- justice. It never truly engages us, or makes us feel Betty Ann's fire, or her sacrifices. Its tone stays largely breezy, and the narrative suggests that legal battles are really a matter of social skills. We never see Betty Ann employing legal tactics -- the film implies she gets law degree simply to have access to the lawyers-only room -- and that her best victories involve strategic sweet-talking. Why give such short shrift to an honorable side of mastering law?