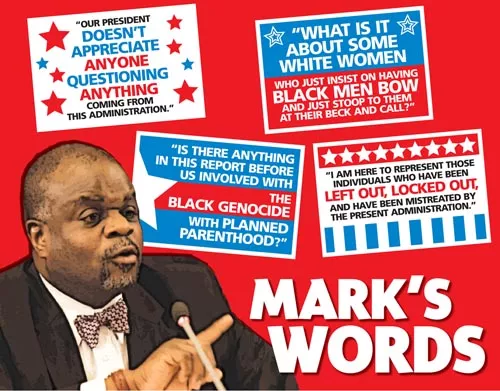 It's hard to imagine a Pittsburgh school-board meeting without Mark Brentley Sr. -- the outspoken, broad-shouldered board member who wears a bowtie on his neck and his heart on his sleeve.
Since joining the school board in 2000, Brentley, 54, has been an unapologetically controversial figure with a reputation for playing the "race card" and making enemies of his colleagues.
A father of five children and a long-time public-works employee, he is perhaps best known for his staunch opposition to former Superintendent Mark Roosevelt, whose policies were regularly greeted with "no" votes from Brentley.
Critics argue that his lengthy verbal tirades against fellow board members and the administration are counterproductive and do little more than waste time. Brentley's supporters, however, counter that his frequent accusations of racism are accurate critiques of school policies that have been detrimental to the black community.
However, a board without Brentley, whose District 8 stretches from the North Side to the Hill District, is a very real possibility. He faces three challengers in the May 17 Democratic primary: Lisa Freeman, 48, of Manchester; Arita Gilliam Rue, 59, of Manchester; and Deloris Lewis, 60, of Central North Side.
For Brentley's opponents, all of whom are black, unseating the incumbent is less about instilling new values than it is about toning down the harsh rhetoric and working cooperatively with the entire board. The concerns are more about the incumbent's style, not his substance. "[Brentley] has a real heart for the community and for children," says Gilliam Rue. "But I think he's become angry, and that anger is getting in the way."
Brentley's anger is deeply rooted in his belief that racism is pervasive in the city school district's policies ... and the people who help craft them.
Take, for example, an argument between Brentley and fellow board member Sherry Hazuda in March 2010. After Brentley lectured Roosevelt during a legislative meeting, Hazuda criticized her colleague for showing disrespect to the superintendent by calling him "Mark."
Brentley argued that Roosevelt was unqualified for the job, among other things.
"But I also have to look at this issue of race," he added. "What is it about some white women who just insist on having black men bow and just stoop to them at their beck and call[?] ... 'You will call him what I tell you to call him.'"
Board members cited spiraling costs and stagnant test scores during the Thompson era, but Brentley's comments over the years haven't just accused the board and administration of racism against him -- they've also routinely accused them of racism against the city's black communities.
"[The administration] has always placed a higher value on the concerns of white parents, over black parents," Brentley said in 2008.
Such cries of racism seem to have started in 2005, when the board ended the contract of the city's first black superintendent, John Thompson.
Brentley says factors other than performance played a part in the superintendent's departure. Thompson's chief detractors on the board, a faction led by Carrick representative Jean Fink, were white. And Brentley says the process to replace him was racially charged.
"It was a public lynching by this board of its first African-American superintendent," Brentley tells City Paper today. "It was an issue of racism to the highest [degree]."
When Roosevelt took over the district in 2005, Brentley became his loudest critic. From the superintendent's 2005 "right-sizing" plan, which closed 22 schools, to his changes in grade configurations and ongoing high-school reform efforts, Brentley has charged racism through it all, arguing that the initiatives have devastated students in poor communities.
"The issues of the last five years were clearly issues of racism and classism," he says.
Roosevelt's reform efforts involved shuffling students to different buildings, and Brentley often vented that students in black communities were left reeling from the constant changes, while those in white communities experienced stability.
"[Brentley] has raised some very tough questions during his tenure," says Will Thompkins, a North Side education advocate who works as a community-outreach director for The Pittsburgh Project. "And I don't know that anybody can question his passion. But there are some style issues."
Those issues are largely the reason why Gilliam Rue is campaigning for the incumbent's school-board seat. While she mostly agrees with Brentley's views on racial inequities within the district, she strongly disagrees with the way he presents them to the board.
"[Brentley] is the only voice that speaks to equity on that board," says Gilliam Rue, a school-health coordinator for the University of Pittsburgh Medical Center. "The problem is he isn't able to get other board members to agree."
Indeed, Brentley's opinions are almost always unpopular in the board room. Other than "Take a Father to School Day," the yearly event he helped launch more than a decade ago, Brentley's proposals usually fall on deaf ears.
In 2008, for example, Brentley introduced a resolution to discontinue the district's celebration of Halloween, "because of all of the negative things that [are] associated with" the holiday. The measure didn't even garner a second motion to reach a board vote.
"The code is, 'Whatever Mark [Brentley] suggests, you do not support," Brentley says.
Not true, fellow board members contend.
Brentley's colleagues routinely criticize him for being unwilling to negotiate. And when he introduces measures, they say, he does so without first consulting other board members to work through any problems.
"It's very frustrating," says school-board member Theresa Colaizzi. "He pops [a proposal] on us, doesn't ask our opinion and when it goes down, he's angry at us."
"It's tiresome," agrees Fink. "In [closed-door] executive sessions, he doesn't participate, but on the floor, in front of the cameras, he's got a whole lot to say."
Measures proposed by the administration, meanwhile, usually pass by votes of 8 to 1 or 8 to 0, with Brentley voting "no" or "abstain."
There were a few times -- on issues like school closures -- when Brentley was not the lone "no" vote. He had company on the right-sizing and high-school reform issues.
But most of the time, he's the only board member saying nay. In 2009, for instance, Brentley was alone in voting against a comprehensive sex-education policy to replace the district's abstinence-only curriculum.
"When I walk around the district knocking on doors," says Lewis, another of Brentley's primary opponents, "he's known as 'the guy who abstains on everything.'"
"[Brentley] has been unable to build alliances, and therefore, the North Side has gotten short shrift," agrees Larry Ehrlich, a former teacher and member of the North Side Leadership Conference's education committee. "Somewhere you have to negotiate."
"It's not my job to convince folks that black folks are catching hell," Brentley counters. "My job is to raise the consciousness of what's going on."
Brentley isn't alone in charging unfair play on the board. Former board member Randall Taylor often voted with Brentley against policies introduced by the Roosevelt administration, and says the school board was Roosevelt's "rubber stamp."
"They had the votes," says Taylor, who is black. "They knew they didn't have to compromise."
Taylor says he hopes voters realize how hard his former colleague works to bring equity to the district, and how difficult the job has been over the past few years. But, he acknowledges, "It's very easy to paint Brentley as a villain."
If Brentley wants to keep his school-board seat, some say, he must quickly cast himself in a less-antagonistic light. And the best way to do that, they contend, is to build a working relationship with the district's new superintendent, Linda Lane, who took over the district in January.
"This is a critical point for [Brentley]," says Morton Coleman, a political analyst and professor at the University of Pittsburgh's Institute of Politics. "He's been the naysayer to Roosevelt's strategy ... but [this election] will depend on his relationship with [Lane]."
The relationship didn't get off to the best start, however, when Brentley cast the lone "no" vote against her appointment. Brentley says there should have been a nationwide search.
Coleman says that Lane, who is black, has a lot of support from the predominantly black neighborhoods that Brentley represents.
"In the next few weeks," Coleman adds, "if [Brentley] still plays the role of saying 'no' to everything, that's going to be tough for him."