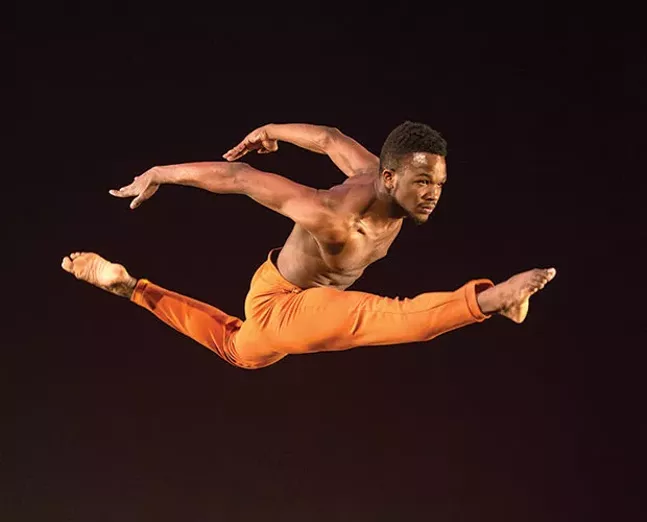 Native American mysticism, a nod to "Furry fandom" and a lamentation over the loss of imagination, all play a role in Conservatory Dance Company's Spring Dance Concert, happening April 19 – 22 at Point Park University's George Rowland White Performance Studio. The annual student production will once again feature works by some of today's brightest contemporary choreographers.
Cincinnati Ballet Resident Choreographer Jennifer Archibald's new work, "Orenda," takes its name from the invisible power the Iroquois believe flows through all animate and inanimate natural objects. The 11-minute piece for 15-dancers to music by composers Roger Goula and Serge Houppin, was inspired by the quote from German-American philosopher Walter Kaufmann, "Life ceases to be so oppressive: we are free to give our own lives meaning and purpose, free to redeem our suffering by making something of it."
The work's movement, says Archibald, blends urban aesthetics with classical technique and uses a lot of physical partnering with the dancers using their own life experiences to personalize Kaufmann's quote.
Polka music, 100 black balloons and two "furry" animal heads — while that may sound like the ingredients for a wild night out, they are instead some of what's found in Dark Circles Contemporary Dance founder/artistic director Joshua Peugh's world-premiere work, "Black Balloons." The 15-minute piece for 13-dancers uses a mish-mash of Pennsylvania kitsch, as seen through the eyes of Peugh, to explore sensations of "heavy lightness or light heaviness."
"Parade of Exuberant Things" is Point Park assistant professor of ballet Matthew Powell's latest creation for CDC. Powell says he was inspired by a perceived loss of imagination in our society. The 30-minute work for 19-dancers and set to composer John Adams' "Fearful Symmetries," aims to let audience members explore their own imaginations as to the meaning behind the work's series of vignettes.
Rounding out the program's offerings will be Sidra Bell's "wreckage." No stranger to Pittsburgh dance audiences who have seen several of her works in recent years, Bell, by phone from North Carolina, describes her new 23-minute work for CDC as being "like a mural whose poetic landscape features images of falling and falling apart." Danced to a layered original score by Pittsburgh's slowdanger, the work for 11-dancers uses Bell's signature movement language that she describes as being "technically virtuosic and architectural from root to tip."