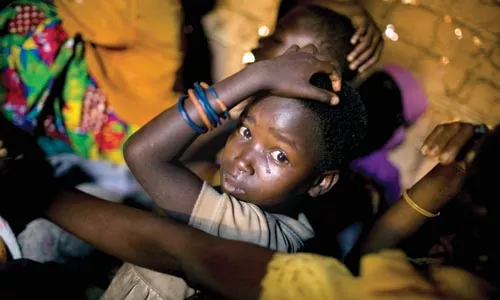 For 41 years, the country was known as the African Congo Free State. In 1908, it became Belgian Congo. In 1960, it gained independence as the Republic of Congo. In 1971, it was renamed Zaire. 1997, the Central African Republic. Today, it is the Democratic Republic of Congo. But until somebody wins the country's lunatic civil wars, the name may change overnight.
This tropical chunk of Africa has long been a hotbed of slavery, war, starvation, poaching, child soldiery, religious fanaticism and every virus imaginable. Congo consists of dense rainforest and rolling hills, broken roads and patchy infrastructure. Tribes are divided by language, history and the treacherous land between them -- and still the culture reels from the Belgian invasion, among the filthiest crimes on record. In the absence of law, militias roam from village to village, raping and burning everything they see. Congo is the most anguished place on Earth, and has been since before Joseph Conrad wrote his Heart of Darkness. The horrors of this land cannot be exaggerated.
A journalist in Congo risks death. There were no safeguards for the photographers who created Congo/Women, now showing at SPACE Gallery. When they took these pictures of refugees and rape victims, no police force protected them. Congo/Women is the product of rare courage and humility; the story in these photographs does not concern journalists in peril, but the most helpless victims of the Congolese wars -- women and children.
SPACE is a large room, typically used for installations and multimedia projects. Congo/Women is something different: The photographs are printed on fabric, often enormously, and they fill the space with images of unspeakable suffering. Each wall reveals another layer of Congolese horror -- from ragged displacement camps to gangs of soldiers. In images by Lynsey Addario, Marcus Bleasdale, Ron Haviv and James Nachtwey, we see mutilated bodies and babies wide-eyed with terror.
Bleasdale documents the soldiers and their victims, and his series is a flipbook of cyclical cruelty. In "Fataki, 2003," we see a Hema man, his corpse crippled and abandoned on a dirt road. We learn from placards that the man was bound, impaled and ultimately shot. His ears were "bitten off."
Who would do such a thing? We get to see the perpetrators close-up: They wear sunglasses and tote Kalashnikovs. They smoke cigarettes in the jungle and mount trucks in tent cities. In "Ituri District, 2003," a boy rides a bicycle down a muddy road, through foreboding grasslands. His body is too small for the bike, which would be cute, if it weren't for the machine-gun slung over his shoulder. This is the standing army in Congo -- ragtag bunches of soldiers. To paraphrase a sex-crime victim quoted in the show, whoever has the gun has the power.
Congo/Women was co-produced by Art Works Projects and Columbia College Chicago's Ellen Stone Belic Institute. As organized by Leslie Thomas and Jane M. Saks, it is a traveling exhibit full of printed information to put these images in horrifying context. Here, we see the aftermath of ritualized violation. Addario's portraits show women of all ages whiling away their lives in hopeless trauma. They live in hospitals, but it's hardly living. Nurses aid them, but supplies are short. Many suffer from fistula, which causes incontinence, and can only be mended by surgery.
The most powerful of these portraits is also the most understated: "Goma, 2008" shows Amandine, a 14-year-old rape victim sitting on a bench. She wears a clean dress of deep purple, her hair is styled into cornrows, and her feet bear smart pink sandals. But she faces away from the camera, staring instead at a blank white wall. And this, we understand, is Amandine's life story -- a faceless castaway, waiting, gazing into oblivion.
Congo/Women is more than an art exhibit; it is a fearless social document, and the most important series SPACE has ever hosted. Whatever Congo is called tomorrow, these photographers have given a face to the name, and change begins with that.
Congo/Women continues through July 25. SPACE Gallery, 812 Liberty Ave., Downtown. 412-325-7723 or www.spacepittsburgh.org