The International Association of Gay/Lesbian Country Western Dance Clubs (IAGLCWDC) was founded in 1993, with 32 groups in nearly as many cities. But it wasn't until October 2018 that Pittsburgh got its own LGBTQ-oriented line dancing group, 412Step.
Bill Blansett, creator of 412Step, got into the dance genre while living in Madison, Wis., where he danced with the Dairyland Cowboys and Cowgirls. After moving back to his hometown of Pittsburgh a few years ago, Blansett couldn't find a similar group locally, so he started 412Step, which now has a recurring Boot Scootin' night every Wednesday at Belvedere's Ultra-Dive and a monthly Steel Town Hoedown at Element.
The group does line dancing, waltzing, and two-step, but since it's an LGBTQ dance group, there's more freedom in both the dancing and the music. "We welcome anyone to take on the lead or follow role," says Blansett. "Traditionally, in partner dancing, you'd have the male lead and the female partner follow, but [in] our groups, anyone's welcome to do anything they like. So it's just cool to be in that environment and be able to take on those roles and learn what it is to lead in a dance or to follow in a dance."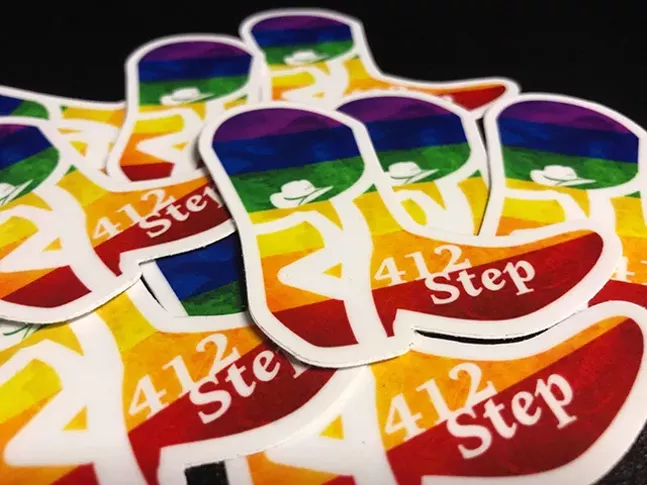 412Step dances to country music (as is line dancing tradition), like Dolly Parton or Shania Twain, but it also incorporates all kinds of danceable music including pop and disco. No fear for anyone with two left feet – events always have a lesson for a new dance or review of a previous one.
Blansett frequently describes 412Step as a welcoming community, noting that the independence of line dancing, which doesn't always require a partner, actually makes for a freeing environment. "You're in a community and you're dancing to the same music so you're enjoying it, but you're able to do that on your own," says Blansett. "With our groups, it's not anticipated that you need to show up with a partner. For all our events, we say no partners necessary."
When Blansett attended IAGLCWDC with 412Step last year, he says they met groups who had been dancing together for 30 years, which he called "inspiring." 412Step might be young, but it's already grown fast for a group less than a year old. They haven't missed a Boot Scootin' night since its inception and have already begun forming committees to get more organized.
The June Hoedown falls during Pride weekend, making it even more of a party. For those who have no experience with this kind of dancing, 412Step offers an open and non-judgmental space. Cowboy boots are not required, but they do make it more fun.