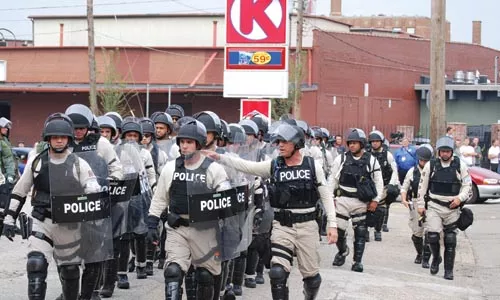 "Let's get the hot ones out."
That's what Casey Li Brander recalls hearing a male police officer say as she sat handcuffed inside a bus, along with 20 other women arrested during the G-20 summit.
Brander, like most of those arrested in Oakland during the September summit, faced only minor charges after being caught in a police dragnet. But she and other women say the aftershocks have been far more serious -- because of how law enforcement treated them.
Brander, a Carnegie Mellon University student, was among those arrested on the Cathedral of Learning lawn on Sept. 25. Like many others, she faced charges of failure to disperse and disorderly conduct. The charges were later dismissed because, just before being arrested, Brander called 911 to report herself surrounded by police and unable to find an escape route. Despite that call, however, she was taken by bus to State Correctional Institution-Pittsburgh, where she sat for roughly six hours outside, and another six hours in a holding area.
"When I arrived at SCI, I was frisked really intrusively with five guys watching," Brander recalls. The female guard performing the search "really lifted me up by the crotch one time, while I was trying not to cry," as male officers laughed. "It's totally not cool for five guys to be standing around, dissecting me with their eyes while I'm being felt up by the female guard."
Asked for policies concerning searches of female detainees, Assistant Chief Maurita Bryant of the Pittsburgh Police offered only what were described as "general procedures" in such situations, such as using same-sex searches whenever possible. The presence of more than one officer during a search is "preferred," she says, "so that at least one officer provides protective cover."
Neither police nor Associate City Solicitor John Doherty answered further questions about alleged police behavior. Both were e-mailed a list of questions detailing the allegations in this story, 11 days before this issue went to press. Pittsburgh Police spokesperson Diane Richard referred all questions to Doherty, who did not respond to the list, or to follow-up phone inquiries.
Stuti Pandey, another CMU student whose charges were also dismissed thanks to a 911 call, says she's taken a leave of absence from college and returned home to California -- all due to trauma stemming from Sept. 25.
She recalls her own frisking on the Cathedral lawn by a female officer. "The officer literally thrust her hands between my butt cheeks, between my labia, and was groping between my breasts from outside of the clothes I was wearing," Pandey writes in a statement sent to CP. "It felt like an intense sexual assault."
After four hours on the bus, Pandey says, "There was more than one woman starting to cry ... because they had to use the bathroom with such desperation." Others were having their periods. "Finally, I started shouting at the officer, 'Have you ever heard of toxic-shock syndrome?'" -- a potentially fatal condition that may be caused by having a tampon in place for an excessively long time. "The officer just laughed."
The female detainees were then allowed to use a porta-potty, but only while handcuffed, and only with the door ajar while male officers supervised.
The general police procedure, says Assistant Chief Bryant, is that "arrestees are permitted to use the bathroom if one is readily available," unless they are in mid-transport.
Officers' attempts to adhere to such local policies -- or to identify any officers who ran afoul of them -- may be complicated by the fact that officers from numerous outside agencies were called in to help with G-20 security.
For example, Deirdre Martinez Meehan says her frisking at SCI was photographed by National Guard members, wielding cell phones.
"It was really unprofessional," Meehan says.
The Ohio University sophomore had come with other Students for a Democratic Society members Sept. 25 for the permitted Downtown march against the G-20, then was arrested in Oakland that evening while trying to meet up with friends. She was found not guilty of the usual pair of charges.
Meehan was on the phone to her father, seeking advice, when she was arrested.
"Get off the fucking phone, you're a stupid girl," she recalls the officer saying before she was jumped.
"His whole body was on me. I couldn't breathe," she says. Two other officers "plucked me off the ground and took me to the periphery." Meehan recalls that one of them assured her, "No one's going to hurt you." But during the intake procedure, another male officer "used the words 'cunt' and 'bitch' on two of my friends ... The female cop said to him in a quieter tone, 'Are you going to use that kind of language on a woman?' And then he stopped talking."
During transfer from one police wagon to the next, Meehan adds, another officer yelled, "Two hot and sexy females coming through!"
According to the National Guard's state public-affairs officer, Lt. Col. Chris Cleaver, "We did put a provision in place for National Guard members not to carry cameras or cell phones. If there is some truth to that [allegation], we would be interested in investigating."
"I'm pretty sure I have post-traumatic stress disorder because I have had bad sexual experiences, and the way the police were dealing with us reminded me of that," says Danielle Hauser, who sat with Brander and Pandey on the bus. The Reno, Nev., resident, in town to protest the G-20, was found not guilty of the same two minor charges.
Right from her arrest on the Cathedral lawn, Hauser says, male officers "were referring to us as 'hot,' taking our pictures and saying, 'Oh, you look hot in this one.'"
There are a few reports of male arrestees being taunted along sexual lines as well. Pete Shell, an official of the Thomas Merton Center committee that organized the Sept. 25 Downtown march, said he was standing handcuffed on the Cathedral of Learning lawn when he heard a male police officer say to another arrested man: "'I'm going to put you in a jail cell with Bruno. He'll make you his girlfriend. Talk about dilation ...'
"This felt very threatening," says Shell, whose minor charges were dismissed.
In his testimony during a public hearing on G-20 held Nov. 10 by the Citizens Police Review Board, Shell claimed police promulgated "a pattern of sexual harassment of women." The ACLU is currently seeking plaintiffs for potential civil suits ... including those complaining of sexual harassment by police.