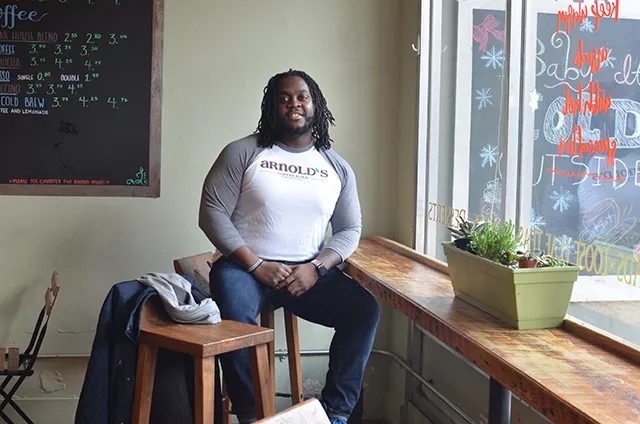 Arnold's Tea, the North Side café considered a neighborhood asset by many, is on the brink of closing.
A
Change.org petition
is circulating to prevent the café from shutting down and to help maintain one of the few area businesses run by a Black owner.
The petition claims that Arnold's Tea will be forcibly shuttered by its two landlords, the Northside Leadership Conference (NSLC) and the Historic Deutschtown Development Committee (HDDC), because current owner Claudy Pierre had fallen behind on rent payments, but adds that those payments are now up to date. Since it launched two days ago, the petition has gathered over 2,600 signatures. Many have expressed support for the petition online, including Liv Bennett, the Democratic nominee for Allegheny County Council District 13.
Please help to save this black-owned business and a staple in our community. The atmosphere is dope and it is a great space to have meetings and working lunches. And it is a safe place for black women. Sign it! ✊🏽#InvestInUs#BlackBusinessesMatterhttps://t.co/MUYiXLgJbx?

— Liv Bennett (@LivFor13) September 24, 2019
Now a meeting has been set to decide whether to give Arnold's Tea another chance.
Pierre says the latest development is frustrating for him, as he has paid all his back-rent, plus any late fees. He's not sure why the HDDC and NSLC are so focused on closing Arnold's Tea but wonders if the motivation is financial, as there are five market-rate apartments in the Beckert Building above the café.
"I think the area will be changing and they can get higher rent and things of that nature," says Pierre.
However, NSLC executive director Mark Fatla says there's more to the story. Fatla says Pierre consistently fell one to three months behind on rent payments in the year since he took over the business from its original owner and namesake, Verna Arnold. He adds that in that time, five checks they received from Pierre had bounced.
Fatla says they also received complaints from neighbors that Pierre has not properly disposed of his trash, which has led to rat infestations both outside and inside the Beckert Building. Fatla says he has seen the problem in person, including a visit where he noticed that, while trash was stored outside in rat-proof containers, the lids were still partly open.
Fatla says that, while the NSCL board has tried to be patient and work with Pierre, they have to be considerate of the tenants living in the five apartments above Arnold's Tea who shouldn't have to deal with rodents.
"At what point does the board have a responsibility to the people renting those apartments?" says Fatla. "We don't have much choice."
A search for Arnold's inspection reports from the Allegheny Health Department resulted in one dated Jan. 25, 2019. The report did not mention rats, only two minor violations for storing food at incorrect temperatures, saying the establishment was inspected and permitted to stay open. Pierre calls the infestation claims "completely false" and adds that, on Sept. 6, Witt Pest Management, a Pittsburgh-based extermination company, visited Arnold's Tea and found nothing.
Pierre believes the rat infestation claim is a "last-ditch effort to attack the character or the integrity of the space" and to push him out after he managed to come up with the delinquent rent. He also wonders why Fatla would claim the building was infested by rats, which could run counter to goals of attracting future tenants.
"This has become a very personal thing," he says. "As a landlord, I would never be OK saying there's a rat infestation, and that's never been part of the narrative. They didn't try to evict me for that."
Fatla also shared a letter from HDDC's president, Barbara Burns, which echoes his concerns and details how the organization still worked with Pierre even though he had "defaulted on an earlier restaurant lease and did not have a clean credit history." Per the letter:
We worked through those concerns with him and negotiated a Lease that started Oct 1, 2018. Unfortunately, the very first two checks written to us by Mr. Pierre, for a security deposit and first month's rent, were returned for insufficient funds. Again, with the assistance of NSLC staff, we worked through those issues with Mr. Pierre and he took over operation of the business.
The letter goes on to confirm that a hearing was held before the magistrate on Sept. 4 to collect back-rent and take possession of the business. On Sept. 11, the HDDC and NSCL then met with Pierre and "explored terms" that would allow Arnold's to stay open, granted that delinquent rent was paid and trash disposal complied with the terms of the lease and City ordinances.
The letter says that, within three days, Pierre violated those terms.
More details are available in the letter below:
Marimba Milliones, president and CEO of the Hill Community Development Corp., declined to comment on Fatla's claim, only saying that Pierre is an "energetic and ambitious business owner who we hope finds success in his business ventures while adding much-needed diversity to Pittsburgh's food scene," adding, "I hope he can overcome whatever business issues he may face."
As for Fatla's comments about his past lawsuits, his credit history, and his failed business, Pierre says they have no relevance to the current situation and seem like another attempt to discredit him.
"We're talking about Arnold's Tea and the lease," says Pierre. "Everyone gets dirty when you sling mud, but at the end of the day, this is about the community, this is a community asset. I'm not perfect and I lead with the fact that I'm not perfect ... It's pretty embarrassing."
It's an unfortunate situation for a business that has operated in the North Side since 2015, serving as a community space and sponsor for a variety of events.
It's also become very stressful for Pierre, a Haitian-American chef who was trained at Le Cordon Bleu Institute of Culinary Arts and the University of Pittsburgh and is viewed by many as a pillar of his community. He's listed as a member of the Hill District CDC's inaugural Do It Now! Cohort, and is involved with the American Heart Association, the YMCA, and the Haitian American Caucus. In the past, he received the BMe Genius Award that recognizes exceptional leadership in the Black community.
Besides running Arnold's and his own catering company, Eminent Hospitality Solutions Co., Pierre also started the Empowerment Awareness & Training (E.A.T.) Initiative Inc., a nonprofit organization that tries to combat food insecurity, and hosts hands-on cooking demonstrations and career development training for those interested in working for the hospitality industry.
Because of this, Pierre has been the subject of various media stories, including in
Pittsburgh City Paper
.
This morning, a post appeared on the Facebook page for Historic Deutschtown saying that its community group, the East Allegheny Community Council (EACC), made a recommendation to the HDDC regarding Arnold's Tea. In the post, Historic Deutschtown requested that HDDC "give Arnold's another chance to be a good tenant and to determine a set of conditions (financial, business planning, handling of garbage, etc.) that can be followed in the next 90 days for Claudy to show his viability and good faith as a business owner."
It went on to say that the HDDC would vote on a course of action during a meeting taking place tomorrow.
Regardless of what happens, Pierre believes the HDDC and NSLC are both failing in their roles as community organizations by going after his business.
"As the landlord and a community landlord, you should be finding the resources to make sure Arnold's Tea is sustainable," says Pierre.