A conversation about Pittsburgh's professional-wrestling history usually starts with one of two topics: Bruno Sammartino or Channel 11's Studio Wrestling show, hosted by local TV legend "Chilly" Billy Cardille.
It's hard to argue those two starting points, but Pittsburgh's pro-wrestling legacy goes much deeper. That's why local wrestling journalist Thomas Leturgey decided to teach a class on the subject. Starting Oct. 11, Leturgey will begin his two-session course entitled "The History of Professional Wrestling in Pittsburgh." The second session is a week later, on Oct. 18.
Leturgey, who has written about wrestling for years and is the long-time ring announcer for the Keystone State Wrestling Alliance, got the idea for the class this past spring. Former World Championship Wrestling announcer Chris Cruise taught a class at Community College of Allegheny County on Sammartino's decorated career. Leturgey attended the class and spoke with Cruise.
"We thought another class in the fall would be a good idea, maybe something that addressed the region's pro-wrestling history and traditions," Leturgey says. "I talked to the folks at CCAC, they embraced the idea and the next thing I know, it's in the catalog."
The class, which costs just $49, is part of CCAC's Community Education program. Information on signing up for the class, which will be held at CCAC's North Campus, in McCandless, can be found at www.ccac.edu.
Leturgey became interested in wrestling's history as he began to write about it. He wanted to cover it just as you would any sport and to do that, you need to know your history. Luckily, his job with KSWA enabled him to meet a whole slew of Pittsburgh's greatest grapplers, from Sammartino and Dominic Denucci to former wrestlers who turned to politics: original Allegheny County Councilors "Jumpin'" Johnnie DeFazio and "Cannonball" Chuck Martoni.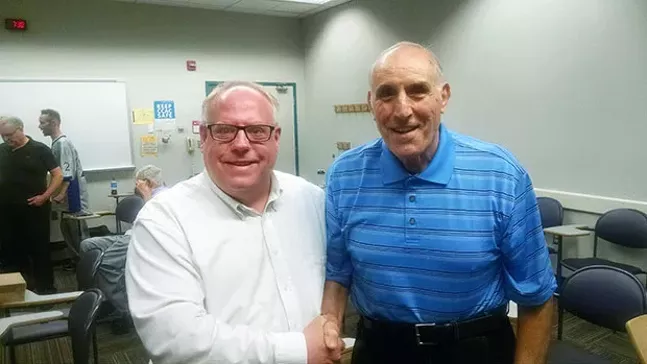 "It fascinated me how guys like DeFazio and Martoni transcended the sport of wrestling and moved into public service," Leturgey says. "Then you have Bruno. He is such an endearing character. To this day, I believe that he is the most popular athlete to ever come out of this region."
Then there's Denucci, the big affable character with a still-thick Italian accent. Denucci was a big deal when he started out in the late 1950s. He worked programs with some of wrestling's best at the time. And in Australia, he was as popular as Hulk Hogan was in the 1980s. Leturgey says he has formed a friendship with Denucci over the years and says the former grappler is probably the second-best early prospect to come out of the region after Sammartino.
Denucci would go on to mold the future of professional wrestling as a trainer. Two of his top students were Mick Foley and Shane Douglas. Foley, be it as Mankind, Cactus Jack or any of his other personas, is one of the most well-known performers in the world. For years he sacrificed his body to entertain crowds. As for Douglas, he nearly single-handedly raised the profile in the 1990s of an upstart Philadelphia company called Extreme Championship Wrestling.
Leturgey says he'll also not only examine the impact that Channel 11's Studio Wrestling had on the sport's formation, but he'll also delve into other wrestling shows and venues in the area that some people may have never heard of. "There was a lot of wrestling in this area prior to Studio Wrestling in 1958," Leturgey says. "There were matches at the Islam Grotto on the North Side and at the Duquesne Gardens.
"We also had plenty of big talent come through this area, from Ed 'Strangler' Lewis to Gorgeous George to Maurice Tillet [a particularly odd-looking Frenchman known as The French Angel]. Pittsburgh has a rich wrestling history that really is worth exploring deeper."