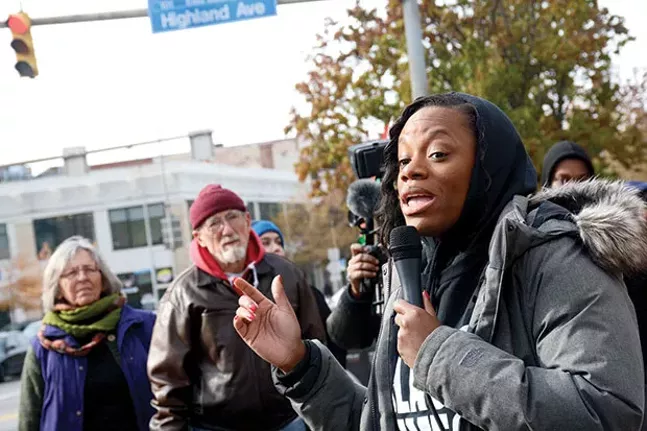 On the fifth anniversary of the police shooting of Leon Ford, and on the heels of a strong progressive election showing, community activist Brandi Fisher put forth a challenge to Allegheny County District Attorney Stephen Zappala. Facing a crowd of 60 people at a rally in East Liberty on Nov. 11, Fisher promised that Zappala, a 20-year incumbent, would face a challenger in 2019.
"It's not just about rallying, it's not just about protesting — it's about voting, it's about getting these people out of office who are in control," said Fisher, director of the Alliance for Police Accountability.
The rally was held to highlight police brutality in Allegheny County in recent years and the fight still being waged by Ford, who was paralyzed after being shot during a traffic stop in 2012. Fisher criticized Zappala's handling of allegations of police brutality, especially those at Woodland Hills High School, as well as the slow progress in cases against other Pittsburgh officers accused of misconduct.
These cases include: Christopher Thompkins, a Larimer man shot and killed by Pittsburgh police after calling to report a break-in at his own home; and Nathan Stanley III and Daniel Adelman, who were beaten by Pittsburgh Police officers in separate incidents.
At the rally, the crowd heard from another victim, Jessica Short, an East Pittsburgh resident and mother of two, who claims that on Oct. 27, she was Tasered and forced to spend a night in county jail for no reason, after videotaping an East Pittsburgh police officer's traffic stop of her fiancé.
Breaking down in tears as she described the incident to the crowd, Short said the officer threw her to the ground, trapping her son underneath her, and then arrested her for resisting arrest and obstruction of justice.
"How could I be resisting arrest when I wasn't being arrested in the first place?" Short said.
The Pittsburgh Bureau of Police and the district attorney's office said they are reviewing several of the cases referenced at the rally.
Sonya Toler, a city police spokesperson, said Adelman's case was still under internal review. In September, Thompkins' case sparked a war of words between the district attorney and the city's Department of Public Safety, when Zappala claimed that the city was not cooperating with his investigation into the shooting.
Wade's case, meanwhile, is part of a larger string of verbal and physical altercations involving former Principal Kevin Murray and Churchill Police Officer Stephen Shaulis, which have come to light at Woodland Hills High School. Wade went to the emergency room for injuries he sustained after allegedly being hit by Shaulis.
Wade is currently facing charges as a result of the incident. But Mike Manko, spokesman for the district attorney's office, declined to comment on the charges because Wade is a juvenile.
Zappala's office had previously investigated Murray over recordings of the principal threatening a student with physical violence, but declined to press charges. Murray resigned from his position in August, and received $32,000 in severance pay. A federal civil-rights investigation of the school is underway.
Besides the Woodland Hills incidents, Fisher pointed to an uptick in police complaints over the past year and under the new Pittsburgh police chief, Scott Shubert. She said that while only one complaint was filed during former chief Cameron McLay's two-year tenure, 15 complaints had already been lodged in 2017 alone.
She said firmer action from the district attorney against police misconduct could solve the problem.
"The district attorney is the person who charges people who commit crimes or chooses not to charge them," Fisher said. "So, in all issues, we are looking for justice. What we are really saying is 'district attorney, do your job.'"
In an email to City Paper, Zappala spokesperson Mike Manko said that Zappala "is proud to serve as District Attorney, and considers it an honor and a privilege that the citizens of Allegheny County have placed their trust in him for the past 20 years."
Also in attendance at the rally were state representatives Ed Gainey and Jake Wheatley. Wheatley, who represents parts of the Hill District, North Side and South Side, noted that police brutality is an everyday reality for his constituents. He said he attended the rally to "make sure innocent folk aren't being brutalized, and if it happens, it's being rectified" and added that his constituents can't afford to wait any longer for the issue to be addressed.
"That's my only interest here," Wheatley said. "What happens in 2018, 2019, that's two years away."