East Liberty's Commerce Bar got national attention last week when Forbes magazine published a feature on the new speakeasy. It provoked a strong response locally when social media feeds in Pittsburgh blew up in protest to the article, citing quotes from owners Adam and Diana Kucenic saying that Pittsburgh "didn't have that many places that specialized in cocktails."
Many were quick to point out that East Liberty's history of gentrification, particularly when it comes to restaurants moving in under the false assumption that similar cuisine wasn't already available. There's also no shortage of cocktail bars in East Liberty, including The Whitfield, Wallace's Whiskey Room, and, most notably, Lorelei, which not only shares the same block of South Highland avenue with The Commerce, but also two of its staff: Cat Cannon and Cecil Usher, longtime Pittsburgh bartenders and the team behind the local consulting firm Mindful Hospitality Group, which is helping establish The Commerce's drink program.
While the comments in Forbes got the speakeasy off to a rocky start, Cannon and Usher's pedigree and reputability in Pittsburgh also speak volumes. (Both Cannon and Usher have held high-level positions in the U.S. Bartenders' Guild Pittsburgh chapter and worked in esteemed drink programs for years.) So how are they approaching their new project?
"We wanted to help create a culture there," says Usher. "We didn't want to just come in, lay a plan down, and leave. We wanted to groom and grow and put something down that we want to stay."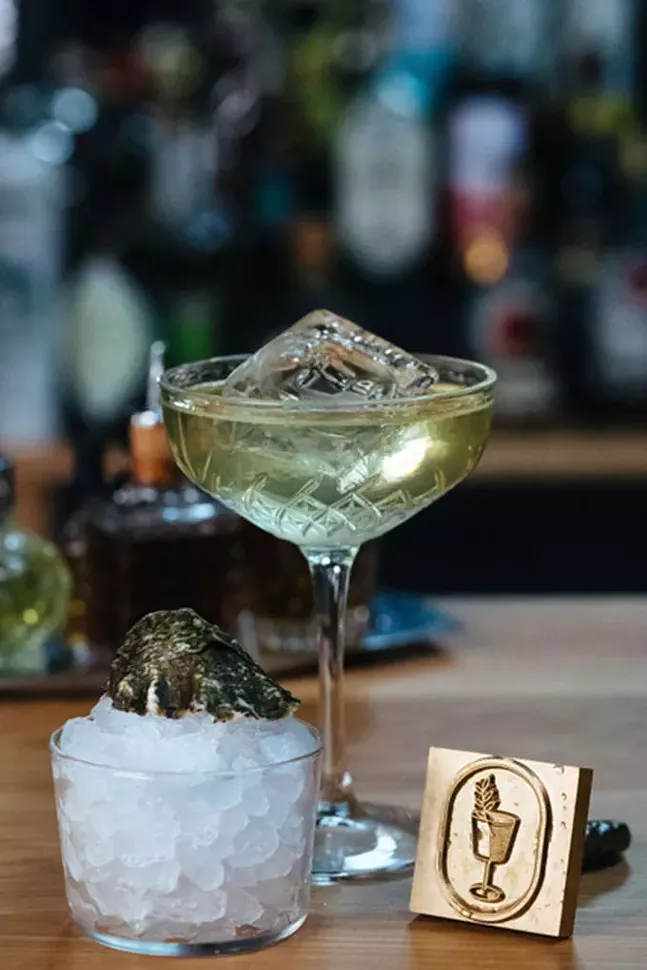 Cannon and Usher determined everything top to bottom, from hiring staff, choosing glassware, and designing the cocktail list, to how the bartenders interact with guests about the concept and drinks.
Aside from the front door, "speakeasy" wasn't an inspiration for Cannon and Usher's design choices. Instead, the duo looked to what would create an immersive guest experience.
There's no password needed to enter Pittsburgh's speakeasy. You just have to know where to find it, which can be tricky.
Technically, Commerce Bar's address is the same as Bird on the Run (which is also owned by the Kucenic with its own share of controversy in the past), but if you visit the Highland Avenue restaurant, you won't find a speakeasy. Commerce Bar is located directly behind the fried chicken joint, designated by an unmarked door; hit the Goodwill collection area and you've gone too far.
The cocktail menu is split in half — one part classic, Prohibition-era drinks and one part in-house creations. Commerce's classics section dates drinks back to another era, featuring cocktails like the "corpse reviver no. 2" (1930) and an "improved whiskey cocktail" (1876). An opposing bill of cocktails pokes fun at Pittsburgh with names like "read the meter" and the "Fort Duquesne old fashioned."
Cannon and Usher call the list "familiar drinks in new and inventive ways. … More than an era." The duo continues, "We wanted to pay homage to a city and neighborhood with a rich drinking history that also, took off around the era of 'The Golden Age of Cocktails.'"