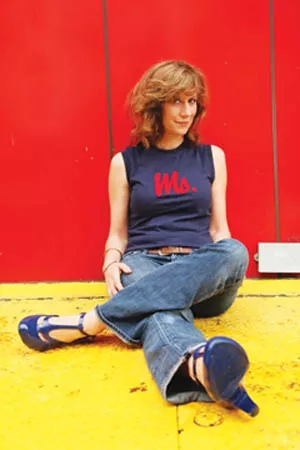 From a very young age, Lizz Winstead used Planned Parenthood for its reproductive and women's health-care services.
"It helped me through a very hard time," the comedian says. Now, the co-creator of and former head writer for The Daily Show wants to help the agency through its own hard time. Her comedy tour, Planned Parenthood: I'm Here for You, kicked off earlier this month and stops in Pittsburgh on July 14 to benefit Planned Parenthood of Western Pennsylvania.
"To watch women's health care be used as a political pawn and bargaining chip in our system is what drove me over the brink," Winstead says by phone from her home in Minneapolis, Minn. "The thing for me that drives me craziest is, if you want to reduce the number of abortions in the country, why do you think it's a good idea to eliminate all access to birth control?"
Congressional conservatives have long targeted Planned Parenthood, and this year attempted to federally defund it. But even more troubling, the comedian says, is what's happening at the state level. In Pennsylvania, for example, the state senate is considering a bill that would reclassify abortion facilities as "ambulatory surgical facilities," requiring costly upgrades that women's-health advocates say would shut down safe and well-run organizations.
"People need to look at who they elect in the state houses. This is where the legislation is coming down," Winstead says. "They seem to be overreaching and making draconian legislation."
Winstead, who also co-created Air America Radio, hopes the tour, featuring her razor wit and political satire, will raise funds and awareness for local Planned Parenthoods. And along the way, she's recording the stories of women who have used the group's services and sharing them publicly.
"It makes those people who protest see someone -- whether it's a mom, sister or someone they work with -- before they make accusations," she says.
And the accusations, she notes, are misguided and ill-informed; abortion accounts for just 3 percent of Planned Parenthood's services.
"Ninety-seven percent of what they do is finding ways to make sure women don't have to terminate a pregnancy," Winstead says. "If I could get anything in my life to work 97 percent of the time … I'd be thrilled."
Planned Parenthood: I'm Here for You with Lizz Winstead, hosted by John McIntire and featuring Gab Bonesso. 7 p.m. Thu., July 14. Bricolage, 937 Liberty Ave., Downtown. $50. 412-434-8957 x118.