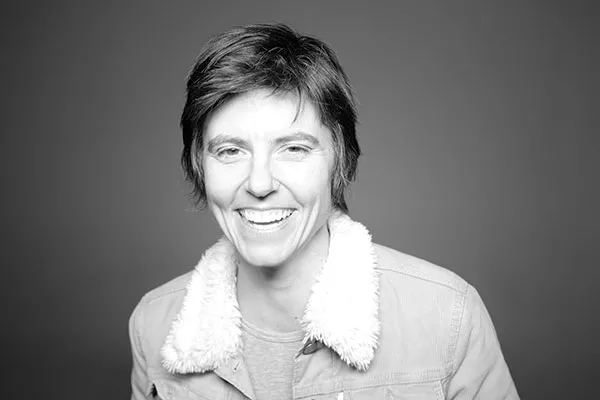 There's making light of a dark situation — then there's turning your life-threatening disease into a comedy set. Comedian Tig Notaro has mastered the latter.
In 2012, she revealed at Los Angeles comedy club Largo that she had just been diagnosed with Stage 2, bilateral breast cancer. Then she delivered a gut- and heart-wrenching set that Louis C.K. called "masterful."
A double mastectomy and a Grammy-nominated album later, Tig says she's now healthy and "embarrassingly" without a complaint in the world. On Oct. 25, Notaro — also known for her podcast Professor Blastoff — brings her international Boyish Girl Interrupted Tour to town. She answered CP's questions by email.
You've said that at the time of the Largo set, you hadn't grasped the power of Twitter and had "gone onstage thinking I was having a private moment with that venue." Would you have had the same mindset if you knew your routine would go viral?
I'm so glad I didn't know anything and didn't have knowledge of that whole world of Twitter. There's a huge chance I could have overthought things and the rawness would have been absent in the performance.
Do you think you'll always write about cancer?
I always do whatever excites me and what is authentic to me as a person and standup. I always want to do whatever feels right to me in any aspect of my life at any given point. My current hour of material has a nice mix of personal stories and just ridiculousness.
Can you give us a couple hints about your new material?
I touch on everything from bombing at a comedy club in Vegas, to stories about me and my friend searching for Santa Claus, to even more personal events. I honestly love doing this new material, I think, more than any other previously.
In your Largo set, you said, "With humor, the equation is: tragedy plus time equals comedy. I am just at tragedy right now." Where are you now?
I am past tragedy now and hopefully at "time" right now — a lot of time. And [I] hope with more time, I could one day look back on that horrific four months as just a blip in my life and story.
Editor's note: Tig Notaro was originally scheduled to perform two sets Saturday night at the Kelly-Strayhorn; there is now only one show. Doors open at 8:30 and the show begins at 9:30; tickets already bought for the early show will be honored,
according to promoter Drusky Entertainment
.