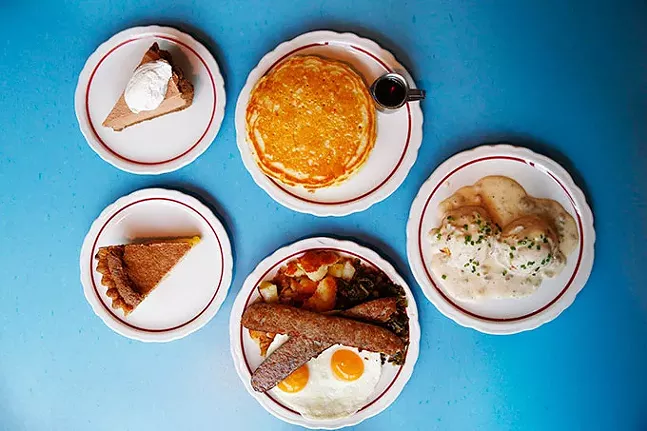 Pie for Breakfast is the kind of diner that makes you want to be a regular. It has all the trimmings of a cozy A.M. joint: tall booths and a long, stainless-steel bar, friendly servers, who, if you frequent the counter enough, will remember your order down to the smallest detail. There's also bottomless coffee.
The homestyle Oakland eatery is the third restaurant from Trevett and Sarah Hooper, owners of nearby eateries Legume and Butterjoint. Pie for Breakfast is, as Trevett Hooper told
Pittsburgh City Paper
before the restaurant's opening in 2018, "ultra-American."
There's nothing fancy about the restaurant's menu. For the most part, it's standard diner fare: plates of eggs, toast, bacon, buttermilk pancakes, steak and eggs, omelets, biscuits, and gravy. But Pie for Breakfast throws a few surprises in the mix. The menu's biggest egg combo comes with a side of braised greens, any plate can be paired with mujadara (a lentil dish), grits are matched with black-eyed peas, and all is not lost for vegans, who can enjoy the Vegan Delight, a mix of mujadara, black-eyed peas, cucumber salad, and pickled beets.
Pie for Breakfast is also one of the city's few everyday diners that offer booze with breakfast. Add a beer to your morning routine or start your day out with one of their coffee cocktails. Not into alcohol? Grab a juice, soda, or something else from their full espresso bar.
I stuck with a basic plate — eggs over easy, home fries, toast, greens, and bacon — during a morning visit to the restaurant. From the first bite, it was clear that their menu simplicity was misleading; flavors were built around the bare-boned, rural Appalachian cuisine, but the execution was anything but provincial.
My eggs yolks ran freely with a quick poke of handmade salt-rising toast (a dense, strong-flavored loaf used first by early Appalachian settlers). The bacon, unlike strips from diners, wasn't bathed in a layer of grease. A thick layer of crust — presumably from heavy-handed use of butter — lined the massive homefries. (Somehow, Pie for Breakfast managed to keep its potatoes fluffy, an impressive accomplishment based on the size.) The greens were packed with so much flavor I almost couldn't make sense of what I was tasting.
Pie by the slice, however, is the first thing on the restaurant's menu for a reason. They make fantastic pie. The rotating selection is a mix of classic flavors (think apple, vinegar, chocolate mousse) and trendy slices (s'mores, cookies & cream).
Though the pie fillings were fantastic, it was the crust that won me over. It wasn't a pointless, throwaway piece of pastry. There was actual flavor in it, matched with a flake to rival every age-old, generation-passed pie crust recipe. My piece of pumpkin was one of the fluffiest I've ever had, and a slice of chocolate chess (a heavenly combination of cocoa, butter, sugar, and evaporated milk) had me in a sugary daze for hours.
If there's one takeaway from Pie for Breakfast, it's that everyone should be eating pie for breakfast. It's only fitting when the final question from any server is, "Do you want any pie?"
---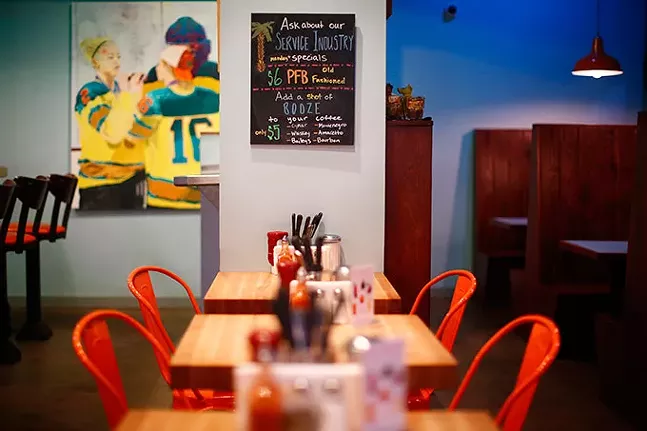 Favorite Features:
1. Cow Creamers
Need cream for your coffee? Pour it out from a plastic cow.
2. Local Ingredients
Pie for Breakfast sources as local as they can during the growing season and use state-raised meat all year round.
3. Pierce
Yes, that cute pie on the restaurant's logo has a name. Follow Pierce's antics with the hashtag #haveyoumetpierce on social media or buy Pierce mugs, shirts, and more in house.