click to enlarge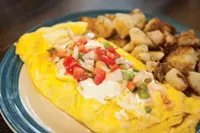 Ask Angelique's father, a German who retired to his homeland after living for 30-some years abroad, what he misses most about the United States, and he'll tell you: the diners. There is a sense in which diners match food to appetite better than any other kind of restaurant. Fine-dining establishments dazzle with ambience and pamper with service; trendy bistros focus on an of-the-moment alchemy of decor and attitude; chains rely on their battery of consultants to create just the right branded experience. But diners serve all anyone really wants, most of the time: basic, familiar food, cooked well and served fast, hot and preferably cheap. 
Maybe this is why periodic efforts to create "upscale" diners tend to fizzle pretty quickly. We certainly weren't expecting a red carpet when we visited Cole Cafe on Mount Royal Boulevard, in Glenshaw. Located in a modest strip mall next to the local middle school, Cole Cafe is there to serve good grub to locals, not artisanal fare to foodies. But that's not to say Cole puts no effort into creating a pleasant dining room. Beyond the lottery counter by the front door, colorful ceramic mugs held patrons' coffee on the counter, each booth had its own framed photograph of Ireland, and a bright-red back wall was festooned with diner lingo in cheerful typefaces: EGGS, POTATO PANCAKES.
The combined breakfast-lunch menu leans toward the former: There are many types of egg dishes (including both three-egg omelets and, listed separately, belly-buster three-egg omelets; the distinction seems to be in the number of filings); the obligatory array of griddled breads and cakes served with syrup; and a selection of mixed grills, which in this context means a scrambled mess (in a good way) of proteins, veggies, eggs and home fries. 
The potato-pancake breakfast was an easy choice thanks to the promise of homemade latkes (we should probably take our cue from Cole's Irish theme and call them by their Irish name, boxties, instead). The cakes delivered with a texture that was robust and golden brown, without a hint of grease, on the outside, and finely shredded on the inside. Whatever you call them, they were truly an excellent example of the type. Accompanying eggs-over-medium were properly cooked to order, and the sausage patty stood out for being firm and juicy, with a nice little hint of spice.
French toast and pancakes don't need much tarting up to be tempting, but Cole puts forth extra effort with selections like peanut-butter-chocolate-chip flapjacks. That crossed the line from breakfast into dessert territory for us, but we did try the cinnamon French toast, made with thick slabs of cinnamon-swirl bread. They were eggy, cinnamon-y, buttery and good. Hash browns were croquette-style, with good potato flavor and a satisfying contrast of crispy and creamy textures.
The combo of chorizo, banana peppers, pepper jack and salsa in "The Grill's on Fire" mixed grill promised more stimulation than a cup of coffee to get the morning going. Alas, execution fell short here, mostly due to a hesitant hand with the heat. There was sufficient cheese, but its flavor was mild, and the banana peppers, despite their peak-season abundance in the markets, were scanty at best. There also wasn't much more than a dollop of salsa atop the whole hefty plate of scrambled stuff. The dish had a solid line-up of ingredients, but the proportions needed work to make it light a fire under us. 
The real disappointment in this order was the home fries, which were mostly lacking in the crackling brown edges that practically define the dish, and which were cut in such widely varying sizes that some chunks were barely cooked through.
We let a burger be the last word. The menu emphasizes Cole's big (one-third of a pound), fresh and lean burgers, and ours was cooked the right way, loosely formed so that the meat didn't toughen and the edges crisped a little on the griddle. Even better was a big bun, grill-toasted and closer to a kaiser roll than to a mediocre, generic burger bun. Here was a good example of how a humble but capable diner doesn't need pedigreed ingredients, trendy preparations or a focus group to be good: a classic American burger, done right without busting your gut or gutting your wallet, for a modest $5.
Cole Cafe earned our regard, not by being anything special per se, but rather by exemplifying the appeal of a typical diner in nearly every way.