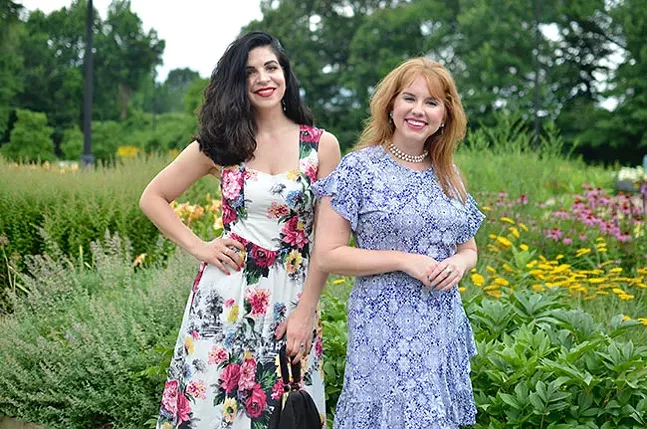 Two of Pittsburgh's most important purveyors of style, Natalie Bencivenga and Sara Bauknecht, co-hosts of Pittsburgh Post-Gazette's Setting the SEEN webshow, joined me this month to talk fashion over a picnic.
Could you tell me about what you're wearing today?

Sara: I am wearing a Michael Kors dress that my mom got on sale at Macy's as a gift for me. My mom's a good bargain hunter, so I've learned that from her. This pearl necklace, I got myself as a birthday present a couple of years ago. It's by Pittsburgh designer Charmed by Jenn. She handmakes amazing jewelry, and I love trying to support Pittsburgh designers. The earrings are Sabika in Robinson. My rings are all gifts. The one that probably means the most to me is from my high school graduation.

Natalie: The shoes are Christian Louboutin — a little wedge. The dress … I don't want to pay full price, so I waited until it went on sale for $49 from $200. The purse was my grandma's and is from the '40s. She didn't have a lot of money, so she made a lot of beautiful clothes.

The earrings were a gift from my mom, and these are Betsey Johnson from T.J. Maxx. I have my wedding ring from my wonderful husband, and the other ring is my dad's wedding ring. He died in May, so my mom gave it to me, and I wear it every day.
How would you describe your style?

Natalie: I feel like I am in a movie every day of my life. [We all laugh.] In this moment, I was going for 1950s Capri [Italy]. I don't really follow trends and try to be more chic and sophisticated. But I also have fun, just go with my mood. I try not to put myself in any kind of a box.

Sara: I like things that have a hint of sparkle in them, like glitz in some way.

Natalie: You're a showgirl at heart. [Laughs]

Sara: I gravitate toward sequins. So, I like to combine things that are stylish but practical and comfortable. I like dressing up, but I am comfortable with something that is athleisure chic and agree that I dress according to what I am doing that day.

Natalie: We have fun with it!

Sara: We have fun getting local boutiques involved. But I love things that marry practicality with sparkle and glitz, even my glasses that have rhinestones and are oversized.

How has the style retail scene in Pittsburgh changed since you started covering it?

Sara: I have seen it change immensely. It has been 10 years since I started at the Post-Gazette. There has been so much evolution. There is so much talent here. The thing about Pittsburgh is that it is not L.A., and it shouldn't be. I have seen growth in the local boutique scene but also in designers who are based here making waves in the city and beyond.

I am really excited about designers who are setting up shop here ... Make and Matter in Lawrenceville or what Kiya Tomlin is doing with her storefront. Or even something like Love, Pittsburgh where the owners work in the arts and curate things that are made by local designers: jewelry, home decor, etc. I didn't see that much when I started.
I am excited to see where Style and Fashion Week goes. They are still growing. As long as the right people unite and work together, the sky is the limit.
Natalie: I see the up-and-coming, the fashionistas of Pittsburgh. There is a lot of diversity of style. People are starting to see Pittsburgh as more of a fashionable city and willing to wear head-to-toe Stella McCartney or vintage and make it look like a million bucks.

I do a piece at the end of year called Seen Best Dressed, and I pride myself on making in inclusive. Style has no age, ethnicity, body type. I like to play with the boundaries of what we're supposed to do with society columns when it comes to fashion. I'm looking for someone who has imagination and puts some time into it. What does style actually mean in terms of a social calendar and how we use it as currency and status?
We are not a big city, so there is more room to experiment. People can dress wild and amazing, because they don't think about it as societal pressure.
This interview has been condensed for space and clarity.