Today, Pittsburgh hosted a high-profile member of the Trump administration, and a small group of Carnegie Mellon University students were not pleased.
At the
Traffic21
summit, an event highlighting the work of CMU's transit research organization, U.S. Department of Transportation Secretary Elaine Chao gave a keynote address.
As attendees walked into the private luncheon held in CMU's Jared L. Cohon University Center, six students stood holding signs denouncing Chao and the Trump administration's work, or lack thereof, on mobility issues like public transportation and bike and pedestrian infrastructure.
Zachary Clein, a grad student in dramatic writing, said the group gathered to protest Chao's alleged corruption and her reign as U.S. DOT secretary, which they criticized for not boosting public and alternative transportation sufficiently.
"We don't need that type of person talking about the future of transportation," said Clein. "With the school bringing her, it shows they don't think about the future of transit."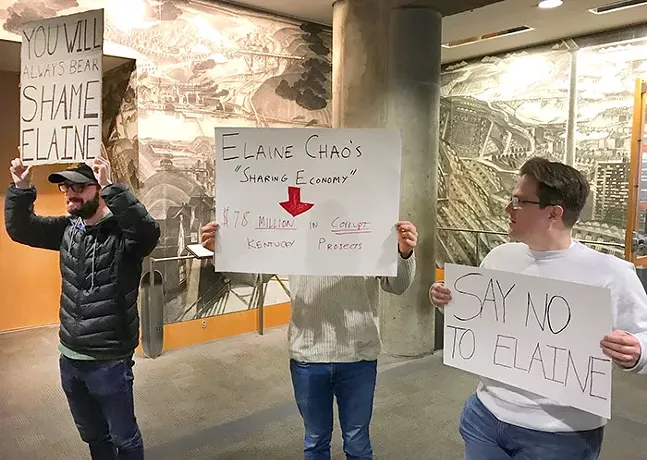 In June,
Politico
reported that Chao approved a large number of DOT grants for projects in Kentucky, many of which could benefit her husband, U.S. Sen. Mitch McConnell (R-Kentucky). The same month, the
New York Times
detailed how Chao attempted to include her family members in meetings between Chinese officials and U.S. DOT officials. Chao's family controls a large shipping company that works often with China.
Clein also called out Traffic21 in general, saying the group is too focused on creating mobility solutions that benefit corporations and tech companies over bus riders, cyclists, or pedestrians. He criticized Chao for sharing these views on mobility solutions.
"Traffic21 needs to be held accountable and so does CMU," said Clein. "I would like to see them focus more on building our public transportation."
Jason Maderer, CMU spokesperson, says that the university values freedom of speech of its students and supports their right to protest Chao's visit.
"CMU must be a place where ideas are freely expressed," Maderer says. "The university hosts speakers from various political backgrounds and welcomes respectful discussions that incorporate differing opinions. Guests invited by recognized organizations may express their ideas not because they have a right to do so, but because members of the campus community have a right to hear, see, and experience diverse intellectual and creative inquiry. Defending that right is a fundamental obligation of the university."
Maderer also points out
several Traffic21 projects
that include cyclists, pedestrians, and public transit.
Recently, U.S. DOT has sent about $27 million in grants to Pennsylvania and the Pittsburgh area. One grant is to PennDOT for funding to explore the use of automated driving systems. Pittsburgh has
proposed an automated shuttle system
from Oakland to Hazelwood that has garnered push back from Greenfield residents and public-transit and pedestrian advocates.
Another grant was just announced to help construct an
additional cargo building
at the Pittsburgh International Airport that will enable the airport to serve larger planes and help carriers requiring sorting facilities and large volumes of truck access, according to a press release from the office of U.S. Rep. Conor Lamb (D-Mt. Lebanon).
Other large U.S. DOT funding sent to the region has been for a
highway expansion in Butler County.
A funding application for Pittsburgh's
Bus Rapid Transit
(BRT), which would provide bus-only lanes, bike lanes, new bus stations, and pedestrian improvements, has been recently re-submitted by the Port Authority. As
Streetsblog has reported
, the Trump administration has been slow-walking funding for public transit projects, and there are several projects in other cities that are ahead in priority compared to Pittsburgh's BRT.
During her speech, Chao heralded the funding for automated driving systems, saying it will improve safety, according to
WESA
.
"That's why I have urged developers of this great new technology to address legitimate public concerns about safety, security, and privacy," Chao said, according to
WESA
. "I'm so pleased that the research conducted by Carnegie Mellon and Traffic21 may help address these concerns."
Laura Wiens of Pittsburghers for Public Transportation was also critical of Chao's inclusion of the event. "We know that federally, there has not been a robust investment in public transit," says Wiens. "It's not clear to me why we are celebrating her tenure here."
Furthermore, she is also worried that Traffic21 was overly focused on the technology involved in transportation policy, like autonomous vehicles or electric scooters, and not on infrastructure improvements.
"We don't need to reinvent the wheel," says Wiens. "They talk about micro-mobility, instead of infrastructure, like sidewalks."
Cities like Seattle (and Pittsburgh, to a smaller extent) have bucked national trends and increased public-transit ridership by
focusing on bettering bus frequency
and service and simple fixes like giving
buses their own lanes on city streets
.
The current autonomous shuttles being proposed from
Oakland to Hazelwood
would travel a route near Irvine Street in Hazelwood that currently lacks a sidewalk, connecting Hazelwood to South Oakland.
Wiens does support some efforts of Traffic21 and technology in mobility issues, like Traffic21's effort to
give signal prioritization to buses
at traffic lights, and real-time apps for bus arrivals. But she believes there is still too much focus on technology and not on what mobility needs are for those who use non-car transit the most.
Today, Traffic21 sent out a newsletter that shared 22 articles on transportation stories from around the country. Eleven of them were about autonomous technology. The newsletter also included a
Nov. 3 op-ed written by Chao
where she praises how much cars have gotten safer over the years in terms of traffic fatalities.
The op-ed also mentioned the dubious increase in pedestrian and cyclist road fatalities, which are the highest they have been since 1990, but Chao prefaced these statistics by writing that pedestrians and cyclists "must be more careful."