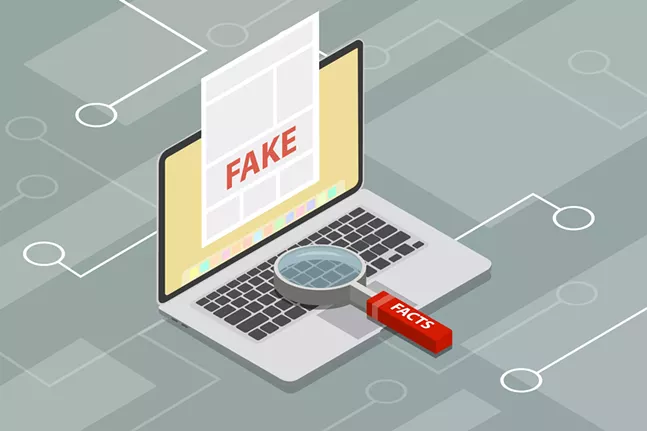 As the 2020 election kicks into gear, it more important than ever to call attention to disinformation online. In July, Carnegie Mellon University formed the Center for Informed Democracy and Social Cybersecurity (IDeaS), which will work to research and address false news stories, propaganda from foreign countries, and doctored photos and videos, among other popular forms of disinformation online.
IDeaS will study "how disinformation is spread through online channels, such as social media, and address how to counter its effects to preserve and build an informed citizenry," according to a CMU
press release
. The release also announced that IDeaS received a $5 million investment from the John S. and James L. Knight Foundation.
IDeaS is led by CMU computer science professor Kathleen M. Carley, who plans to take a multi-disciplinary approach to the project. "We begin by taking the stance that disinformation is a very complex [phenomenon] that is undermining democracy and there's no single-point solution," says Carley. "Our approach is to work jointly with the social sciences, the policy sciences, and computer science to develop these solutions, and to work not just with academics, but with journalists, policymakers, and corporate actors as well," says Carley.
The center's research will be focused on answering six key questions, including identifying the warning signs of an influence campaign and how communities can be made more resilient against disinformation attacks.
Carley cites research the center has done on a disinformation campaign surrounding the release of
Black Panther
in 2018. Upon the release of the movie, several tweets went viral of white people claiming either they or their companion were assaulted by black moviegoers at a showing of
Black Panther
.
The claims were false
and the photos posted were pulled from TV shows, domestic abuse evidence, or elsewhere. Carley says IDeaS identified four "disinformation attacks" intent on causing disruption, bots used to amplify the disinformation, and an online community that neutralized the hoax with satire.
"That campaign was actually shut down within two days," says Carley, "by people sending counter satire remarks that said, 'I went to that movie and got beaten up' but then they would put a picture in of SpongeBob SquarePants with a band-aid across his eye."
While it's not always possible to predict what and when something will be a target of purposely false information spread online, there are certain reliable standbys that IDeaS plans to tackle. Carley says elections and national disasters are "hotbeds" of disinformation, and they are already starting to see influence campaigns in events like the upcoming Canadian election.
In addition to publishing papers, IDeaS plans to host an open conference at CMU, a webcast seminar series, and outreach to policymakers and journalists.