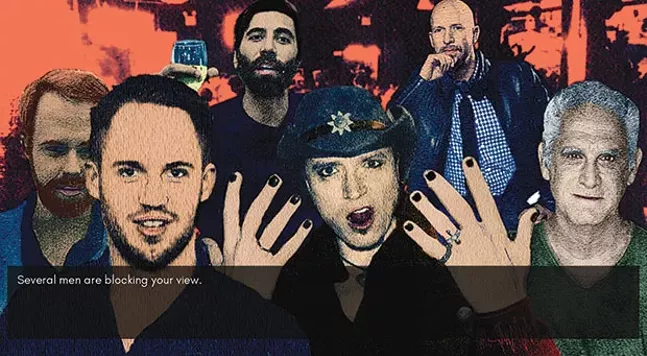 A woman walks into a crowded bar in Los Angeles. She's there to meet her best friend but can't find her anywhere. Killing time until her friend shows, the woman steps up to the bar and orders a drink. As she stands there she feels the weighty gaze of several men fall on her. She realizes that the bar is mostly filled with men and soon one from the crowd steps toward her. He reaches for her arm and commands her to spin.
This is one of the many scenarios that can be played in "The Game: The Game," an immersive installation artwork and simulator created by Carnegie Mellon University School of Art professor Angela Washko.
Washko created "The Game: The Game" as an interactive exploration of the world of seduction coaching, a.k.a. pick-up artists (PUAs), and the tactics they use in their efforts to bed as many women as possible. Neil Strauss' 2005 book The Game: Penetrating the Secret Society of Pickup Artists introduced the subculture to mainstream American culture and shined a light on the massive amount of money these men were making selling their tactics to sexually frustrated men in seminars, online videos and written guides. Some of these PUAs are self-professed chauvinists, insisting that hyper-masculine, aggressive and leading behaviors are the way to a fulfilling (read: prodigious) sex life.
Washko, a feminist artist, became aware and interested in learning about pick-up artistry through gaming, particularly inside World of Warcraft. As a participant in the gaming space, she started a four-year project called "The Counsel on Gender Sensitivity and Behavioral Awareness" where she facilitated conversations with other players about some of the exclusionary social dynamics in the game.
"We had a lot of conversations about why the player base was so aggressive toward women, people of color and the queer community in this fantasy game environment," Washko says.
During the project, she talked with a lot of people who identified as men's rights activists and "members of the manosphere." This led her to Roosh V, an American pick-up artist, blogger and author of a series of books called Bang, which are manuals filled with advice and tips about how to pick up women in different countries. Washko went on a search for the women Roosh V claimed he had slept with and Roosh V became aware of the project over Twitter. After much back and forth, he agreed to an interview via Skype with Washko.
Through that interview and an intensive study of the tactics and perspective of four other PUAs, Washko began developing "The Game: The Game."
Three years and over the equivalent of a 400-page novel in self-written code later, "The Game: The Game" is showing in galleries in select cities and ready to play. Washko didn't pull any punches in development. All of the pick-up artists encountered in the game are based on six real PUAs and their published materials. She names them, uses their images (illustrated cyanotypes created by Washko) and has programmed each to use the tactics that they discuss in their books and seminars. Washko says she wanted participants to be able to "play through some of the most visible and successful pick-up artist practices and see what it would be like to encounter them."
"I thought that creating a game experience was a way that people could experience those practices without the distance that reading about them creates, and put them in the position of making decisions," says Washko.
The platform has over 50 different endings that a player can reach. One can play through and go home with a PUA, immediately try to get away from the situation or choose other options in between. The soundtrack, written and performed by the band Xiu Xiu, is dark and complex and, in combination with Washko's cyanotypes, helps to create a feeling of claustrophobia and urgency during game play.
Men approach the player one after another. When I was playing, I felt myself experiencing a stress response: sweaty palms, quickened pulse and a desire to turn it off. I recorded audio as I played and listening back to it, I hear myself sighing frequently and laughing nervously. As a young woman, I immediately recognized many of the tactics that were being used from personal experience. Washko confirmed that many women players had felt similarly.
"One of the things that's really important to me is making sure that people know what they're getting before they go into the experience," says Washko.
She makes sure to contextualize the work with warnings that some of the scenarios resemble sexual assault and confirms that people know where the material is coming from.
The game is not currently available for the public to play, but Washko plans to eventually release it online. To keep up with what Washko is working on and to learn more about this project, visit angelawashko.com.